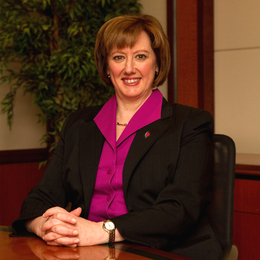 Good Steward
First Federal Bank of Bucks County chooses its first female president and CEO, Jeane M. Coyle, to continue its legacy of good service
Since 1885 First Federal Bank of Bucks County has been helping customers achieve their financial goals, building businesses and strengthening the community. Jeane M. Coyle, who will be taking over as the newest president and CEO on July 1, understands the responsibility involved in assuming management of a successful 127-year-old institution. "I like to say it's not my job; it's just my turn," she says. "It is bigger than me."

First Federal of Bucks County is a federally chartered mutual savings bank serving businesses and individuals in Bucks, Montgomery and Philadelphia counties. It has 11 branches within Bristol, Levittown, Langhorne, Wrightstown, New Hope, Bensalem, Southampton, Newtown, Yardley and Lower Makefield, and provides services to more than 1,200 local businesses and 18,000 consumers within the Greater Philadelphia region.

Coyle, currently the bank's executive vice president and chief administrative officer and a 30-year financial industry veteran, was unanimously chosen to replace the current president and CEO, Bruce Iacobucci, who will retire at the end of June after seven years. She credits Iacobucci, a regional banker with more than 40 years of experience, with reinvigorating the bank. In 2008, Iacobucci initiated a mission of expanding the bank's services by way of offering electronic banking services, forming an experienced commercial lending team and targeting small and medium-sized businesses.

"Bruce set the tone in a methodical way," Coyle says. "He built the back-office infrastructure then went out to sell it. Sometimes CEOs do it the other way: push forward without infrastructure. Of course, we did it pretty quickly. Bruce has a sense of urgency, but he is rational, calm and fair with customers and employees."

Coyle has goals of her own for her time as chief steward of First Federal of Bucks County, including a commitment to remain independent and to expand into Doylestown. "In the near term, because we've made advances in technology, product offerings and commercial lending, I would like to continue to grow at a faster pace as the economy grows," she says. "After more than 127 years I want First Federal to be relevant in Bucks County. It's easier for a small bank to adapt—our locally based decision making and response to special customer needs makes that possible—but you have to be smart and develop competent leaders. That's the advantage First Federal can put on the table, and our customers have recognized it with record profits."

Her long-range vision for the bank is to continue to serve as an important part of the Bucks County community, to provide convenience and value for the bank's business and individual customers, to maintain profitability for long-term growth and sustainability as a local bank and employer and to continue to give back to the community.

A Simple Purpose
Coyle says banking was not a childhood goal of hers, and she did not wake up one day with the goal of becoming a bank president. She grew up in Allentown, where she attended Muhlenberg College and began her career with an advertising firm. Although her degree at that time was not in finance, Coyle likes to say she has been involved with banking from the age of 19, when she handled media buying for one of the agency's clients—a bank. This led to her accepting a marketing position at a local bank, where she excelled and moved up the ranks into the analytical end of the business. "I like to solve puzzles and found myself skilled at quantitative and strategic aspects," she says. "Though I have served on the concept side of the business, I am action oriented. I like being able to modify the process to produce results."

After working at a variety of institutions, from small community banks to large national organizations, Coyle purposefully chose a career at First Federal of Bucks County.

"Personally, it was a journey about deciding on a larger or smaller community bank," she says. "When a bank is publicly held it often operates on short-term decisions, made quarter to quarter. Our ability to commit to long-term goals with short-term adjustments based on market conditions has attracted a results-based team. That's what I sought in the transition to community banking."

Because First Federal of Bucks County is a Federally Chartered Mutual Savings Association, the bank is not publicly traded and is instead "owned" by the association's customers. It does not raise capital via investors and instead must earn a profit and grow its capital by conducting basic banking business within its service area. This approach has resulted in consistent, fair and conservative business practices, with a long-term strategic view and a desire to remain independent—an important goal for Coyle—and to sustain its mutual charter. She proudly notes that First Federal of Bucks County has enjoyed three straight years of record earnings, including record net profits of $4.588 million in 2012. In such an arrangement, this success benefits the community—not stockholders. "Our simple purpose is to serve the local economy and to grow along with it, so it's an exciting opportunity for Bucks County and First Federal," says Coyle.

First Federal of Bucks County has a combination of senior executives with larger bank experience and long-term team members who have worked within the community bank culture for many years. This unique formula results in all of the products and services that big banks offer, with a highly personal approach to dealing with its customers. In the mid-1980s and '90s, Coyle says many of the large banks heavily invested in their employees. It was during this time that she received her career development and training in management with guidance from good mentors. "Most of my value came from interpersonal relations training and skills," she says. "It is rewarding to get to this level not just by knowing how to do the math on a ratio but by understanding how people tick, what motivates others and how to make them feel good about coming to work every day."

Coyle will not only become the bank's next president and CEO but also its first female leader. She understands this is a significant accomplishment but says gender was neither a hindrance nor a boon to her success. "At the end of the day I was selected for who I am and the things I have accomplished from a leadership perspective," she says. She hopes to be able to give back to her junior employees as others did for her. "It is up to women who have achieved to mentor others who have skill in banking. No one succeeds by themselves."

Coyle's efforts to give back extend beyond the young women of her company. As a community bank, First Federal of Bucks County also donates up to 5 percent of its net income to charitable organizations in Bucks County. Coyle serves as the co-chair of the United Way Bucks County's self-sufficiency panel and is a member of the board of directors for the Bucks County Opportunity Council. The goal of the Bucks County Opportunity Council is to help people leave poverty for good and earn a living, all by providing mentoring and education and honoring their success. Having heard stories of her father's childhood in a West Virginia coal-mining town, Coyle understands the challenges faced by those in poverty. The program provides participants with the opportunity to pursue careers in health care and nursing. Now Coyle is working to build a business career track for self-sufficiency participants, including potential employment opportunities with First Federal of Bucks County.

Coyle also believes in rewarding the efforts of her staff. The bank provides tuition assistance to employees interested in pursuing a higher education in related fields. But when conversations with her staff revealed that the reimbursement process was a hurdle to many employees' participation, Coyle redesigned the program to provide for tuition costs upfront. "We have 121 employees," she says. "Three were in our tuition-assistance program before we changed the policy, now we have 13 enrolled."

Such programs have helped to create high morale among the employees of First Federal of Bucks County. Though the bank was voted as a "Best Place to Work" by the Philadelphia Business Journal two years ago she believes a more tangible indication is when customers tell management that the employees seem happy to work there. "They feel good about coming here and it shows in how they serve our customers," Coyle says.

She is looking forward to "her turn" as president and CEO and the opportunity to have an even greater impact on her community, saying, "Our No. 1 interest is to serve Bucks County's small businesses and families."

First Federal of Bucks County
215-788-3344
Visit www.firstfedbucks.com for more information and locations.