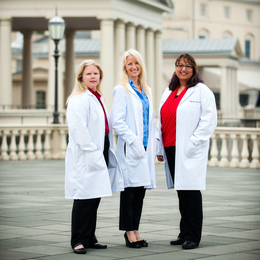 A Better Kind of Care
The doctors of Schuylkill Medical Associates provide in-home care that improves patients' comfort, convenience and quality of life
Pennsylvania is home to almost 2 million citizens age 65 and older, according to 2010 U.S. Census data. It ranks fourth in the country by percentage of the population age 65 and older (behind only Florida, West Virginia and Maine), and one in five Pennsylvanians are 60 or older. Pennsylvania also ranks fourth in the United States by number and percent of the population age 85 and older. By 2020, the 60-and-older population is expected to represent 25 percent of the total population—more than 3 million people—while the number of people age 85 or older is expected to grow to more than 360,000 residents.

"Because there are so many, we are not even touching the tip of the iceberg," says Christine Pluta, D.O., founder and medical director of Schuylkill Medical Associates, a geriatric home health care company serving Bucks, Montgomery, Philadelphia and Mercer Counties. Dr. Pluta and her associates, Bridget Walker, D.O., and Aliya Ali, M.D., provide in-home visits to patients who qualify for the service.

A home-care doctor can provide all the services that a traditional doctor can, and while it may be difficult for some patients to end what may be a 20- to 30-year relationship with their primary care physician, Dr. Pluta says trust is built quickly because her visits are so frequent. "Part of it is that I have such wonderful physicians working with me," she says.

Medicare approves a visiting physician "when it is a considerable and taxing effort" for the patient to leave the home. Schuylkill Medical Associates accepts Medicare and all major insurances. Dr. Pluta notes that a patient does not need to be bedbound; many homebound patients still visit family or attend church. If they use an assistive device, such as a walker or wheelchair, or have dementia, for example, they would qualify for a home visit.

Fran Frydlewicz is one such patient. While recovering from a serious illness, her visiting nurse suggested Frydlewicz consider a home-care service. "I was seeing my other doctor every six to eight weeks," she says, but now, through Dr. Walker's care, she receives more frequent care with once-a-month visits. "She is very nice, personable. I feel can talk to her about anything, and she is more thorough than my doctor's office," Frydlewicz says. "I went to him for 30-some-odd years, he would check my blood pressure, throat and ears—that's it. … I felt like a number." With Schuylkill Medical Associates, "The care is great. Even the girl that answers the phone is caring and concerned. It never seems you are bothering her."

Dr. Walker, who joined the practice in October, is board certified in internal medicine and has more than five years of experience in house-call medicine. She covers North Philadelphia, Northeast Philadelphia, Lower Bucks County and Mercer County for Schuylkill Medical Associates. After having served many roles in the health care system, Dr. Walker believes that seeing patients in their own home allows her to deliver superior care.

"I can take the time my patient needs to see them in their own environment," she says. "You can see if they have room to get around; involve their caregivers; see what medications are there; review their discharge summary. … They are not going to bring these things into an office. You have to do some detective work." By offering in-home care, she adds, "I can spend time with my patient and not be rushed." Dr. Ali agrees that by seeing patients in their homes she can better assess their health, safety and hygiene, as well as other issues to ensure their "needs are being met as a whole person."

After a medical career that most recently included serving as palliative care director at Abington Memorial Hospital, Dr. Ali came to realize that "there is a better way to deliver care for the patient, the health care system and the community," she says. She believes that the current health care system does a good job of helping patient survive major medical conditions such as a stroke, chronic obstructive pulmonary disease (COPD) or heart attack, but not necessarily to help them live a full life. "We can save them with intervention, but then what?" she asks. "That is where we come in. … We keep people out of the hospital and allow them to stay at home." Schuylkill Medical Associates is able to coordinate the in-home services of other many other providers, including phlebotomists, radiologists and other specialists, to make it easier for their patients get the most out of life.

Agnes Hill is one of Dr. Ali's patients who has benefited from the convenience of these additional services. "I am in a wheelchair, and to go the doctor's office I have to ask one of my kids to take a day off to take me, and I don't want to bother people," she says. In addition to checking on her various medical conditions Dr. Ali was able to coordinate the visits of a podiatrist and optometrist for Hill. "We take for granted the fact that you need to see an eye doctor," Dr. Ali says. "But it was something that she has not been able to do that has really improved her quality of life."

Like many of Schuylkill Medical Associates' patients, Hill describes herself as having a list of health concerns "as long as my arm." Dr. Ali notes that in a mostly geriatric patient population such as hers, clients are often dealing with complex medical problems. "When you have that much going on medically, you have to find a balance in order to manage care. Having one thing off can cause a crisis."

The spouses, children, caregivers, specialists and nurses who devote their lives to these patients are an important part of managing a patient's care and one that the doctors of Schuylkill Medical Associates take very seriously. "Visiting nursing agencies are vital to helping patients stay at home longer," says Dr. Pluta. "One of our goals is to allow patients to age in their home and remain independent as long as they can. Part of that goal is keeping them healthier at home. When they are not taking meds and receiving regular care they can decline faster and end up in a hospital or nursing home. The visiting nurses are our eyes and ears because they see the patients much more frequently for monitoring and assessing issues. We work with many different nursing agencies and they are all a crucial part of our team."

Sue Brauffman, a registered nurse with Millennium Home Health, is one such professional. "Dr. Pluta has a great relationship with patients," she says. "She is very thorough and gets to know the clients. She is who you would want to come in the home to take care of your mom or grandma."

When she began Schuylkill Medical Associates more than a year ago, Dr. Pluta felt that she could offer patients more personal service with a higher ethical standard than other organizations. "I wanted to grow a team of physicians who practice with the same mindset and compassion that I have," she says. She was fortunate to find these physicians in Drs. Ali and Walker, adding, "Visiting nurses are always looking for good home-care physicians who they can trust and with whom they can communicate."

Dr. Pluta hopes to grow her team with more physicians who share her passion for working with the elderly, and who have a caring bedside manner and good communication skills. Interested individuals must be board certified and specialized in family, internal or geriatric medicine.

"I can't begin tell you what a needed service it is," Dr. Pluta says. "Patients are thrilled with how many resources we are able to provide at home and how much we can fit into our little black bags."

For more information, visit www.smahousecalls.com or call 866-206-2866.
Photograph by Jeff Anderson