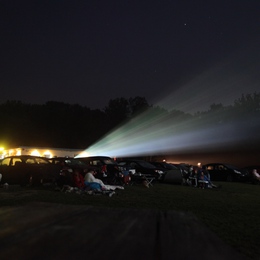 Screen Time
Nearby drive-in theaters offer an old-time experience that's about much more than just the movie
America's first drive-in movie theater opened in 1933, right across the river in Camden, N.J. Today only one remains in the state. Pennsylvania movie goers have fared somewhat better, as the Keystone State boasts more drive-in theaters and screens than any other, according to the United Drive-In Theater Owners Association. Though there remain fewer than 400 of these venues nationwide, the Philadelphia area is fortunate to have three drive-ins close enough to visit on a summer evening.
Attending a drive-in theater is much more of an event—an anachronistic experience, even—than catching a flick at a local cinema. For less than the cost of an average movie ticket, a drive-in provides an opportunity to enjoy a double feature from the comfort and privacy of one's own space, with whatever amenities they bring. While two-seaters still fill the lots, many families opt to back their hatchback or SUV into the space and enjoy the movie from the comfort of blankets and pillows. (Some drive-ins have designated parking areas for large vehicles and ask that rear lift gates be secured at roof level so those parked behind can still enjoy the show.) Other patrons arrive early, with lawn chairs, coolers and games in tow, so that they can enjoy a picnic and family fun before showtime.
By visiting one of these local theaters this summer, families can take a trip back in time or create a new tradition—while helping to preserve an American icon that has largely disappeared from the landscape.

Shankweiler's Drive-In Theater
4540 Shankweiler Road, Orefield (60 miles northwest of Center City)
610-481-0800 | shankweilers.com
Just northwest of Allentown, off Route 309 and easily accessible from 476, Shankweiler's is the nation's oldest drive-in movie theater, having been in continuous operation since 1934. The original film projector and car speakers have been replaced with digital projection and sound available through a car or portable radio. The family-run theater has one screen on which it shows a double feature of the latest releases seven nights a week through Labor Day and on September weekends, weather permitting. The concession stand offers all the treats found in a megaplex, including popcorn (with real butter!), candy and ice cream, as promoted in the vintage pre-film vignette.

Becky's Drive-In Theater
4548 Lehigh Drive, Berlinsville/Walnutport (70 miles northwest of Center City)
610-767-2249 | beckysdi.com
Fifteen miles north of Bethlehem is Becky's Drive-In. Opened since 1946, it offers two screens, each showing a nightly double feature, capable of accommodating as many as 700 cars. Guests can visit its website and vote for the movies they are most interested in seeing in the coming month. Becky's also offers pre-show activities, including pony rides for the kids before its Friday and Saturday PG/PG-13 shows, and hosts several special events throughout the year. Its concession stand boasts all of the summer favorites including Slush Puppies, caramel corn and funnel cake along with souvenir Frisbees, footballs and balsa airplanes to amuse the kids.

Delsea Drive-In
2203 S. Delsea Drive, Vineland, N.J. (40 miles south of Center City)
856-696-0011 | delseadrive-in.com
Delsea Drive-In offers two screens on which it shows double features of first-run movies Wednesday through Sunday evenings but classics of a different genre each Tuesday night. First opened in 1949, after a nearly 20-year hiatus, the theater reopened in 2004 and now prides itself on offering the nostalgia of a drive-in with modern technology and a concession menu that carries healthy options including salads, wraps and veggie burgers. Those wishing to pack a picnic should be aware there is an "outside food and beverage" permit fee but it does rent chairs and radios to the less prepared. Delsea has the longest season of any local drive-in, running movies every weekend until mid-December.