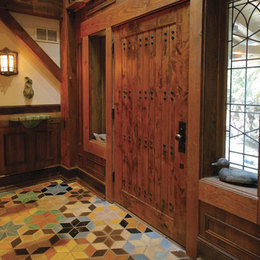 Fit For a King
On custom design and building projects, King Builders lets the customer rule
When you're looking for a custom builder, you want the best quality you can get for the money. You would also hope for the project to be finished on time and for the people doing the work to be easy to get along with and listen to your ideas.

With King Builders and its affiliated company American Craftsmen, Tom King offers all that and more. "We've been in business since 1982," he says. That's a lot of time to find out what works and refine his business to meet his customers' needs.

There's a simple reason for trying to please the customer. "Our business works on referrals," says King. He needs happy customers to lead to more customers.

King specializes in designing and building custom additions and custom homes. The company is a general contractor, doing roofing and siding and smaller remodeling jobs as well. They are also in the commercial building business—about 30 percent of the company's business is commercial and 70 percent is residential.

Even with the current state of the economy, business for King is up this year, he says. Recent projects have included a 7,000-square-foot institutional home for mentally challenged adults in Tinicum and a 1,200-square-foot addition to a mountainside home in Upper Black Eddy.

Despite the rough winter, King was able to complete the large institutional home in a timely manner. He attributes the success to some luck, well-planned scheduling and the fact that the company prides itself on efficiency and execution. On the mountainside home, the addition includes a great room, kitchen, study, bathroom and laundry room. The work involved grading, excavation and other issues that King describes as "daunting," but nothing his subcontractors and more than 25 years' experience couldn't handle.
King's pricing is competitive, but he believes the main reason his company has thrived is because people have been happy with the work. "All jobs have problems, but we're about solutions," he says, "and I cannot think of a project where we haven't had a happy solution. That's why we have 100-percent customer satisfaction."

The company is able to make customers happy because of its longevity. "It comes with maturity over the years," King says. "Communication is the biggest thing."

Each project starts with a scope, which details every aspect of the work to be done, involving all subcontracting work such as excavation, framing, roofing and all aspects of the project. All subcontractors and the customer get a copy, so everyone on the project knows what's happening and when.

Homeowners who have had additions and remodeling done by King include Donna Martinez of Yardley. King and his crew put up a sunroom in the Martinez home. "They were easy to work with, and we're very happy with it," she says. "Everything was just perfect. The design was very nice, and the room was well-constructed." She adds that the crew was "not intrusive. We couldn't have had anyone more cooperative."

Joe Brusha of Abington was equally pleased with the work King did on his kitchen. "It's beautiful, and it was done in a timely fashion," he says. "They did everything we asked. It came out as a professional-looking kitchen. The crew was the best—we asked, they answered."

Having nearly three decades of experience has given King knowledge to apply to each new project. He started in the '80s building decks, arbors and gazebos, which led to expertise in exterior architecture and then design and building concepts. Then, looking for new challenges, he began taking on custom additions and custom homes. The work can involve tough projects, such as removing interior and exterior bearing walls and other architectural difficulties.

"We specialize in what others tend to shy away from," says King. "The greater the challenge, the greater our enthusiasm."

The company now works in all phases of construction and remodeling. Customers can be involved as much or as little as they want to be. "We will work with your plans or have our designers and architects help you develop your plans," says King.

Besides custom additions and homes, King can design and build exterior living spaces (decks, arbors, porches and screen rooms), sunrooms, kitchens and bathrooms, and replace windows and doors. On the commercial side, the company specializes in upgrading, fit-outs and soup-to-nuts projects, such as remodeling for a new store in a strip mall.

And the company is going green, offering solar energy alternatives and geothermal heating and air-conditioning systems.

King is prepared for the future. His son Eric, who has been with the company for 11 years, already has taken on much of the project management responsibility, continuing along the path his father has established.

"We work from the customers' ideas," Eric King says. "They dream it up, and we build it. We cater to their ideas."

King Builders,
825 Haas Court, Ottsville, 1-800-850-KING, AmericanCraftsmen.biz, KingBuilders.biz
Call 1-800-850-KING or 215-795-0890 for a video catalog and/or a company brochure. All initial consultations and estimates are free.

Cindy Spielvogel is a professional writer based in Newtown.
Rob Hall is a freelance photographer based in Plumsteadville.