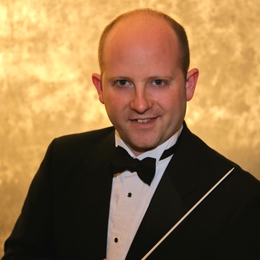 Taking Notes
Tim Ribchester assumes the baton as the newly anointed music director of the Delaware County Symphony
One might say Tim Ribchester has something of a magic wand. As the newly anointed music director for the Delaware County Symphony, he takes the wand from predecessor Jeremy Gill. Ribchester brings to the role a rather worldly approach, not to mention a passion for growing Philadelphia's appreciation for classical music.
In addition to "exploring new artistic adventures" with the symphony, he serves on the musical preparation faculty for the Academy of Vocal Arts. He also coaches voice for the Bryn Mawr Conservatory and Russian Opera Workshop and frequently guest conducts for the Orchestra Society of Philadelphia, Concert Operetta Theater, Delaware Valley Opera Co. and the Opera Libera.
Originally from Denver, Ribchester grew up in Scotland and eventually returned to the United States to make his mark in the Philadelphia area's classical music scene. We sat down with Ribchester—conductor and pianist—to discuss the rewards and future of his profession, as well as the inspiration that has helped him earn the title "maestro."

SUBURBAN LIFE: What is the most rewarding aspect of your profession?
TIM RIBCHESTER: For me, it's about the collaboration, first and foremost. As a pianist, I definitely enjoy collaboration. As a conductor, I love the feeling of working with large numbers of people to draw on my own [ideas] and their ideas and to have the opportunity to make decisions that create cohesion, energy and excitement for a large group of individuals.

SL: How do you put your own spin on traditional classical music?
TR: For me it's about drawing out the fact that any given group is capable of playing by drawing on their own talents. For me, the most important aspect that I like is the transparency, momentum and flow and just the emotional honesty from the players. I want everyone to be involved and help me move the music forward. It's key to bring all styles of music to life. If you think about [music] as not being an object, that's what justifies the fact that we still play it.

SL: From where do you draw inspiration?
TR: My inspiration comes from the fact that we have over 300 years of absolutely fantastic music. I see the notes on a page as a recipe that's been put together by a master chef. My job is to recreate the recipe into a reality that is vibrant and alive that involves musicians and the audience to create a great experience. At the end of the day, it's all about the music. I draw my inspiration from films, traveling, nature and sports. There's a limitless list of things that music can represent.

SL: Who is your favorite composer and why?
TR: I'd say that overall it's Johann Sebastian Bach. If you're talking on a personal level, as a symphony composer, I'd have to say Gustav Mahler. He was the person who took the symphony orchestra to its fullest potential, and pushed orchestra harder in terms of expressing complex ideas that weren't dramatized very clearly. He's probably the most popular symphony composer right now.

SL: When you're not writing or playing music, how do you spend your free time?
TR: I love to travel. I spend every summer in Italy. I'm still learning Italian, which is a work in progress. Rome is a city I like to travel through. I have an interest in food and wine as well as movies and literature, which I have less and less time for. It's important for any artist to have a good perspective of what they're doing. Generally, I like to experience life and put myself in situations that will challenge me constantly. Recently, I went climbing for the first time in six years. I used to play badminton in the U.K., and when I came here to the United States I realized it wasn't anything serious. I enjoy cycling—pretty much anything that I get an opportunity to try. I find that everything will constantly illuminate how I go about creating art. I'm lucky to be living in Philadelphia, which is the one of the food capitals of the world. One of the things I love here is the range of international food and how high the standards are.

SL: What's next for you professionally?
TR: I am looking forward to working with the Delaware County Symphony. I look forward to seeing other opportunities for conducting in Philly or even elsewhere. I've recently started working for an opera company in Baltimore. I will always continue to look for opportunities to make great music in Philly and as far away as I'm able to. Working with great people is really what I'm in this for.