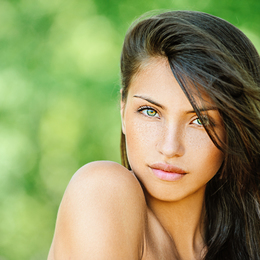 Everlasting Beauty
Women, regardless of age, have innumerable options for refreshing and renewing how they look and feel
A woman's body is a delicate, complex and amazingly resilient machine. Throughout life it endures countless changes and adjustments, which can be further complicated by the rigors of childbirth. Sometimes it needs a little TLC.

As women seek to keep themselves youthful and refreshed, aesthetic procedures such as minimally invasive facial procedures, breast augmentations and tummy tucks continue to gain traction. Although some might think such procedures are about vanity, physicians who work in this field suggest they are more about confidence and self-worth—looking good equates to feeling good.

"Women are judged by how they look, and they are always going to want to look their best," says Glenn DeBias, D.O., founder of The Institute for Laser and Aesthetic Medicine, which has offices in Doylestown and King of Prussia. "We tend to compare ourselves to what we looked like in our heyday—our 20s and early 30s—in terms of our looks and health. … The people who opt for these procedures tend to be in good health, and they care about beauty, being dynamic and looking the best they possibly can."

This is largely the reason why aesthetic and cosmetic physicians in the United States performed 14.6 million cosmetic procedures in 2012, a 5 percent increase over the prior year, according to the American Society of Plastic Surgeons. The overwhelming majority of these procedures—13 million—were minimally invasive, such as soft-tissue fillers and injections of Botulinum toxin type A, which collectively increased 6 percent.

From their 20s into their 60s and beyond, women today have more options for maintaining their health and beauty. (Click here for some of the region's best physicians devoted to keeping local women fit and healthy.)

The 20s and 30s
"Years ago I think most people in their 20s thought, There's nothing I need to do, I'm only 20," say Steven Davis, D.O., of Davis Cosmetic Plastic Surgery, which has offices in South Philadelphia and Cherry Hill, N.J. "We're seeing a trend in people recognizing the effectiveness of preventative measures, from their 20s through 80s. In their 20s, people come up with a game plan so they can look good for many years to come—preempting whatever might be coming down the pike."

Some of these are quick, minimally invasive "fixes" to nourish the facial skin or heal skin damage, as well as body-sculpting measures to remove fat that may be obscuring areas along the arms, belly and face. Others might opt for rhinoplasty—otherwise known as a nose job—before embarking on a new life before or after college.

One's 20s are generally forgiving, but in their 30s, women tend to look more closely at aesthetic procedures that may offer help in maintaining the youthfulness of certain parts of the body. These could include dermal fillers to plump up areas that may begin to look hollow or not as full.

"In the 30s and 40s, if women have started to complete their plan for the family, they have done their due diligence in terms of how many children they want to have, so you see patients look into breast augmentation," says Dr. Davis. "With pregnancies, after the breasts have been engorged with milk a few times, they are not as full and firm, so they want a more youthful, full appearance of the breasts. It could be a breast lift or breast implants—something to get the breasts in a perky, lifted and full position."

Along with the breasts, women tend to focus more on their middles. The so-called "tummy tuck" is the second most common procedure, though it is also a more involved one. This may explain why less invasive options such as liposuction continue to gain popularity.

The 40s
As women close in on 40, their perspective on health and aging tends to shift. The 40s can be a time of significant change for a woman, marked by changes in metabolism, weight gain and body-fat redistribution. After a woman's child-bearing years, she tends to seek out procedures that re-contour areas of the body that have been negatively impacted from pregnancy. The most common areas affected include the abdomen and breasts.

Excess abdominal skin and muscle laxity after pregnancy can be corrected with abdominoplasty (also known as a tummy tuck), where tightening of both the skin and muscle is performed, according to Robert Skalicky, D.O., owner of Bucks County Plastic Surgery in Newtown. The breast region usually requires either a breast lift or implant to elevate the breast and recreate volume lost from post-pregnancy breast feeding.

"As women approach their 40s, they tend to become more aware of the negative aesthetic effects that aging has on physical appearance, particularly the appearance of facial wrinkles and facial volume loss," says Dr. Skalicky. "This age group tends to focus on procedures that reverse these effects such as mini-facelifts, eyelid surgery, fat transfer, Fraxel laser treatments, Thermage and Botox/Juvéderm injections."

Along with the breasts, women in their 40s also tend to look more closely at their posteriors. Instead of removing volume, however, many tend to add. A woman who has endured multiple childbirths may have some fat in the area around the hips, and they can have it removed and then reinjected into the butt for a fuller, more voluptuous look.

"It really is all about dimensions," Dr. Davis says. "It's about getting the eye to pick up the contour changes. It's not about losing weight but redistributing the fat to where you want it to go."

50 and Older
In one's 50s, the emphasis on maintenance and restoration heightens. Also, as the skin loses its elasticity, procedures such as facelifts and eyelid lifts get more attention.

"In the 40s, it's not odd to see these kinds of procedures either, but in the 40s women still think they might see results from the gym," says Dr. Davis. "In your 50s, you start to recognize what you can do with diet and exercise and what you cannot; it's a sense of realization. This is when some of the more procedural things might come into play."

There could also be life-changing events, as well—divorces, job changes, etc.—that make women take a more aggressive approach to modifying how they look.

The 50s may be the best gauge of how effectively a woman has cared for her skin over the years. Those who "worshipped the sun" in earlier years may develop leathery skin, though laser resurfacing can be usefully to refresh the skin and gain back some of its prior glow. Fractional tissue tightening, which stimulates collagen growth to repair damaged tissue, has improved immensely over the past 15 years, according to Dr. DeBias, who has performed approximately 14,500 tissue-tightening procedures so far.

"The body is an amazing thing," he says. "In the old days, before we had this technology, companies would say just cover it up with liquid foundation and loose powder. You don't need to cover it up; correct it, because it's much healthier for your skin. It's the largest organ in the body, and you should let it breathe because it wasn't meant to be covered up. There is makeup with sunscreens, and that's great because the sun does a lot of damage to the skin. But just go out and get sunscreen, not makeup. There's no such thing as good makeup."

The 50s are also a time when venous disease—marked by the visible appearance of unsightly varicose and spider veins—becomes much more noticeable. Although women might see signs of venous disease as early as their 20s, nearly half of all women will have them by their 50s, according to Charles L. Dietzek, D.O., a board-certified vascular surgeon who provides cosmetic vein care at the Vein and Vascular Institute, with multiple locations in South Jersey.

"By the time they are in their 70s, literally 70 percent of all women have some surface indication of venous disease," he says. "You're never too old to have these symptoms treated, and you're also never too young to have venous symptoms treated. So why not get it treated? You don't need to allow it to progress to the point where they will be irreversible."

Women can also consult physicians who specialize in age management, a discipline designed to improve a person's quality and quantity of life by carefully assess her physical health, including risk factors for disease. Even with interventions, however, women should be monitoring weight and blood pressure as she ages, as well as supplementing her diet to ensure she is getting adequate calcium and vitamin D. Also, limiting alcohol consumption, eliminating tobacco use and getting regular exercise—weight training and cardiovascular—also have lasting effects, according to Alicia Gillespie, a physician assistant for Bonner Age Management, based in Langhorne.

"By the time a woman reaches her 60s, there is physical evidence of a healthy or unhealthy lifestyle," says Gillespie. "There are things that are uncontrollable, like genetics and family history, that can lead to a decline in ability and self-worth, along with thinning skin, thinning hair and other visible markers of aging. This is an age where depression can become an issue, because people feel and look older, and this plays a big role on emotional well-being. … There is a 70 percent chance that if you reach 65 you will reach into your 80s, but quality of life is dependent upon the choices you make."

Gillespie suggests early routine physical exams, gynecologic exams, breast exams, blood tests and eye and skin exams, among other exams. It's also critical for a woman, throughout her life, to keep up with weight-bearing exercises and resistance training to promote joint mobility and maintain muscle mass. Although women can do a lot by themselves, they can only do so much to fend off aging.

"When I reflect on changes that are occurring in the field of plastic surgery that enhance my ability to help women with their appearance, I think it is the multitude of minimally invasive procedures that have evolved over the years that has made the greatest impact," says Dr. Skalicky. "I now have many more tools in my toolbox to 'fix' a woman's aesthetic issues."

Whether it's noninvasive fat removal, laser skin rejuvenation, injectable wrinkle removers, fat transfer or skin-tightening procedures, a woman now has innumerable ways to rejuvenate her appearance, with less recovery, less discomfort and even less expense.