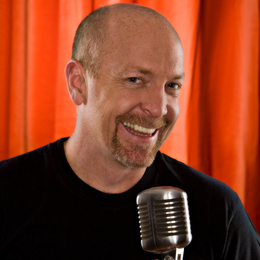 Standup Guy
Joe Conklin, sports-obsessed comedian and "man of 1,000 voices," knows how to make an impression
Professional comedian Joe Conklin loves two things: Philadelphia sports and making people laugh. It was only natural that he would find a way to blend both into a career.

For the past two decades he has been doing masterful impressions of notable Philadelphia sports figures—former Eagles coach Andy Reid and the late Phillies broadcaster Harry Kalas, for example—plus non-sports luminaries such as President Obama. Today Conklin can be heard weekday mornings on SportsRadio 94WIP, as well as on stage for Conklin's Comedy Night, a standup laugh riot held every Wednesday at the 360 lounge and nightclub at Parx Casino in Bensalem.

We caught up with the locally based Conklin—born in Olney, now a resident of Queen Village; alumnus of both Cardinal Dougherty High School and Temple University—between jokes.

SUBURBAN LIFE: You've been part of the scene for 20 years now. Based on what you're seeing on stage at Parx, how is Philly's comedy scene?
JOE CONKLIN: There really hasn't been much of a scene here for a long time. You have comedy cabarets in the suburbs, but that's not quite as strong as it used to be. It's coming back downtown, where you've got the Helium Club, and then you have a number of open-mike situations, where you have young comedians putting in a lot of time. You have casino entertainment in Atlantic City, and what we're trying to do at Parx is bring the same cache up to the 360 lounge. We have some bigger names, working them in with the younger guys from the newer scene. We've been doing it for two months now, and we've had a nice initial run, getting good crowds, and we'll continue to do so if we make sure that the quality of the show is consistent and keep the level of the comedians where it is.

SL: You're known for your lampoons of Philadelphia sports figures. How long does it take you to perfect an impression?
JC: My impressions are based on who's still around and who's in the headlines. My No. 1 assignment now is to get [incoming Eagles coach] Chip Kelly's voice down. I'm probably halfway done, and it all starts when he loses his first game and he starts reacting to his own performance. The headlines never stop with sports and politics, so I always have fresh material.
How long it takes depends on how urgent the need is. Obama got elected in November [2008], and by his inauguration I had enough to do him publicly. Now, with Chip Kelly, people haven't seen enough of him yet where you can parlay it into an impression for a general audience. … I took a humor-writing course and a few credits of journalism, and one of the rules I follow is RSVP. That stands for recognition, surprise, variety and purpose. All jokes or routines need all those ingredients in order to be successful. If you don't have recognition, it's not going to be effective because nobody's going to know who you're talking about.

SL: You must get asked this all the time, but what are your favorite impressions to do?
JC: It was Harry Kalas for a long time. He was my signature voice. When you do him, [changing his voice to sound remarkably like Kalas], anything that comes out of your mouth is going to sound amazing because he had the best pipes and the smoothest, most resonant voice you ever heard. Harry for a long time was my favorite, and then there's Jack Nicholson, maybe Charles Barkley. With Charles, you never know what's going to come out of his mouth, and if you say it in his voice, it's always funny.

SL: Did you always intend on doing something in comedy?
JC: I started off doing voices as a kid, and I didn't know if that could be a job or not. I went to Temple [University] and took communications courses, but I was told the real money was in sales. So here I was selling pots and pans in college, and I turned out to be a pretty good salesperson. My heart was in making people laugh, so I lasted six months in sales before I started doing standup. I also started sending tapes to radio stations, so when WIP came along, it was made for me. I had been doing sports material since I was a kid; in seventh grade, [former Flyers] Bernie Parent and Bobby Clarke were part of my routine. … This town is so insane about sports that they suck the material up. There is no lack of material, and radio is the perfect venue for me. If I go on TV I'm not as effective because then people see my face, and that ruins it for everyone.