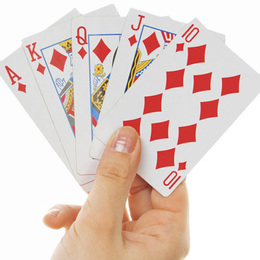 Put On a Poker Face
Table games arrive at local casinos
Pennsylvanians wanting to try their luck at legal poker games and craps tables over the past 32 years had one regional option: fill up the gas tank, fight traffic, pay tolls and drive to casinos in Atlantic City.

All of that changed this month as Pennsylvania finally got in on the action.
Area gamblers with cash in one pocket and perhaps a rabbit's foot in the other can now play baccarat, blackjack, craps, poker and roulette much closer to home—at venues such as Parx Casino in Bensalem and Harrah's Chester Casino & Racetrack in Chester.

Pennsylvania lawmakers in January approved table games at existing slots casinos as part of a deal with Gov. Ed Rendell to settle last year's protracted budget stalemate and raise additional revenue. Table games are expected to generate about $250 million in tax revenue for the state during the first year and help balance the state budget. The anticipated funding also prevented the furloughing of more than 1,000 state workers and the elimination of some state programs.

Earlier this year the Pennsylvania Gaming Control Board licensed eight slot-machine casinos to offer table games, and later regulators gave approval to two more casinos, SugarHouse Casino in Philadelphia and Rivers Casino in Pittsburgh. All but SugarHouse, which is scheduled to open in September, were expected to debut their table games in July.

The dice are scheduled to begin tumbling, the wheels spinning and the players doubling down at Parx Casino on July 18 at 6 a.m.

"We're thrilled to have table games coming to our casino," says Parx spokesperson Carrie Nork Minelli. "We've been hearing from our customers for some time about when we'd be getting table games.

"The only table game we won't have right away is poker, but that'll be available in the fourth quarter of the year."

Parx, formerly known as Philadelphia Park Racetrack, will initially offer 57 gaming tables, but expects to increase that number to 140.

The anticipated revenue from the table games at Parx has spawned expansion plans that will include additional dining areas and may include a hotel and spa.

At Harrah's Chester, table games are also scheduled to begin on July 18. The casino will have 86 live tables for baccarat, blackjack, craps and roulette, as well as a 25-table poker room.
"The addition of table games at our casino gives our customers more playing options than before," says Harrah's Chester spokesperson Monica Bersani.

The advent of table games at Parx and Harrah's Chester not only benefited local games players, but those in search of employment. Parx Casino hired 400 workers, increasing their total number of employees to 750, while Harrah's Chester increased their workforce by 500 to 1,500.

Overall, Pennsylvania's nine existing slot parlors and the coming SugarHouse Casino will have created between 4,000 and 4,500 new table games positions. Some of those new hires were from among 2,200 former workers at Atlantic City casinos who lost their jobs last year due to a sluggish economy and competition from casinos in Delaware, New York and Pennsylvania.

The new table games law also comes with concerns from some factions as it allows casinos the option of offering players credit to gamble.

Casinos expecting increased revenue and gamblers hoping for a bit of good luck closer to home appear to be the winners with the arrival of table games in Pennsylvania casinos.
The big losers could be Atlantic City casinos, which could see even more revenues siphoned away by competing casinos.

New Jersey casino regulators report that gross operating profits at Atlantic City's 11 casinos declined by 25.2 percent in the first quarter of this year and since its peak in 2006.

And with about a third of their revenue derived from table games, and given the reasonable assumption that Pennsylvania gamblers may opt to spend their money at nearby casinos instead of at the shore, the downward trend at Atlantic City casinos may continue. According to Joseph S. Weinert of Spectrum Gaming Group, which analyzes the gaming industry, the further decline in table games revenues could be at least 10 percent.

"That is a substantial hit," Weinert told WPVI-TV Channel 6 in Philadelphia earlier this year.

What's bad for Atlantic City is good for Pennsylvania.

"We have players who enjoy table games and now won't have to drive an hour from us to Atlantic City to play," Nork Morelli says. "It's good for us and good for the players."

Phil Gianficaro is an award-winning writer based in Doylestown.