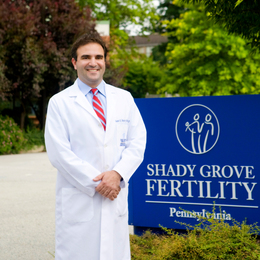 The New Face of Fertility
Dr. Isaac Sasson and Shady Grove Fertility Center are reinventing fertility care in the Philadelphia area
The decision to have children is a very personal one. And when would-be parents run into roadblocks and need a fertility specialist, they must open up and share the most intimate details of their lives with others. Isaac E. Sasson, M.D., Ph.D., and the team at Shady Grove Fertility Center understand the responsibility they have to every patient.

With more than 20 years in practice, Shady Grove Fertility Center is the largest such facility in the country, having 21 offices and 28 doctors throughout the Northeast. Philadelphia residents used to have to travel to its Baltimore location, so Dr. Sasson says it was "natural to offer one closer." Its newest location, in Chesterbrook, is led by Dr. Sasson, who earned his medical degree and Ph.D. in genetics at Yale and went on to serve as a clinical fellow of reproductive endocrinology and infertility at the University of Pennsylvania.

One in eight women and their partners will experience infertility, stemming from any number of potential causes, including medical conditions, environmental factors and delayed family planning. Any couple that has been trying for a year without success—or six months, if the woman is older than 35—should consult a fertility specialist. "We get young professionals in our practice and it is often their first encounter needing medical care," Dr. Sasson says. "There are lots of emotion and anxiety surrounding that [decision]. My approach gives them control back.

"It is really important to take care of the whole patient," he continues. "There is so much that needs to be taken care of regarding fertility," including a patient's financial, medical and emotional needs. He believes patients deserve a high degree of autonomy. Unlike many forms of medical treatment, he says, "Everything we do is elective. … They are choosing to build a family and just need help. They are entitled to a lot of liberty. My role is that of an educator, to teach and explain, to provide the best medical advice and access to care, to give them choices and not tell them what to do."

He first reminds potential parents that seeking help does not necessarily mean treatment; the first phase is always diagnostic. "It starts with a conversation," Dr. Sasson says. "We can learn a lot from the history of a patient's menstrual cycle and lifestyle. Then we may recommend a hysterosalpingogram (an X-ray test also known as an HSG that shows whether both fallopian tubes are open and the shape of the uterine cavity is normal), an ultrasound to examine the ovarian reserve and blood tests to measure hormone levels. With those pieces of the puzzle we develop a plan." He also reminds couples that 40 percent of the time there is a male factor to infertility.

If fertility treatment is required, Shady Grove Fertility Center offers some of the region's best technology, success rates and assurances, as well as the country's largest egg donor program. In fact, its treatments have led to the delivery of more than 30,000 babies to date.

Among the options it offers are intrauterine insemination, in vitro fertilization (IVF), donor sperm, donor eggs, frozen embryo transfer and a gestational carrier program. "At Shady Grove Fertility Center patients can make informed decisions," Dr. Sasson says. "They need to know the success rate, the risk and cost of any treatment option. If they know those three, they can make the right decision for them. That is where my job as an educator comes in, to help them choose."

Women in their late 30s and 40s who have been unsuccessful with their own eggs may find that egg donation is their best option. "Our egg donor program is the most successful treatment we have," says Dr. Sasson. Shady Grove Fertility Center has performed more than 1,000 cycles in Philadelphia. "What holds many people up is lack of a donor. Often their practice has a limited number of donors or they have to find their own. At any time we have between 90 and 100 diverse donors from all ethnic and religious groups. Infertility affects everyone."

Dr. Sasson also believes would-be parents should not have to go into debt to begin a family. A single IVF treatment is $9,500, plus the cost of drugs. A young woman with a normal cycle will get several embryos from that procedure. If the first fails there is an additional cost to store the remaining embryos and use them to performing a frozen embryo transfer. "If she does not deliver, other practices will ask such a patient to pay again," says Dr. Sasson. "I feel that is fiscally irresponsible."

Shady Grove Fertility Center is so confident in the success of its IVF program that is offers a 100 percent refund to any patient who does not deliver a baby. No other center in the state offers this type of a guarantee, according to Dr. Sasson. This "shared-risk guarantee" can be used for the patient's own eggs or a donor's. One of the few requirements is that the woman be under 39 years of age. "Otherwise," he says, "it is quite liberal." The cost of the program is $20,000, which includes six IVF treatments and all the transfers they need. If the patient does not deliver, they do not pay. "It is an amazing program," he says.

He acknowledges that fertility treatment can be emotionally exhausting. For this reason patients are allowed to end their participation after each cycle and receive a full refund, or they can choose to go on with treatment. Shady Grove Fertility Center also cares for patients' overall well-being by taking a personalized approach to care. "I am emotionally invested and build a relationship with them. They are my patients from the beginning. Fertility treatment is a journey, not a sprint. … I am on that journey with them."

A Strong Start
One of the technological advancements Shady Grove Fertility Center is privileged to have is the EmbryoScope, a device that allows physicians to select the most viable embryos. There are only 12 of these machines in the country, and no other center in the state has this technology.

While temperatures fluctuate each time the door is opened on a traditional incubator, the EmbryoScope is a closed system whereby the embryos' progress is captured by camera every 20 minutes. With these time-lapse images, Dr. Sasson explains, "you can make a movie about how the embryo has divided from one to 200 cells in five days. This helps us select the single-best embryos." He says Shady Grove Fertility Center has had success using the EmbryoScope for couples who have failed cycles with other practices.

"Choose a facility that practices medicine responsibly," he says. "A lot of technology is available, but it is not always appropriate. [Some procedures] add significant cost but do not improve the live birth rate. … Make sure any practice is transparent about why decisions are being made. I spend lots of time reviewing records from other practices. It is worth exploring your options, and it never hurts to get a second opinion."

Whether the patient has been unsuccessful through another practice, or is just beginning the journey of treatment, Shady Grove Fertility Center is committed to helping them deliver.

Shady Grove Fertility Center has multiple locations on the East Coast, including Bala Cynwyd and Chesterbrook. To learn more, visit www.shadygrovefertility.com or call
888-761-1967.
Photography by Jody Robinson