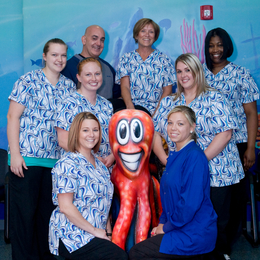 A Dental Adventure
Dr. Eric Felix goes to great lengths to ensure that a trip to Children's Dental Health Associates is fun
When you walk into one of the offices of Children's Dental Health Associates, don't expect to see your standard boring white walls and carpeted floors. Depending on which of the 10 offices you visit, you could instead be transported to someplace exotic—deep space, under the sea or on a train ride—the moment you step through the office's doors. No boring dental office here, and that's just how Dr. Eric Felix likes it.

"Our whole office is designed with children in mind," he says. "The hope is to reduce anxiety as much as possible and make going to the dentist as fun as possible. We want to make the appointment secondary to everything else going on in the office."

Other child-friendly amenities include full-size arcade games, televisions for movie viewing and dentist chairs designed especially for children. It's not just the offices that are child focused, either. All of the doctors at Children's Dental Health Associates are pediatric dentists, so they are specially trained to work with children of all ages.

"If someone calls for a pediatric dentist, that's what they should get," Dr. Felix explains, noting that each location has two dentists that rotate through the office. "There are no general dentists here. We are all pediatric specialists." As such, all of the doctors have an additional two years of schooling beyond dental school, and are specifically trained to provide dental services to children.

Additionally, if a surgical procedure is necessary, Children's Dental Health Associates utilizes the Children's Surgical Center of Malvern. According to Dr. Felix, there are only a few surgical centers in the country that work exclusively with children's dental needs, and the Malvern facility is one of them.

Because the doctors specialize in treating children, they are aware of how to handle the many needs children have, including anxiety, and they take those into account when developing treatment plans. The practice also works with children who have special needs and other health concerns.

In addition to providing a child-friendly environment, Dr. Felix also strives for safety and cleanliness in his offices. Part of the cleanliness aspect is seen in the rubber floors Dr. Felix had installed, which he says he believes are softer and safer than regular floors. Another aspect is the fact that very few of the tools utilized in the office are ever reused, in an effort to avoid infection and cross contamination. "We try to use as many disposable items as possible," he says. "I spend more money this way, but it eliminates any worry. I like things really clean."

Additionally, only digital X-rays are utilized in the office, which reduce the amount of radiation by 90 percent vs. traditional X-rays. The office is also entirely mercury free, and only white fillings are offered to patients. "We do not do any silver fillings in this office," Dr. Felix says. "If a patient needs a crown on the front teeth, we also have white teeth for that."

While Dr. Felix offers amenities at his offices that will not be found anywhere else—the jungle-themed office at the Chadds Ford location is particularly notable—he does not feel as though his office is unique in maintaining the commitment pediatric dentists have to children. "Pediatric dentistry is pretty straightforward—there isn't anything we can't, or won't, do for kids," he says.

To that end, Dr. Felix maintains a focus on early and preventative care, and follows the recommendation of the American Academy of Pediatrics, suggesting children start seeing a dentist at age 1. He also offers fluoride and sealants, and does his best to be sure patients are seen every six months. "We push hard on the preventative end, and educate new patients on dietary recommendations and how to properly brush their teeth," he says, noting that every child gets a new toothbrush at each visit.

His commitment to his patients also includes doing whatever he can to make scheduling an appointment at one of the offices a hassle-free process. "Our overall goal is to just make things as easy as possible for everyone involved," he says, adding that Children's Dental Health Associates accepts most forms of insurance, in an effort to "open up quality care to as many children as possible."

Dr. Felix is not only committed to his patients and their parents but also to the communities his offices serve. Most recently, he asked each of his offices to choose a cause that they will support, and in keeping with his commitment to children, his main office will support the fight against childhood obesity.

It was an easy decision for Dr. Felix to venture into pediatric dentistry. His father was a pediatric dentist, and quite frankly, he admits, it is more fun having children as patients than adults. The compassion he has for the field is evident in the care he takes to provide quality, advanced treatment solutions to all of his patients in a fun, carefree environment.

Growing up may be a journey, but thanks to Children's Dental Health Associates, at least pediatric dentistry can be more of an adventure than an ordeal.

Visit www.childrensdentalhealth.com or call 610-622-1949 for more information on the practice and its 10 locations in Chester, Delaware and Montgomery counties.
Photography by Jody Robinson