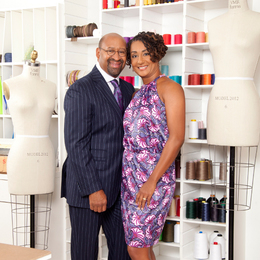 Perfect Fit
Philadelphia has much more to gain from its revived fashion industry than just a keen sense of style
The things Ed Goldberg saw while walking the streets of downtown Philadelphia as a child influenced him profoundly, even if coincidentally, as he mapped out his future as an adult.

He remembers tramping the bustling sidewalks with his mother, as workers shuttled rolling racks of clothing past the façades of department stores bearing storied names such as Gimbels and Wanamaker's. The scene was electric, vibrant, somehow alive, and it filled his head with visions of the magic happening behind the scenes—tailors with tape measures outfitting customers, seamstresses busily stitching together swatches of fabric with finely done sutures, working in tandem to craft ready-to-wear garments.

Considering how fondly and vividly Goldberg recalls such memories, it should come as no surprise that he would go on to work for one of the biggest names in fashion—Macy's, which he now serves as senior vice president of public affairs—for nearly four decades and counting. What's more, it seems only fitting that he would have a hand in helping the city prop up locally based fashion designers in hopes of keeping them here, in his hometown, rather than heading off to seek work in New York City or Los Angeles.

"All the stars aligned," says Goldberg, who lives in Yardley and commutes to his office in New York City. "We had an experience going back a couple of years ago in Chicago, where Macy's bought the old Marshall Field's chain. We had the germ of an idea to create an incubator as a way to keep the talents of fashion people in Chicago. I went to Chicago in 2010 and liked what I saw, so I spoke to Macy's chairman Terry Lundgren and said I would love to see us expand the concept.

"I said I would like to try it in Philadelphia."

This was the beginning of the Philadelphia Fashion Incubator at Macy's Center City. The two-year-old nonprofit organization—a collaboration between the City of Philadelphia, Center City District, Macy's Center City and educational institutions such as Drexel University, Moore College of Art and Design, and Philadelphia University, and led by executive director Elise Bloom—was created to help emerging fashion designers build and sustain fashion-based companies in Philadelphia by giving them, essentially, a head start.

The incubator's first class of Designers-in-Residence (DIRs) finished their yearlong residency in March 2013, using the previous 12 months to develop their business and hone their talents out of an 800-square-foot space—production room, conference room, showroom, etc.—within Macy's Center City in the historic Wanamaker Building on Broad Street. (Editor's note: Macy's donates the studio and showroom space for the program, among other contributions, but does not necessarily have to sell any of the designers' clothing.) DIRs received business resources and mentorships with established fashion professionals, and also garnered ideas through a core curriculum of workshops and seminars focused on business development and garment production, among other educational opportunities. In January, for example, DIRs from Philadelphia, Chicago and San Francisco traveled to New York for an opportunity to meet with fashion executives as part of an experience that included an hour and a half speaking with fashion legend Tommy Hilfiger, according to Goldberg.

The incubator program, however ambitious, is merely one leg of a bold, citywide strategy to build upon Philadelphia's rich heritage in fashion design and manufacturing. The city, after all, has at one time or another played a part in the successes of Charming Shoppes, Destination Maternity, Stetson, Tory Burch and Urban Outfitters, among others. This strategy is not simply about having ample places to, say, buy designer heels or a custom-made Italian suit but rather a multipronged plan to invigorate the local economy, stimulate job growth and shift Philadelphia's reputation away from being a gritty place overrun with rabid sports fans to one of being a cosmopolitan city rife with cultural attractions.

Other efforts include the creation of the Philadelphia Retail Marketing Alliance (PRMA), which was formed in 2008 to enhance the city's retail offerings in terms of both quality and quantity, through smart development and initiatives to make it an appealing destination for nationally known retailers. Then there's the Philadelphia Collection, a marketing umbrella founded in 2010 to promote the city's diversity of fashion-centric events, designers and neighborhoods, culminating in a weeklong fashion-week celebration every September.

"Citywide collaborative marketing initiatives such as the Philadelphia Collection are a big part of what sets Philadelphia apart as a city that supports the long-term growth of its developing economic drivers," says Mayor Michael A. Nutter, who, with his wife, Lisa, has been an ardent supporter of programs designed to bolster the city's fashion industry. "The business of fashion in Philadelphia is becoming a major economic driver, and independent fashion retailing is leading the way in the growth of our city's thriving creative economy."

The incubator and the Philadelphia Collection, the Mayor believes, are helping to deliver a tangible payback that will be significant in terms of new job creation, as well as business retention and expansion, plus intangible benefits such as the increased awareness of existing businesses. In other words, a rising tide lifts all boats.

"We have an overall strategy to reshape our image as a fashion-friendly city," says Michelle Shannon, vice president of marketing and communications for Center City District, co-chair of the PRMA and a board member of the Philadelphia Fashion Incubator at Macy's Center City. "With the incubator, for the first time in a long time, the fashion community has something to rally around, and it has been a catalyst for collaboration. … The point of the incubator was to recreate the talent coming out of [schools with strong fashion design programs] and get to the point where they can open their own storefronts and keep jobs here. It all comes back to jobs and economic development, all wrapped in the sexiness of fashion."

Signs suggest the city's efforts are paying off. Forbes.com, CNBC and other national media have ranked Philadelphia among the country's best cities for shopping. In addition, locally based fashion retailers and designers appear to be stretching their legs downtown.

"Even at the height of the bad economy in 2009, the vacancy rate went up maybe half a percent, so we've been able to be stable," says Shannon. "The other thing is, with the increased rent of stores along Walnut Street—because the owners can get it—and it has caused some homegrown and national retailers to move to West Chestnut. Everybody always wanted to be on Walnut Street, but there's only so much real estate, so now people are taking the opportunity to go to West Chestnut Street. Boyds is there. Knit Wit made the move to go there. Allen Edmonds, which is a national retailer, they opened on West Chestnut, too.

"The good thing is that there is not just one good retail street with good dining," she continues. "Walnut Street isn't the only option on the west end of town. These are all measures of success."

Other measures of success include designers who actually make and manufacture their lines here, which is already happening on a smaller scale and, Shannon believes, will only increase: "Is Macy's going to come here and manufacture 50,000 pieces of clothing? No, but niche apparel and accessories—yes, I think we really can be a good option. It's the next frontier, so to speak."

Harnessing Energy
Sarah Van Aken is living proof of this evolution. She started her business in 2006, with the aim of becoming a designer of women's fashions. In the course of researching her development and financing options, however, she realized that "no one in their right mind would give me half a million dollars to start a women's clothing brand." So she came up with a plan B.

"I found a way to get into business with $10,000, selling men's custom shirts," says Van Aken. "My first investor—the real estate developer I was working for—gave me the first seed money for Van Aken Custom Shirts. I had some quick success with that brand and later that year launched Van Aken Signature custom hospitality uniforms."

Encouraged by her success in designing uniforms for notable clients such as José Garces and STARR Restaurants, she opened a fair-trade garment factory in Dhaka, Bangladesh. Business flourished, though production issues in Dhaka and headaches related to shipping textiles, fibers and other goods from country to country—including having to pay off customs brokers to prevent theft—put more distance between her and her dream of having the women's clothing brand she so desperately sought.

"I really began to envision a different kind of fashion brand—one that considers how and by whom things were made, what they were made with, and our impact and support of the community," she says. "I truly felt that as saturated as the apparel market was that there was something missing. … I wanted to create easy, effortless fashion, with unique style details that fit in to a vibrant woman's own sense of style."

In 2009 she worked with the Philadelphia Industrial Development Corp. to open a garment factory and a retail store in Center City, which ultimately became SA VA on Sansom Street. The business, which recently celebrated its four-year anniversary, has since spawned a wholesale division, and Van Aken's fashions are now found in dozens of retail stores—a number that will only grow through the efforts of sales representatives covering 33 states.

"I do feel that fashion and design [in Philadelphia] are changing," she says. "It is being cultivated by both the creative class and by the city and its affiliates. The Philadelphia Fashion Incubator is a true testament to that. At the same time, it is kind of like the restaurant industry, which took years to cultivate.

"I think that the success of this industry will have benefits on many levels," she continues. "I think that it helps shape the city in image, in profile and in its ability to attract tourists and talent, but I think what is most critical in today's economy is the job sector. Three times the amount of money spent at a local business stays in the community that it's spent in. The fashion and apparel industry is in the billions; a slice of that in Philadelphia could be incredible for our community, our workforce and, yes, our 'cool factor.'"

Another Philadelphia fashion designer, Nigel Richards, has some items for his 611 lifestyle clothing brand manufactured locally. He also works with manufacturers overseas—China, Guatemala, etc.—because, despite time-zone differences, language barriers and other challenges, the turnaround is incredibly quick and the product quality does not suffer.

"I still do like to make things here in Philadelphia," he says. "If I end up growing to get six to 10 machines and my own people in my own factory—maybe I will soon—I would do things differently. There are so many pieces to a garment, so if you don't have one piece of the puzzle, the cost multiplies and turnaround time drags on. … If I'm going to wholesale a shirt for $45, and margins are thin as it is, it had better be perfect.

"If I had known how much money and time it would take to [start my own clothing line], I would not have done it," he continues. "You need probably $600,000 to do it right, and I had about $100,000 [when I launched at the end of 2010] and probably blew $70,000 on the wrong things."

The 611 line started out as flashy T-shirts influenced by Richards' lifestyle from his days as a globetrotting deejay and owner of the iconic South Street record store of the same name. It has evolved to include designer collared shirts and other apparel geared for men ages 25 to 40—"a customer with a good job who works in the creative field, probably not an accountant," he says—sold in Philadelphia fashion hot spots such as Joan Shepp, Kembrel and Metro Mens.

"It's an interesting time here," says Richards, who works as a Realtor with Coldwell Banker Preferred in Old City to support the 611 brand. "I don't think Philadelphia is an optimal market, but I don't mind slow growth. It may not grow as quickly as I thought it would, but I'm having a good time."

As Richards suggests, Philadelphia's fashion renaissance holds much promise, yet it will likely be an uphill climb. Although initiatives such as the Philadelphia Fashion Incubator at Macy's Center City are working diligently to make the city appealing to fledgling designers, the bright lights of Manhattan and L.A., among other more established fashion meccas, serve as a tempting lure.

"Philadelphia is one of the biggest college towns in the entire country, but we're losing a lot of talent from all industries," says Janice Lewis, professor and chair of the fashion design department at Moore College of Art and Design. "We consider a graduate to be successful when they get a job and start working in the industry or start their own line—and we have a lot of success stories (including Dom Streater, a Moore alum featured on season 12 of Lifetime's "Project Runway")—and we would like to see more students be successful in Philadelphia. The incubator is great, and it's harnessing some of the fashion energy here, though it's not going to have a huge effect in the very near future."

Locally, employers such as Urban Outfitters at the Navy Yard—"an empire of 20-year-olds," as Lewis describes it—Destination Maternity at 5th and Spring Garden, and Lily Pulitzer in King of Prussia have become alluring homes to talented fashion design grads. As the economy continues to ever-so-slowly gain steam, Lewis believes that list will grow.

Standing Out
If one man can be an institution, it's Charles F. Morrotta Jr. ("Call me Chalie," he insists.) An integral part of Philadelphia's fashion scene since 1969, Morrotta owns Distanté on Sansom Street, known for its exceptional service, suits made of the highest-quality fabric and custom shirts with head-turning collars; the CMX (shorthand for Chalie Morrotta Xtreme) is his signature collar.

"The most important part of any mans suit is his shirt collar; you can see a shirt collar on a man walking down the street before you see the collar on his suit jacket," he says. "One of my clients is a big-time attorney, and he calls me 'the collar guy'; that is what I have become known as."

With an inimitable style one client describes as "a cross between 'The Great Gatsby,' 'Downton Abbey' and 'Boardwalk Empire,'" Morrotta remains not only one of the city's most gifted tailors but also something of a cultural guardian.

"I never leave home without a pocket square," says Morrotta, who still serves many of the clients he first met in 1983, when he and two friends opened a private showroom in a brownstone on South Broad Street under the name Lawrence Morrotta Silva. "I love the old look, the older fabrics, but with a little more of a contemporary fit."

So far, for 2013, Distanté has done nearly 1,100 custom shirts; some clients have purchased as many as 90 custom shirts—ranging in price from $300 to more than $1,000—over a period of 18 months, according to Morrotta. His roster of loyal clients, which comprise a veritable who's who of well-known physicians and attorneys, not to mention a number of local celebrities, proves that Philadelphians have a deep appreciation for what Morrotta calls "dressing to the nines."

"A shirt is not just an accessory," he says. "When you put that shirt on, you should feel it. People come to me because of my expertise, the understanding of what these items mean and how they make a person feel. … It's not just brands you carry; it's the people in back of those brands. There's only one way to do business, and that's the right way. You make sure you make people happy, no matter what. That's the difference.

"This is all I know," he continues. "I never worked a day in my life—never—and I've been doing this since 1969."

As for the Philadelphia Fashion Incubator at Macy's Center City, stakeholders will ensure that DIRs continue to gain unmatched educational opportunities and other benefits that might one day include access to financing and post-residency transition space. As a result, it will surely spawn the next generation of Chalie Morrottas, Sarah Van Akens and Nigel Richardses—in other words, highly talented and motivated business owners who have devoted their blood and treasure to defining the city's sense of style and, in the process, creating jobs.

"The fashion and retail community here in Philadelphia is bigger and better than ever," says Mayor Nutter. "We have incredible fashion and design talent contributing to the fast-growing creative industry. Philadelphia's exceptional schools produce impressive fashion design talent, and we're thrilled to support independent entrepreneurs and startup companies through programs such as the Philadelphia Fashion Incubator at Macy's Center City."

If you ask Goldberg of Macy's, the incubator program—in Philadelphia, in Chicago, in San Francisco—might also one day produce a household name: "I'm sure that out of one of these incubators will come a world-renowned designer. When that day comes, it will be very special to see that happen."
Photograph by Alison Dunlap; Philadelphia's best-dressed couple—Mayor Michael A. Nutter and his wife, Lisa—rank among the supporters of the city's fashion revival. Here, they don fashions from local style icons; he is wearing a Distanté suit made with Loro Piana fabric, while she is wearing an Aso Damisi dress by two Designers-in-Residence from the inaugural class of the Philadelphia Fashion Incubator at Macy's Center City.

#
Made with Love
PHL Made shines a spotlight on locally crafted goods and the people who make them

Danielle Cohn and Michael Cooper have a soft spot for the hometown crowd. When they cofounded their organization, PHL Made, they did so with a simple yet profound mission: to promote the city's virtually endless roster of "makers and doers"—fashion, art, technology, music, food, textiles, etc.—who are driving the local economy.
"We want to remind people that this is the original startup city and a humble people … and we want to tell their stories," says Cohn, vice president of marketing and communications of the Philadelphia Convention and Visitors Bureau (PCVB). "We want people to know that Philadelphia is a place to come and see the makers' movement."
The goal is to have the PHL Made logo on all items made in the city of Philadelphia, in effect educating consumers here and afar on the companies that are making their products in Philly. The goal is to not only boost civic pride but also spur job creation.
"There are many artisans that don't have the overhead to market themselves to a large market or even have a storefront for people to find them," says Cooper, vice president of the Philadelphia Industrial Development Corp. (PIDC). "Larger organizations and corporations will be sponsors so that the smaller artisans can get their wares out there."
With social media already abuzz, the founders expect awareness to build through their website, phlmade.org, and the upcoming launch of PHL Magazine, a quarterly virtual magazine that will tell the stories of local manufacturers and other trendsetters. PHL Made is a volunteer effort at this point, with initial funding coming from the PCVB, PIDC and the City of Philadelphia Commerce Department. Unsurprisingly, Mayor Nutter is a cheerleader for PHL Made and its efforts to invigorate the economy and boost the city's profile.
This month the organization is hosting a Kickstarter program to further increase funding and public awareness. In addition, PHL Made pop-up shops will begin to appear as the winter holidays grow closer, thereby providing the perfect on-the-spot solution for those who prefer to buy local. —Jacqueline McCarthy