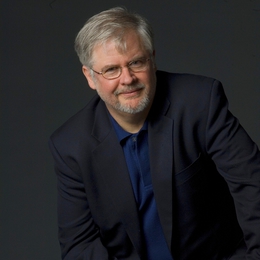 Play Time
For Christopher Durang, a Tony Award-winning playwright from Bucks County, it's all about character
After years of writing and producing satiric plays, both on Broadway and off, playwright Christopher Durang finally struck gold. In early June he won his first-ever Tony Award for his play, "Vanya and Sonia and Masha and Spike." We spoke to Durang about his experiences, his inspiration and why he wrote his award-winning play. Now armed with a Tony, among other awards, Durang is taking it slow and basking in his newfound prominence.

Suburban Life: When and where did you begin your career as a playwright?
Christopher Durang: My mother loved theater. From a very young age she would always talk about the theater she's seen. We lived in New Jersey. I can't remember what age I was when I saw my first Broadway show, maybe about 10. Twice a year my parents would bring me to see shows. ... When I was 8, which I find to be a bit precocious, I announced that I wanted to write a play. It was a two-page play. My play was actually a child's two-page version of an "I Love Lucy" episode. My school put it on one afternoon. ... It was rather flexible that they did a play written by an 8-year-old. I would say my mother is a big part of why I love theater. My whole family is interested in the arts. I guess my family got me interested.
I was also one of those children who my parents and aunts would read to. That's such a wonderful thing when parents read to their children. I grew up loving stories. "Winnie the Pooh" was the main [story] that my mother loved to read to me, "Alice in Wonderland" when I was older.

SL: Tell me about "Vanya and Sonia and Masha and Spike."
CD: So, it is about three siblings who were born into a house in Bucks County, which is where I currently live, not where I grew up. The three siblings were named after [Anton Pavlovich Chekhov] characters, and they had two professor parents who named them that. And they reflect other Chekhov characters a little bit. Two of them are unhappy in their 50s, haven't done much with their lives and spent 15 years helping their ailing parents. Their sister Masha is a world-famous movie star who wanders about the earth doing exciting things while they're being unhappy. Masha comes home with her "boy toy." She tells him she's in her 40s because he is a 27-year-old, very handsome young man. The play is what happens on that two-day weekend when she comes home. It's about the anger between siblings. Masha owns the house [in Bucks County] and announces that she is going to sell it. It's very much about siblings and this one-ended unexpected reconciliation at the latter part [of the play].

SL: What inspired you to write the play?
CD: You don't have to know Chekhov to enjoy the play. Inspiration came from when I was in college, reading Chekhov plays like "The Cherry Orchard" and "Uncle Vanya." In his plays, the characters are often discontented with their lives. ... Also in Chekhov's plays, there's often unhappy people living in the country and are jealous of people who live in cities. That was my jump-off point, frankly, about Chekhov. It's my "I'm getting older" play. It's about the choices [people] make. I feel that I am someone who was able to pursue what I wanted to do; I just wanted to be in theater. The play was somewhat about "What if my life had gone differently? What if I didn't leave my home?"

SL: What was it like winning your first Tony?
CD: I stopped thinking about [winning a Tony] about 10 years ago. I seem to take it in more the next day. I felt a little shell shocked and nervous because I won several playwriting awards before the Tony. People would tell me, "You'll win," but you never know what a voter will think. I felt nervous on Tony night, and also I'm getting over a leg injury. I had been practicing with physical therapy how to go up the stairs without a railing because Radio City doesn't have railings. I went up flawlessly.

SL: What's next for you?
CD: I have a commission from McCarter Theatre in Princeton, N.J. I need to find inspiration for my next play for that commission. I can't force it; it just descends upon me. I need a little breathing time before [I begin writing another play].