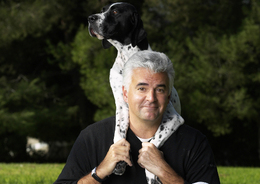 A Man Who Breeds Success
John O'Hurley, the multitalented star of stage and screen, as well as the emcee of Philadelphia's National Dog Show, epitomizes the term "best in show"
John O'Hurley's name has been permanently affixed to some of the most iconic cultural touchstones of the past 20 years: "Dancing with the Stars," "Family Feud," "SpongeBob SquarePants" and, perhaps most famously, "Seinfeld," in which he played the adventurous and poetically gifted CEO J. Peterman.

Hardly one to rest on his laurels, O'Hurley has kept himself rather busy since stepping out of Peterman's shoes. He's a New York Times bestselling author. He has performed key roles in two nationally renowned theater hits—"Chicago" and "Spamalot"—more times than any other living person. He even earned the designation of being one of People magazine's "Sexiest Men Alive," following his 2005 turn on "Dancing with the Stars."

O'Hurley has also established quite a reputation for himself in the Philadelphia area. His unmistakable voice can be heard daily on 95.7 BEN-FM, and he's due back in town next month for another recurring role: emcee of the National Dog Show Presented by Purina, which is hosted by the Kennel Club of Philadelphia. The event, which this year this slated for November 16 and 17 at the Greater Philadelphia Expo Center in Oaks, will be broadcast on NBC stations across the country starting at noon on Thanksgiving Day.

We caught up with the multitalented O'Hurley from his home on the West Coast. He shared his thoughts on his eclectic career and his forthcoming book, as well his epic battle with former heavyweight boxing champion Evander Holyfield, his rival during the first season of "Dancing with the Stars." Of course, he also shared his thoughts on the incalculable value of companionship provided by the beast affectionately known as man's best friend.

Suburban Life: You've been associated with some of the most beloved icons of American culture. Just a coincidence or are you the magic maker?
John O'Hurley: I've been lucky to grab onto the belt loops of some great brands. With "Dancing with the Stars," I got on board when it was at the point of innocence, with them telling me, "If you do it we'll be able to ask other people." Then with Holyfield-O'Hurley, it was the matchup America had been clamoring for. I took him out in the third round, if memory serves correctly. With the dog show as well, it was taking it on at the point of innocence and then seeing it mature.

SL: You've done everything from voice-overs to stage work to sitcoms to film. Do you have a favorite genre or at least a preference?
JO: I'm doing a lot of Broadway now, with two shows—"Spamalot," and I'm also playing Billy Flynn in the musical "Chicago." We have a fall tour to nine cities. I probably love live theater the most [out of all the things I've done]; I love the ambiance of theater. I love the organic nature of the event—that once it starts it can't stop. I find it really compelling, always challenging, and I never get tired of it. I've done "Chicago" more than any human being alive, I think. With "Spamalot," I've probably done that more than anybody else as well.

SL: I imagine people must still call you J. Peterman.
JO: On any other show [Peterman] would have disappeared into the cultural vacuum, but with the writing being so iconic, that character was able to thrive there. The writers loved it. … I've been lucky that way.

SL: There probably was no luck involved, but how did you and the National Dog Show first come into partnership?
JO: Through the ages, I've done a lot of work with NBC, NBC Sports and the events they sponsor—celebrity golf and other things we had done together. Then back in 2000-2001, they were scratching their heads over what to do with a two-hour spot [after the Macy's Thanksgiving Day Parade], which was a problematic piece of programming. There was a wide demographic that watched the parade, then you would wait two hours for football. You had reruns of "It's a Wonderful Life," and the audience would drop down to a million, and those numbers would be resurrected with football. What could you put on TV that would be a good shoe-in for a sports program? [NBC Sports president of programming] Jon Miller took home copy of [cult Christopher Guest film] "Best in Show" over the weekend, and he came in and said, "We're going to do a dog show." Inside of 48 hours, I got the call and they said, "Woof! Woof!" It's been a fantastic thing ever since.

My whole career I've been doing rather eclectic things, and that makes the mosaic much more interesting. It's been a wonderful learning curve, helped by [expert analyst] David Frei, who is so knowledgeable in the world of dogs. It's been a very knowledgeable friendship. I keep the show on track, adding comedy where I can, and generally add to the gentle mix of the show.

SL: Tell me about your dogs. Do you have a favorite breed?
JO: I've had dogs ever since I can remember—dogs of many different shapes. I have two now: One is a Cavalier King Charles [spaniel]; and the other is a Havanese. The Havanese doesn't get a lot of press, but they are easily maintained, very bright and extraordinarily loyal. They're probably the most attentive and loving dogs we've ever had. We got them at the same time; they're like Tweedledee and Tweedledum.

SL: How do you like coming to our fair city?
JO: We've moved around from downtown Center City, and we get to get out to all the different places. I love going out to the King of Prussia area, which is a beautiful area. … It's such a wonderful thing coming back to Philly every year, and the Kennel Club is so gracious, and it's genuinely turning into one of three great titles [in professional all-breed dog shows]. I think they realize it's the hood ornament for the season, the biggest dog show watched anywhere in the world. They're all well watched, but in terms of actual viewership, nothing compares to the National Dog Show. … It's been a home run for everybody, especially for the public. We have 20 to 25 million people watching every single year, and there's not another NBC program that does those numbers.

SL: For the upcoming event at Oaks, do you have a lot of preparation work ahead of you?
JO: I always love introducing the new breeds. It takes such a long process for a dog to go through this process of recognition; it represents a lot of dedication, years and years of organization and work to get these breeds to the forefront. Also, Purina has some things we do together; we'll do an "Andy Rooney moment" every year, with five-minute pieces here or there. Sometimes they are light and silly, and some years they have been poignant. … Last year we did a video, "The Perfect Dog," with my son about a week before the show. He asked, "Can Puppy be in the show?" Puppy is his little bland and bleached and ruffled stuffed animal, so he asked, "Can Puppy be in the show?" Of course, you have to book Puppy in the show. … We [also] wrote a Dr. Seuss-style poem about the perfect dog. What's the perfect dog? "It's the one next to you," he said. That became the message of the poem, and it had so many hits [online]. It went viral in text and the video we shot from the show. It got a lot of traction, and I mentioned it to my publisher about doing a children's dog book celebrating dogs for the first time. It's called "The Perfect Dog," coming out at the end of October.

I've never been involved in dog showing at all [before getting involved in the show]. I was kind of starting blind for the first show, with a large growth curve. Luckily, I had David Frei at my side, so there were no worries. In conclusion, it's my favorite day of the year because of the unusual nature of the show. It's a "benched" show, which is unusual (benched shows are those in which participating dogs are required to be on assigned benches when they are not being shown in competition, enabling interaction among dog owners and spectators), and my wife and I walk up and down the aisles, with 2,000 dogs gathered there, and thousands and thousands of people in the event back stage and in the center arena. We'll also be doing a book signing [of "The Perfect Dog"]. Obviously, my son—his name is Will—he wants to be there. I think we've created a monster.

It's funny how my life has changed. When I began [doing the National Dog Show], I was a bachelor without a wife and a child. Now, so many years later, it has changed my outlook on the nature of family and companionship.