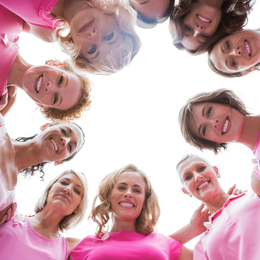 No More Tears
Continued progress in the battle against breast cancer turn statistics into survivors
Jennifer Simmons, M.D., was 9 years old when breast cancer touched her life for the first time. Someone very close to her, Linda Creed—a gifted singer-songwriter then in her late 20s, who wrote lyrics to songs performed by everyone from Whitney Houston to Dusty Springfield—had been diagnosed with the disease.

Within a decade of her diagnosis, Creed was gone.

"It was incredibly tough on me when she died," says Dr. Simmons, now chief of breast surgery at Einstein Medical Center Montgomery in East Norriton. "Years later, when I went to medical school, I decided I wanted to be a surgeon. Breast surgery and treating women for breast cancer seemed a logical place for me to land."

Technological advancements, as well as progress in treatment being made by medical professionals throughout the Delaware Valley, are making heartrending stories such as Dr. Simmons' much less prevalent. Although women continue to be diagnosed with breast cancer—an estimated 232,340 women in 2013, including 10,490 in Pennsylvania, according to the American Cancer Society—more and more are becoming not statistics but survivors. In 2005, 40,415 women died of breast cancer, compared with an estimated 39,620 women who are expected to succumb to the disease by year's end—despite a significance increase in the incidence of the disease (234,580 in 2013 vs. 211,240 in 2005).

Early detection through the expanded use of mammography is perhaps the biggest reason why more women are wearing the label of "survivor," according to John Redmond III, M.D., chief of the Medical Oncology Division of Abington Memorial Hospital and director of the Rosenfeld Cancer Center. Abington Memorial's Mary T. Sachs Breast Center, for example, performs approximately 44,000 mammogram screenings per year, ranking it among the busiest screening centers in the Delaware Valley.

"It is important to educate the public," Dr. Redmond says. "Women ages 40 and up should get routine annual mammograms. And they need to educate their daughters so they get these checkups, too. One of the most effective ways to stop cancer is by embracing early-detection techniques."

Due to the effectiveness of mammography and its increased awareness, a significant number of cases now involve breast-conserving surgery and reconstruction treatment rather than what Dr. Redmond calls the "disfiguring and deforming" treatment prescribed prior. Of nearly 350 new cases, he suggests, approximately 70 percent involve lumpectomies and radiation with hormonal treatment, "and maybe chemotherapy occasionally," he says.

At Einstein Health Network, technology has evolved to include digital breast tomosynthesis, which Debra Copit, M.D., characterizes as "a lot of words for a mammogram taken at different angles." Tomosynthesis, which received FDA approval in 2011, increases the sensitivity of breast cancer detection compared with traditional mammography. As a result, it also reduces the number of false positives.

"We've grown leaps and bounds from film-screen [mammography] to digital," says Dr. Copit, longtime director of breast imaging at Einstein Health Network. "You can look at a beautifully done two-dimensional image and look at the same breast on the same day with tomosynthesis and see cancers.

"Ultimately we accept the fact that women get breast cancer," she continues. "All we can do is try to detect it at its earliest stage, so that is our goal. We know if we can detect cancer when it is less than a centimeter, there is a 98 percent survival rate. … No cancer is completely curable, but if we attack it in its earliest stages it is very treatable."

Even when the cancer is removed, a woman who has been diagnosed with the disease will be contending with the aftermath of her diagnosis ever forward. As a result, radiologists, surgeons and other members of a breast cancer treatment team tend to forge close bonds with survivors. This is one of the most rewarding parts of the profession, according to Dr. Copit, who had her own private battle with the disease, following her diagnosis in 2011. She credits early detection for her recovery and says having undergone successful treatment has given her an even greater sense of empathy.
"It's what drives us every day," she adds. "We get to know our patients. … There's nothing more gratifying than seeing someone five years after their diagnosis and saying, 'See? I told you you'd be here five years from [your diagnosis].'"

Beyond medical treatment and advancements in genetic testing, women have more resources than ever to deal with the range of emotions and experiences they will face following a diagnosis. Organizations such as Gilda's Club in Warminster, Breastcancer.org in Ardmore and Living Beyond Breast Cancer in Haverford, as well as the Linda Creed Breast Cancer Foundation in Philadelphia, provide information and support to help women negotiate everything from psychological and intimacy issues to the residual side effects of treatment.

"Because we have done so well in the treatment of breast cancer, the biggest group [of women] is the survivors, so now the focus is on treatment and survivorship—what can we do to make them whole again," says Dr. Simmons. "We have issues that weren't dealt with 10 years ago. It doesn't stop once the disease is treated; this is part of their ongoing treatment for the rest of their lives."

Increased awareness of the disease and a woman's ability to overcome it are further contributing to medicine's ability to combat the disease. Inspirational stories from high-profile women such as Angelina Jolie, who announced in May that she underwent a double mastectomy after genetic testing revealed she was highly susceptible to breast and ovarian cancer, are spreading the word that the disease is not a death sentence.

"I love that Angelina Jolie came out with her story," says Dr. Simmons. "After her surgery, when she came out looking as beautiful and unbroken as ever, it sent a great message: This doesn't have to break you; you can still be you and be wonderful after you are treated for this. What she did was courageous and helpful to the community."

It is this kind of courage that Dr. Simmons and her peers find so inspiring. Although breast cancer undoubtedly changes a woman in profound ways, catching it early can also lead to significant positive changes in her life.

"Things are never the same afterward, but in many ways we can help women find a new normal that in some ways are better," she says. "We can … do more to prevent other diseases down the line through nutritional counseling and health counseling, and overall help them lead healthier, more active lives."

In other words, she says, "Sometimes something really good comes out of something bad.

"I would love to see a cure for breast cancer," she adds. "I am 100 percent certain they will find a cure, and when that happens I will be very happy to find another way to busy myself."


By the Numbers
Estimated No. of New Breast Cancer Cases* in 2013, Total U.S.: 234,580
Estimated No. of Breast Cancer Deaths* in 2013, Total U.S.: 40,030
Estimated No. of New Female Breast Cancer Cases in 2013, Pennsylvania: 10,490
Estimated No. of Female Breast Cancer Deaths in 2013, Pennsylvania: 1,950
Five-year survival rate for all cancers diagnosed between 2002 and 2008: 68 percent
Five-year survival rate for all cancers diagnosed between 1975 and 1977: 49 percent

Source: American Cancer Society

* Women and men