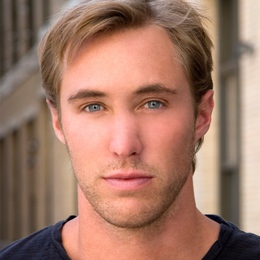 Taking the Lead
Soap opera veteran Kyle Lowder comes to the Media Theatre to take on the title role in "Joseph and the Amazing Technicolor Dreamcoat"
Veteran actor Kyle Lowder has nearly 10 years of experience as a regular in daytime soap operas, having appeared as Brady Black on "Days of our Lives" and Rick Forrester on "The Bold and the Beautiful." Recently, however, he has transitioned his talents from the screen to the stage. In fact, he's just completed a Las Vegas run—performing eight shows a week—as character Stacee Jaxx in the musical "Rock of Ages." Now he's coming to southeastern Pennsylvania to play the lead role in "Joseph and the Amazing Technicolor Dreamcoat," which runs from November 20 to January 5 at the Media Theatre for the Performing Arts.
"I've heard so much about Media Theatre and Jesse Cline, the artistic director, and everything that Media Theatre has just done over the years," he says. "I really am very much looking forward to working with the cast. … I just can't wait to get started."

Suburban Life caught up with Lowder to chat about these experiences and others just in time to hear about the premiere of his upcoming Media show.

Suburban Life: How have you been preparing for your upcoming role as Joseph in "Joseph and the Amazing Technicolor Dreamcoat"?
Kyle Lowder: I'm very familiar with the musical because I've been a fan of musical theater for quite some time now and it's a very iconic musical, a very iconic score, so I was very familiar with it before this situation but not so familiar that I could just jump right in and do the show. I have the score that I've kind of been studying and [I've been] listening to the soundtrack and watching the movie.

SL: The song "Joseph's Coat" names about 30 different colors. How long did it take to memorize these colors and the order in which they're mentioned?
KL: To be honest, I haven't yet. It's so funny. … That's the hardest part of the entire show, singing the song in which you have to name every single color. It's not as easy as memorizing normal lyrics where you're kind of telling a story; you're literally just naming color after color and I've almost got it, but to be honest I'm not there yet. That's definitely the most challenging part—singing the song where you have to name every single color of the coat. Obviously I'll get it right by opening night—that's a promise!

SL: You're originally from Westchester County, N.Y., yes? Are you looking forward to being back on the East Coast?
KL: I'm very much looking forward to it. I was in Westchester from first grade through … high school, and even went to college at Syracuse University's drama department in upstate New York. … I have lived in Los Angeles for the past 14 years, so I mean L.A. is definitely home as well, but I am looking forward to getting back to the East Coast. … I'm not necessarily looking forward to the East Coast winter … but just the sentimental value of being back in that area is overwhelming.

SL: What prompted you to transition your talents from screen to stage?
KL: I really started performing in musical theater and singing. That was kind of my first love, and television was … the best 12 years of my life, career-wise, but I just kind of felt this, for lack of a better phrase, this pull towards getting back on stage. Television is something that I definitely have not left in the past; it's something I always want to be able to do. I just really felt that creatively I wanted to dedicate a lot of my present career to the stage and musical theater in particular.

SL: Soap operas tend to have particularly dedicated fan bases. Have you ever met any "super fans" and, if so, what was that experience like?
KL: I've had the privilege of meeting a lot of them. It's a great experience. You know the fans and viewers that I've met over the years of the shows that I was on, they're amazing people. They really are the reason why these particular shows that I was on—"Days of Our Lives" and "The Bold and the Beautiful"—are still on the air and still doing so well.