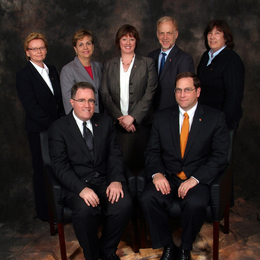 The Hometown Team
By remaining an independent Federally Chartered Mutual Savings Association, First Federal Bank of Bucks County is able to better serve the local community
Since 1885, First Federal of Bucks County has been helping customers achieve their financial goals, building businesses and strengthening the community. Today it provides services to more than 1,200 local businesses and 18,000 consumers within Bucks, Montgomery and Philadelphia counties. Because First Federal of Bucks County is a Federally Chartered Mutual Savings Association, the bank is not publicly traded. Instead, it is "owned" by the association's customers. The bank does not raise capital via investors and instead must earn a profit and grow its capital by conducting basic banking business within its service area. This approach has resulted in consistent, fair and conservative business practices. Entering 2013, First Federal of Bucks County was enjoying three straight years of record earnings, including record net profits of $4.588 million in 2012. This growth benefits the community, not stockholders.
First Federal of Bucks County partners senior executives with larger-bank experience and long-term team members who have served the community for many years. This unique formula has produced products and services that big banks offer with a highly personal service approach to its customers. Among these executives is Jeane M. Coyle, a 30-year financial industry veteran who previously served as the bank's executive vice president and chief administrative officer before her appointment to First Federal president and CEO this past July.
"After more than 127 years, I want First Federal to be relevant, not just to exist," Coyle says. Her vision for the bank includes serving as an important part of the Bucks County community, providing convenience and value for the bank's business and individual customers, maintaining profitability for long-term growth and continuing to give back to the community.
Suburban Life sat down with some of First Federal Bank of Bucks County's leadership team to learn how they contribute to the institution's success.

As senior vice president for sales and administration, Georgann Berger McKenna oversees service quality through retail banking, consumer and mortgage lending and the bank's 24-hour customer care center. She joined First Federal of Bucks County in 2010 after working for both larger commercial banks and smaller community banks. She prefers community banks because their organizational structures are flat. "I can make quick decisions for our customers," McKenna says. "I'm also closer to our team members day to day, and this allows me to help them develop as bankers, managers and community leaders. You can't have that impact at a large bank."
Community involvement is an important part of the culture at First Federal of Bucks County, Berger McKenna explains. "The expectation is that we all make a difference through our involvement in the community, senior managers and team members." Her involvement includes a role in the bank's United Way Committee and participation in Habitat for Humanity of Bucks County.

Karen D. Shinn leads First Federal's advancements in new technologies and customer service delivery systems. She joined the bank as senior vice president of deposit operations and information technology in 2008, after 30 years in the industry. Shinn feels fortunate to be a part of an institution that has "demonstrated a deep sense of community commitment to the customers it serves." She appreciates the new technologies and product advancements Coyle has delivered to the bank's broad customer base. "Jeane focuses on enhancing customer relationships on the line and in our back-office areas. We have more direct customer contact than other banks." Shinn is excited that she can help lead First Federal's commitment to delivering smarter products and services to its local customers.

Dorothy Jaworski was hired by First Federal of Bucks County as senior vice president and treasurer in 2004 after a colleague recommended the bank. "I felt that working at a community bank would be a great opportunity to truly make an impact with my skill set," she says. As bank treasurer, she manages investments and funding as well as the asset-liability management process. Jaworski believes she makes a positive impact on earnings by managing and adjusting risk over time. "The bank has seen great success in building up its retail and commercial business lines," she says. "That success will continue because we are truly committed to competing and thriving in the local community."

While interviewing for a position at First Federal of Bucks County in 2009, William J. Boyce was impressed with the existing management team. After working at a public accounting firm auditing financial institutions of all sizes, he was attracted to working for a smaller bank where he would know his colleagues personally and be able to see clearly the effect of his efforts on the entire institution. As executive vice president and chief financial officer, Boyce directs the finance and accounting department. He also is integral in strategic goal setting with accurate and relevant data that tracks progress toward bank goals and helps First Federal plan for the future. "When people hear 'finance' and 'accounting,' they immediately think 'boring,'" he says. "I can honestly say that no two days are the same. At First Federal, we are constantly seeking new ways to be smarter and more effective for customers and team members."

Robert Coffin has been an employee of First Federal of Bucks County since 1980, when it merged with New Hope Savings. "As chief credit and risk officer I monitor and report the bank's risk areas," he says. "I feel this role is vital to continued viability of the bank and its ability to serve its customers." As a lifelong resident of Lower Bucks County, Coffin enjoys working with and for his neighbors. "I have seen the positive effect this bank has had on many community organizations, including the United Way." He personally serves as a youth sports coach, board member and chairman of the American Red Cross and has actively participated in the Lions Club for more than 20 years. "I like that in our daily lives we participate with all levels of the bank and can see the impact of our work with homeowners, businesses and nonprofits," he says.

Executive vice president and chief lending officer Derek P.B. Warden enjoys meeting business owners, learning about their business operations and then getting to help them achieve their goals by providing them with the financing they need. A First Federal of Bucks County employee since 2010, he believes community banks fill a much needed niche. "Our clients know they have access to senior managers and decision makers," he says. "We know you and you get to know us. It is a business relationship, which most small to medium-size business owners prefer." As a mutual savings bank, he notes that First Federal of Bucks County is dedicated to commercial lending and that planning is done on a long-term basis. "We are here to support the financial service needs of the Bucks County community for the long term," he says.

Coyle summarizes the bank's success succinctly: "Bucks County is a great place to live, to work and to serve. First Federal of Bucks County is proud to make a difference in all three."

First Federal of Bucks County
215-788-3344
Visit www.firstfedbucks.com.
for more information and locations in Bristol, Levittown, Langhorne, Wrightstown, New Hope, Bensalem, Southampton, Newtown, Yardley and Lower Makefield.