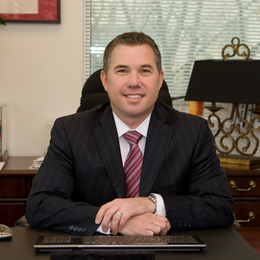 Fully Invested
Scott J. Kaminsky offers the knowledge and expertise, supported by the global resources of Morgan Stanley, to meet investors' needs
The world is full of opportunities and pitfalls. Adding finances into the mix only intensifies the uncertainty. For the last 17 years, Scott J. Kaminsky and his team at Morgan Stanley have been providing the expertise needed to navigate these ever-changing waters with an uncommonly personal commitment, backed by the resources of a global powerhouse.

"Morgan Stanley has people in all corners of the world, testing the economy," Kaminsky says. "Its global resources allow us to get a feel for how different regions are doing. Morgan Stanley has representatives located in more than 100 countries, looking at what is going on in the world and within individual companies. To look at that number of companies, go in to talk to the CEO and the board, lift up the hood and kick the tires, so to speak, is difficult to do for a volume of companies if you do not have the breadth of resources we do."

This capacity to perform research also offers the clients of Morgan Stanley access to well-studied investment models. "One of the biggest mistakes people make is investing without drawing up a blueprint of their goals," he says. "As a Certified Financial Planner professional, I am able to recognize the financial-planning needs of my clients and tap into the resources of Morgan Stanley—individuals dedicated to the topic and financial-planning groups—that allow me to take a client's goals and objectives and place them into a strategy that will form an overall plan for each individual."

This specialization extends into the field of estate planning as well. As Kaminsky explains, creating an appropriate plan is the most involved aspect of the process, while having it drafted by an attorney is far less time consuming. As part of its relationship with clients, Morgan Stanley offers a team of estate-planning professionals who are trained to analyze client's sometime complicated needs and develop a plan for the aspects that are most important to them. Morgan Stanley also offers banking and lending capabilities.

Often, investors have the misconception that a firm as large and experienced as Morgan Stanley must charge high fees, but "that could not be further from the truth," he says. Kaminsky is primarily a fee-based advisor, meaning he generally charges a flat fee for management of an account rather than commissions. This often tax-deductible fee is a reasonable percentage of the assets being managed and typically covers most aspects of financial planning, including retirement planning, estate planning and cash-flow management. When first establishing a plan, as well as the ongoing management process, there may be multiple trades that are required given the economic climate or the client's personal situation, and "I need to be able to make these adjustments without charging additional or exorbitant fees," Kaminsky says. Additionally, his flat fee can be planned for while commission-based fees may fluctuate widely based on adjustments made due to market turmoil.

Another common misconception is that when an investor is represented by a large firm is that they do not receive personal attention. Kaminsky assures these individuals that he and his team are accessible and focused on every client they serve. "We won't invest their money or do anything until we have had an in-depth conversation regarding their needs, concerns and what has worked for them or not," he says. "There is a reason we have two ears and only one mouth. Listening is a lost art." Kaminsky has been named a Five Star Professional Wealth Advisor for the last five years in a row.

Kaminsky understands that a financial plan is an ever-evolving document. Once it is implemented, it needs to be continually evaluated and adjusted based on the investor's needs. Kaminsky and his team make a point of reaching out to clients monthly to see if they have any concerns. "After doing this for 17 years I tend to be more proactive than reactive," he says. "That comes with experience." He recognizes that making a change—buying a new investment vehicle, transitioning into a job transition, retiring, etc.—can be stressful, so his team offers as much guidance as needed during these times. Some of his clients require a monthly recap of their accounts or assistance understanding their statement, while others prefer less frequent updates. "At least once year I like to meet with each client to determine if we met their goals, what needs to be changed or reevaluated, " he says. "I like to stay on top of the plan year in and year out. That allows us to know nothing has been missed and that we are always on target to meet our clients desired goals."

Kaminsky gauges each plan's success based on the rate of return required to meet the individual's needs. While some individuals fortunate enough to have earned a pension can afford to use their saved assets to grow an inheritance for their beneficiaries, others may need to use those assets to provide an income while yet another may seek to maximize Social Security benefits by delaying retirement. Kaminsky and his team can help investors in each of these situations using a variety of financial products and strategies. "Many people think we want to push proprietary products," he says. "But I have the world of investments at my fingertips. ... I sit on the same side of table as my clients."

When searching for an advisor to oversee all aspect of their finances, investors need to seek out someone they can trust, who has the appropriate qualifications, knowledge and experience. Choosing a financial advisor who is designated as a Certified Financial Planner™ (CFP®) can narrow the field. Kaminsky, who is a CFP, says the designation requires him to undergo additional examination, continuing education and scrutiny from the overseeing board under a higher standard of ethics than others in the industry. As such, Kaminsky is trained to analyze each stage of the investment lifecycle, from asset accumulation and growth, to retirement planning, estate-planning strategies, wealth distribution and legacy planning. According to 2012 research by Aite Group, 20 percent of the people in Kaminsky's industry are Certified Financial Planners. "This designation shows that I take my profession seriously, that I have qualifications others may not," he says. "It is the gold standard of financial planning."

He is also a board member of the Financial Planning Association and an ambassador to the Certified Financial Planner Board of Standards. In this capacity he promotes financial literacy by speaking in public forums. He also believes it is important to give back to the profession by helping young individuals determine if financial planning is a profession they are interested in through internships. "I like to promote the profession and want to make sure that good people go into field," he says.

Kaminsky's team also includes partner Christopher J. Bryan, a financial advisor and former CPA with experience in asset liability and risk management who has "an elevated awareness of estate-planning identification and needs," Kaminsky says. Kim Corcoran, the team's senior client service associate, is an invaluable asset to maintaining a well-run organization and providing exceptional customer service. Morgan Stanley also provides Kaminsky with integral members of his team beyond those in the office, including lending specialist Kim Yates and attorney/estate-planning specialist Joseph P. Romano, among many others.

Regardless of an investor's needs, Kaminsky and his team will provide the experience and personal touch, supported by a network of global resources, to meet them.

Scott J. Kaminsky, CFP®
Vice President, Wealth Advisor, Senior Portfolio Manager
Morgan Stanley
Two Town Place, Suite 100
Bryn Mawr, PA 19010
610-542-2918 | www.morganstanleyfa.com/scott.j.kaminsky/story.htm

Scott J. Kaminsky is a Financial Advisor with the Global Wealth Management Division of Morgan Stanley Smith Barney in [branch location]. The information provided is not a solicitation to purchase or sell investments. Any information presented is general in nature and not intended to provide individually tailored investment advice. The strategies and/or investments referenced may not be suitable for all investors as the appropriateness of a particular investment or strategy will depend on an investor's individual circumstances and objectives. Investing involves risks and there is always the potential of losing money when you invest. The views expressed herein are those of the speaker and may not necessarily reflect the views of Morgan Stanley Smith Barney LLC, Member SIPC, or its affiliates.
Morgan Stanley Smith Barney LLC ("Morgan Stanley"), its affiliates and Morgan Stanley Financial Advisors or Private Wealth Advisors do not provide tax or legal advice. This material was not intended or written to be used, and it cannot be used, for the purpose of avoiding tax penalties that may be imposed on the taxpayer. Clients should consult their tax advisor for matters involving taxation and tax planning and their attorney for matters involving trust and estate planning and other legal matters.

Certified Financial Planner Board of Standards Inc. owns the certification marks CFP®, CERTIFIED FINANCIAL PLANNER™ and federally registered CFP (with flame design) in the U.S,which it awards to individuals who successfully complete CFP Board's initial and ongoing certification requirements.

Five Star Professional, as a third party research firm, identified pre-qualified award candidates based on industry data and contacted all identified broker dealers, Registered Investment Advisor firms and FINRA-registered representatives to gather wealth manager nominations. Self nominations are not accepted. Award candidates are then evaluated against 10 objective eligibility and evaluation criteria associated with wealth managers who provide quality services to their clients such as client retention rates, client assets administered, firm review and a favorable regulatory and complaint history. Five Star Professional determines the final list of Five Star Wealth Managers and representing no more than 7% of the wealth managers in the metropolitan area.

* Wealth managers do not pay a fee to be considered or placed on the final list of Five Star Wealth Managers.
* The Five Star award is not indicative of the wealth manager's future performance.
* Wealth managers may or may not use discretion in their practice and therefore may not manage their clients' assets.
* The inclusion of a wealth manager on the list should not be construed as an endorsement of the wealth manager by Five Star Professional.
* Working with a Five Star Wealth Manager or any wealth manager is no guarantee as to future investment success, nor is there any guarantee that the selected wealth managers will be awarded this accomplishment by Five Star Professional in the future.

For more information on the Five Star award and the research/selection methodology, go to fivestarprofessional.com.

Photograph by Jody Robinson