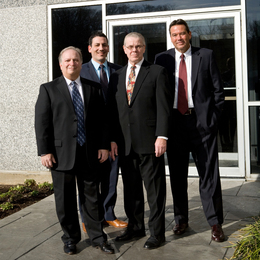 Opportunity Oriented, Service Minded
With a commitment to personalized attention and the backing of one of the region's most innovative financial institutions, Meridian Bank's Residential Mortgage Group offers homeowners the best of both worlds
A visionary can be defined as someone with unusually keen foresight. Such individuals are often thought of as dreamers or even impractical, but one visionary in particular—Meridian Bank's chairman and CEO, Christopher J. Annas—is neither. Annas took his vision of creating a different kind of home mortgage operation and, with his penchant for timing and opportunism, put it into action. The result has revolutionized the residential mortgage industry in the Delaware Valley.
Meridian Bank, which Annas founded in 2004, is locally owned and managed. It features a broad commercial-lending portfolio and offered a complete array of insured deposit accounts, cash management products and services, electronic payments processing, and investment and wealth-management services. In 2010, with the housing market still severely depressed, Annas envisioned the future turnaround. Forming a residential mortgage group was an opportunity to increase the bank's revenue and provide another valuable service to its customers.

Well Tended
Annas knew that to create the mortgage division in the spirit of Meridian Bank, he needed to plant the right seeds for growth. So, three years ago, he welcomed industry veteran Tom Campbell and his colleague, Dan Deon, to jumpstart the division. They had been working together since 1998 and knew the industry well after years of running their own lending firm and also working with larger banks.
Campbell, senior vice president of residential lending, recounts the time when he first met the Meridian team. "It was their entrepreneurial spirit—something that was close to home from years on my own," he says. "They were extremely accessible as we embarked on this challenge. I liked the idea of being a part of creating this new division and brought with me an experienced, highly reputable team."
In typical Meridian fashion, quality people were given the flexibility to ply their craft. "We were given a small conference room and a blank canvas," Deon says. "But, most importantly, we had the cooperation of Meridian's president and board of directors. It was this support that enabled us to create the best of both worlds—a division with capital backing and the local, personalized attention that customers really want."
Meridian's Residential Mortgage Group opened its first office in Plymouth Meeting in 2010, with 10 loan officers and in-house underwriting. From this headquarters location, the growth continued. As word spread about the Meridian approach, local individual lenders and brokers came calling. Over the years, independent residential lending firms found it harder to exist with rising capital requirements. Through mergers and recruitment, Meridian's mortgage division has expanded to 12 offices and created more than 150 jobs throughout the Delaware Valley and in Central Pennsylvania.

Service is the Key
"It's all about service," says Deon, manager of consumer direct residential lending, underscoring the fact that each customer has specific needs and each transaction requires individual attention. As it does with all its services, Meridian focuses on tailored financial solutions designed by experienced bankers and delivered through efficient, technological channels. "When you can do it right and do it well," he adds, "the result is an exceptional level of service our customers can count on."
Another key to Meridian's success is restoring choice in banking. In the area of home mortgage lending, this means running that division as a mortgage bank rather than in the limited way traditional commercial banks do. As national sales manager Bob Hedley explains, "We have a greater breadth of products we can offer and, therefore, we have a broader base of potential borrowers."
Meridian offers a wide variety of mortgage loan products, including conforming, nonconforming and government programs. While mega-banks with similar product portfolios have a reputation for being short on service, Meridian's professionals offer both ends of the spectrum. "The great number of programs we can access enables us to select a loan that zeros in on each borrower's specific needs," says Hedley. "But we are also nimble and service oriented, giving our customers direct access for quick loan decisions. That's what puts us over the top."

The Future
According to Hedley, the ability to maintain flexibility and efficiency will grow in importance as the residential real estate market continues to shift from one of refinance to one of purchase. "Unlike the refinancing process, deadlines and commitments become critical in purchase-lending transactions," he says.
"We are looking forward to a good purchase year ahead," adds Campbell. "The market is clearly being driven by first-time buyers, and while there has been a reduction in move-up, middle-market homeowner purchases, this too is starting to improve."
As the market shifts, Meridian is also refocusing its objectives. Never one to lose sight of its commitment to service, the company feels it has reached a recruitment plateau and is concentrating on other components key to customer satisfaction. One such area is the matter of compliance regulations and the changes in that area that occur almost daily.
"These regulations didn't exist seven years ago," Campbell says, "and while the intention is to protect buyers, it has become 10 times more confusing." Meridian has responded by enlarging its compliance staff and increasing staff training on these issues.

Success is the Result
With the housing market in turmoil, Meridian's chief visionary Chris Annas saw an opportunity to forge ahead while other banks were holding back. Now, four years later, the Meridian formula of banking innovation, top-quality people and high-touch customer service has turned Meridian's Residential Mortgage Group into a major contributor to the bank's ongoing success. And, along the way, it has provided rewarding outcomes for thousands of satisfied homeowners.

Meridian Bank
920 Germantown Pike, Suite 102
Plymouth Meeting, PA 19462
610-278-4900 | www.meridianmortgage.com