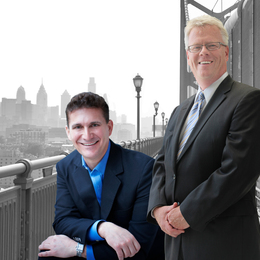 Engineering Success
Cape Bank provides personalized service to help businesses grow with the funding, experience and expertise they need
Small businesses, often with their innovative ideas, nimble size and dedicated owners, continue to be a driving force in the economic recovery—and Cape Bank has the financing, knowledge and experience needed to help them continue to grow.

Cape Bank has been in business since 1923 but went public after a merger with Boardwalk Bank in 2008, a move that made it one of the area's largest community banks. After more than 90 years serving customers in New Jersey's Cape May and Atlantic counties, Cape Bank expanded its reach to meet the needs of commercial businesses on both sides of the Delaware River.

Senior vice president Gary A. Farnesi joined Cape Bank from Susquehanna Bank, along with his managing director, Michele Pollack. They were brought on board because of their expertise in commercial lending. Farnesi is currently based in the organization's Mt. Laurel, N.J., business lending center, which opened in 2011. In addition to his business degree, large-bank training and eight years of banking experience, Farnesi offers something few other bank lenders can; he started a small business that grew to have multiple locations before selling it to a well-known global firm.

This experience helps him as banker but also provides his customers a distinct advantage. "I use my judgment as if I were investing my own funds to evaluate a company's management—its procedures and its structure," he says. "I am not just looking at numbers and valuations, which can make an organization look better even when leadership is not strong. Also, the customer knows I am not looking at them as a number but considering their management and how they have weathered tough times." He is able to offer these strong and growing businesses not just the financing they need through Cape Bank but also his own expertise as a consultant.

Farnesi knows that there is no textbook for running a successful small business and most owners have no one they can talk to about the difficult decisions they face. "You have to have lived it or partner with someone who understands the philosophy," he says. In these situations Cape Bank's commercial lending customers are able to turn to him for his experiences in operating a company, managing payroll and labor for multiple branches and even putting a business up for sale. "By consulting, we can give them assistance on where they are going and explain how we can help," he says.

This assistance proved invaluable for a technology company Cape Bank recently assisted. The company was doing well but its field was changing. Many banks did not want to get involved, but because of Farnesi's experience with leasing he was able to put the company in touch with the right legal and financial professionals to help it restructure its operations. Today that company has doubled its business. "They drove the car in winning races, but we engineered it," says Farnesi. "It has been a success for both of us. Most banks don't have the expertise to say that."

One of the qualities that enable Cape Bank to work so closely with its customers is its responsive structure. "In some sense we break the mold because of our structure. There are not a lot of layers," says Kevin Kane, senior vice president and regional manager. "The customer does not have to fit a specific mold to get financing. We can get the senior managers involved and have the ability to look at each individual situation to make loans." Kane is heading up Cape Bank's commercial lending office in Radnor, Pa., which opened last year. He was educated at Saint Joseph's Preparatory School and Saint Joseph's University before joining the credit divisions of Fidelity Bank and Commerce Bank. "I was attracted to Cape Bank because of what it has to offer," he says.

What it offers, he believes, in addition to expertise and personal attention, is a team approach to business lending. "We provide one-stop shopping; one office secures, approves and closes the loan," he says. "It is an ongoing relationship that involves consistent follow-up of their additional needs."

In one recent situation, a borrower was trying to finance a real estate acquisition. While other banks were willing to offer him funding for the acquisition, Cape Bank's team was also able to refinance the borrower's existing portfolio of real estate. "He could not [make the acquisition] without refinancing," Kane says. "He was at the point that if someone did not refinance his existing portfolio, he may not have been able to acquire the new property."

Cape Bank was able to execute this arrangement because its team offers both commercial and real estate lending. In a lot of other banks, these responsibilities are split among two divisions. "The benefit we offer is that if they come to someone in our group with a request—it could be commercial, capital lending, equipment financing, a line of credit or construction loan—the same team can assist them," says Kane.

Cape Bank is able to meet the other needs of small businesses as well. It offers a full range of cash-management services, online banking, transfers and online check deposit that Kane says are as good or better than its competitors.

Because it does not have local branches to conduct these transactions, Kane says Cape Bank has to secure its relationship with customers in other ways. "Customers are looking for a relationship and for stability," he says. "They are asking, 'Does this bank have the services I need?' And we can say yes, we do. They are dealing with not one individual but a team of professionals who know the relationship and know the services. Cape Bank is not an institution with a lot of layers. The benefit to small businesses is our ability and relationship." This ability to forge relationships has helped Cape Bank attract customers from larger banks who are looking at refinancing outside of these organizations.

"We will take an honest look at anything that comes our way," says Farnesi. Moreover, Cape Bank will provide an answer within two business days. "When we get a lending package, we don't delay the process; we get to work and see what we can do. … We provide our clients a term sheet or suggest alternatives for them to consider. … Small businesses lose money waiting to know where they stand. We can react quickly to their growth. If there is growth potential we want to get in there and grow with them.

"Anything you need can come through us," he continues. "We truly are relationship managers."

Visit www.capebanknj.com for details on commercial lending services and locations throughout New Jersey.