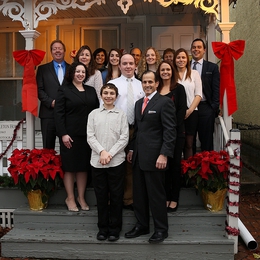 Walking the Walk
Family-law attorney Gregory P. LaMonaca uses his experience to help clients facing the challenges of divorce and custody disputes
Divorce is certainly a life-changing experience for all those it touches. Bringing the end of a relationship and the separation of a family, it is often cited as the root of a former spouse's depression, a child's behavior problems or a family's financial trouble, but family-law attorney Gregory P. LaMonaca believes it can also be a time for positive transformation.

LaMonaca uses an approach he calls "Brutally Honest." It is a three-phase comprehensive process designed to help clients analyze their past, assess their present and develop their compelling future. In 2009 LaMonaca, along with former custody client and friend James Grim, wrote the "Brutally Honest Life Management Journal" to help the reader engage in a self-guided journey to reconnect to what matters most in his or her life. Once the connection is made, the individual is equipped and empowered to move forward with his or her life.

LaMonaca's most recent book, the 62-page "Brutally Honest Pennsylvania Divorce & Custody Survival Guide," is available as a free download on his website. "I wanted to make something available that is specific to Pennsylvania divorce and custody actions," he says. "It is a comprehensive guide that can be put to use immediately for anyone involved in, or considering entering into, divorce and custody actions in this state. "There are many things clients want to know, and should know, while going through this troubling process. I wrote this book to give readers actual, practical and immediate tools and to provide information that can help them now and throughout their legal journey."

LaMonaca, a native of Delaware County, graduated with a bachelor's degree from West Chester University, and received his Juris Doctor from the Widener University School of Law. LaMonaca is the founding member of The Law Office of Gregory P. LaMonaca P.C., which opened in 1994. The firm's attorneys represent clients in Delaware, Montgomery, Chester, Philadelphia, Berks and Lancaster counties, as well as internationally.

LaMonaca developed the Brutally Honest system specifically for the field of family law because, as he says, "I believe it has to be handled differently." Unlike other areas of the law, in which parties often do not know one another or have any reason to remain involved after the judgment, divorcing couples with children are forever connected and will be bound by emotionally fraught circumstances. For these reasons LaMonaca describes himself as "a family-law attorney, not a divorce attorney."

Family values are important to his practice. Instead of immediately filing for a client's divorce, he takes the time to determine what is right for that client, even if it means the client may not need his services. "I try to relate to each client by giving personal examples, empathizing and showing compassion," he says. "I have read literally thousands of books on personal development, psychology and philosophy, and I take that knowledge and give it to each client."

The Law Office of Gregory P. LaMonaca P.C. uses a team approach to assist its clients. The firm, which is one of the largest family-law firms in Delaware County, recently expanded to include nine attorneys and six support staff members. This size allows LaMonaca to better match a client with the right team.

An early riser, LaMonaca realizes that "problems do not always occur Monday through Friday, from 9 a.m. to 5 p.m." In fact, in many of his cases, it is not at all uncommon for clients to be lying awake at night with worry. "When things happen, people can be in panic mode; they want information immediately," LaMonaca says, and he strives to provide it to them when they want it, so they can stop worrying and focus on their goals instead. "It is not unusual for a client to send me an email at 4 a.m. and then to receive a response by 4:05 a.m." The firm employs many forms of technology, including Skype, in order to assist clients around the world using the most effective and efficient form of communication for their needs.

One of the methods LaMonaca has developed to help him better serve his clients is VAKOG—an acronym for the senses: visual, auditory, kinesthetic, olfactory and gustatory. He believes that the more senses an individual can engage, the more likely he or she is to reach his or her goals. With this in mind, the "Brutally Honest Pennsylvania Divorce & Custody Survival Guide" was written to provide prospective clients with sufficient information to make a better decision about choosing a firm to represent them in matters of family law. "The first five pages tell prospective clients about a typical day in my life," LaMonaca explains. "I show them every area of our firm, from our philosophy to our work ethic, and I answer questions that most individuals have before choosing a firm to represent them. I want the prospective client to make a meaningful choice." By offering many personal examples, he gives readers a better "taste" of his philosophy and "feel" for his personality.

This authenticity extends into all areas of his practice. "I absolutely believe in walking the walk," LaMonaca says. His firm's Facebook page is full of personal stories and positive, motivational quotations. "What I post it is what I do and what has made me who I am." Happily married to the woman he first met when they were both 14 years old, and the proud father of two children, ages 13 and 16, LaMonaca has also faced adversity that few can imagine, even in their darkest days. He is, in his words, "blessed" with an extremely rare medical condition that has taught him to cherish life and to overcome great adversity. As a result of this condition, he has faced great pain, undergone inordinate testing and multiple surgeries, experienced temporary paralysis and overcome a host of other obstacles. This experience, though, has made him more appreciative of life and committed to maximizing his own potential and that of others.

"In 2005, I went from lifting weights daily and practicing martial arts to being carried out of my office, unable to walk, as paralysis overcame me," he says. "Fighting through that put things into perspective, and I can now look at the trivial as being … trivial. I understand what it means to have a support system, and that is what I am doing for my clients—putting together for them a full support team that can truly empathize with them."

A year ago LaMonaca purchased the historic Appleton building, on State Street in Media, and had it renovated "from top to bottom" to meet the firm's needs. Improvements included structural and cosmetic changes, as well as the installation of a video production room and television wired into his office. Video is an important element of LaMonaca's VAKOG approach and philosophy. He uses video technology to record clients in preparation for their hearings and trial, so that they can better understand themselves. "When clients observe their body language, they are often shocked at how they come off," he says. "We use this approach and technology to help clients overcome fears and prepare for trial."

The offices are also filled with motivational sayings, and in the library of the waiting room are tools to help clients follow through on the emotional lift a visit to LaMonaca's firm provides. "I wanted to create an environment conducive to helping make change," LaMonaca says. "We use every means of technology to give our clients an edge moving forward."

LaMonaca has received a 10 out of 10 ranking on Avvo.com, has been rated "BV Distinguished" by LexisNexis/Martindale Hubble, and has been named a "Super Lawyer" by Philadelphia magazine, a "Top Lawyer" six times in Main Line Today and an "Awesome Attorney" for family law and divorce in Suburban Life four years running. Additionally, LaMonaca has been awarded the "Top 100 Family Law Attorneys in Pennsylvania" by The American Society of Legal Advocates.
"Every case is rewarding in its own way," says LaMonaca. "When I hear clients tell me that something has changed or saved their life or allowed them to be a better parent, I feel I have given them the tools to be more productive. It takes a team of individuals, and I work with some of most dedicated."

The Law Office of Gregory P. LaMonaca P.C.
341 West State Street
Media, PA 19063
610-892-3877 | www.lamonacalaw.com