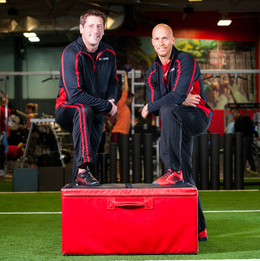 Thriving in the New Year
MBSC Thrive, an innovative new training program exclusive to City Fitness Philadelphia, helps clients reach their full potential
Among people's concerns on a daily basis, health and fitness are increasingly top of mind—especially during this time of year, when the masses strive to keep their resolutions for self-improvement. For those who either aren't sure where to start or are in search of a more effective way to get fit, the expert trainers at City Fitness Philadelphia are here to help.

Ken Davies, CEO and owner of City Fitness, has teamed up with Bruce Mack, president and co-founder of MBSC Thrive, to bring a whole new system for achieving personal health-and-fitness goals to the Philadelphia area.

The revolutionary MBSC Thrive system, which is exclusive to City Fitness in the region, started popping up in fitness clubs around the country about a year ago and has already begun to take root internationally in the likes of Switzerland, India and Germany. MBSC Thrive will also be partnering with Rodale's Men's Health and Women's Health magazines in the near future.

Davies first learned of MBSC Thrive through a business associate familiar with City Fitness' commitment to providing clients with state-of-the-art equipment and programs. For Mack, this philosophy made City Fitness a perfect fit for his program, as he didn't want the MBSC Thrive system to be represented by just "any old organization"; he sought a like-minded business for the system in which to, well, thrive.

Mack and Davies then met and decided a short time after that they would make a great partnership, realizing they had similar ideas and approaches to business. In the process of their due diligence of one another, they found they both cared deeply about their respective brands and had a passion for improving the overall health of the fitness conscious.

The MBSC Thrive program originated with Mack, a seasoned personal trainer, and Mike Boyle, former strength coach for Major League Baseball's Boston Red Sox. Mack explains that the MBSC Thrive program takes into account how a person moves and that each participant has their own custom-designed program to suit their individual needs, abilities and goals.

"From the everyday novice, the general population, all the way up to [professional athletes] with multimillion-dollar contracts, this is a program that really is built for anybody," Mack says. He cites the term "functional fitness," which he says refers to "purposeful fitness, not just jumping on machines."

To begin, each MBSC Thrive participant has a "Thrive evaluation," which is, essentially, an assessment of one's overall fitness level. From there, participants go through a quick and easy "functional movement screen," a test that has its origins in the world of physical therapy. These screens help trainers further determine each person's unique needs and level of fitness, so that each individual can "get the best return for their exercise buck," Mack says. The test is then repeated every 30 days to help clients monitor progress and achievement in aesthetic areas such as weight loss or muscle gain.

Once the evaluations are complete and goals are established, clients are ready to embark on their MBSC Thrive journey. There are five phases of each training session, the first of which is a five-minute "Prime." During this section, clients complete soft tissue work. Next is a five-minute warm-up period called "Prep." This phase is "a warm-up laced with corrective movement," says Mack, aimed at helping clients improve their form and get their blood moving. The third phase, "Power," lasts approximately 20 minutes and focuses on the fact that individuals, especially after age 25 or 30, lose power at twice the rate they lose strength. The fourth phase, "Strength," focuses on the client's range of movement and includes exercises such as kettle bell goblet squats designed to help develop a strong core. The fifth and final stage, "Burn," features cardiovascular activity intended to help clients work off stubborn fat.

"Time is money," Mack says, "so we try to give clients the best return for their exercise investment."

A MBSC Thrive client can choose to participate in group training sessions, rather than one on one, if the client wishes to get fit in a more social environment. "It's very difficult to get bored with this program," Davies says. "You can do hundreds of thousands of exercises. The variety is absolutely what astounded me."

Davies, a native of the Philadelphia suburbs, takes pride in the fact that City Fitness has been locally owned and operated since its inception. Actually, it was after an exhaustive—and, ultimately, fruitless—assessment of other gyms in the Philadelphia area that led Davies to open the doors to his first City Fitness location at Second and Spring Garden streets in August 2007. (He has since opened a second location in Graduate Hospital/Rittenhouse Square.) Davies, who had been a professional in commercial real estate at the time, says he "saw a real need in Philadelphia for a gym that had something more to offer."

He has always been a fitness buff, but it wasn't until deciding to open his own gym, which he describes as "my ultimate passion," that he dedicated his life to helping others live fitter lives.

"Our core values were really very simple," Davies says, explaining that City Fitness' mission is to provide outstanding customer service, state-of-the-art equipment and cutting-edge programming, all in an exceptionally clean and well-maintained facility. His team appears to be hitting the target, he notes, as City Fitness has been voted "Best of Philly" four years in a row.

Mack agrees that Davies has earned this positive reputation and is unsurprised by the success of the two City Fitness facilities. "You have operations that are out just for profit—the dollar—and they really don't care about members," Mack says. "I think Ken's a different kind of operator. He knows his success is serving his members, the City Fitness family. … Ken cares about the member."

With this level of commitment to every person who walks through the doors of a City Fitness location, and with the variety of premier training options available—including, of course, MBSC Thrive—keeping a fitness-related resolution well into the New Year is more convenient than ever before.

City Fitness Philadelphia
www.cityfitnessphilly.com

Two Locations
Northern Liberties
200 Spring Garden Street
215-923-4114

Graduate Hospital/Rittenhouse Square
2101 South Street
215-545-4114

Text FIT2014 to 919444 in order to receive a free seven-day VIP pass and Thrive assessment.