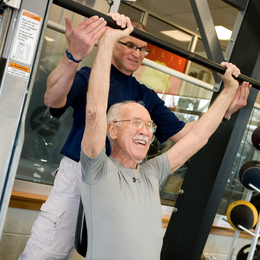 Fit for a King
Ellis Athletic Center aims to provide the best possible experience for every member
Ellis Athletic Center. Though its name may conjure images of treadmills and weight machines, this state-of-the-art fitness facility in Newtown Square is so much more than a place where people can go to mindlessly work out. From its birthday party offerings to its rentable basketball court, along with its group fitness and personal training programs, there is a lot more to the facility than meets the eye.

Something for Everyone
When you first sign up for a membership with Ellis Athletic Center a fitness assessment is conducted to determine your fitness baseline. Whether it's the first time you've ever stepped into a gym or you have years of experience, the staff at Ellis Athletic Center can help guide you to a healthy and more active lifestyle.
"The nice thing about the fitness assessment is we're able to give members some guidance, make some recommendations and emphasize the fundamentals, so that they don't come in here with the preconceived notion that they have to be in here seven days a week," explains Patrick Sarne, general manager of Ellis Athletic Center. "We go over intensity, duration and what type of exercise they should be doing. We emphasize the fundamentals so they have a true picture of what it's going to take for them to progress."

Ellis Athletic Center has a variety of fitness activities to take advantage of. From standard cardiovascular equipment and weights to group fitness classes and personal training, there truly is something for everyone. One of the more popular classes is senior yoga, which instructor Susan Whiteside says she has been teaching for more than a year. "They're a really great group of people," she says of the seniors who regularly attend the class. "I've watched them all come around 100 percent on their balance and the way they move. It's a huge difference for them."

Whiteside says she would encourage any senior to look into such classes, especially if they are looking for something that will give them a change of pace while also being health conscious. "It can make such an improvement in their lifestyle," she says. "I've seen it work. It's really great for seniors." Sarne agrees, adding, "it's a nice social environment for them, and gives them an opportunity to interact with their peers and be in a different environment. Sometimes seniors get stuck in 'home mode,' and some get cabin fever, and having a fitness center to come to breaks that up."

As with all the classes at Ellis Athletic Center, the senior yoga class caters to a variety of fitness levels. From beginner to advanced, there is a class available for anyone interested in participating. Group fitness is a popular trend these days, and Sarne says Ellis Athletic Center aims to keep up with the demand. "We try to accommodate everyone's ability and offer enough variety so that it's not all standard cardio toning classes," he says. "We like to deviate a little bit and come up with some things that are a little out of the ordinary." Personal or small group training is also available through FACTS Fitness, which operates and manages Ellis Athletic Center. FACTS Fitness Elite Fitness Training also caters to all levels, and is available in a variety of programs.

While Ellis Athletic Center does cater to a variety of fitness levels, Sarne says it is the beginners who trainers are especially happy to see at the facility. "If someone is a beginner, those are the people we really look forward to working with," he says. "We really aim to offer a facility where there is no intimidation, and people can feel comfortable coming in and working out. … We're all adults trying to maintain a healthy lifestyle and achieve similar goals." The facility also offers a variety of membership options. From short term and yearly to month to month, there is an option for everyone to take advantage of.

Beyond the Weight Room
Though Ellis Athletic Center does cater to those looking to get and stay physically fit, it does also offer a number of other incentives to its members. When having a birthday party, children can have pizza and cake after spending a morning or afternoon running around the facility's basketball court or playing dodgeball, as well as an area where seminars are conducted throughout the year on various healthy living topics. The facility's basketball court is also available for rent, and Ellis Athletic Center is home to a number of different organizations, including the Philadelphia Fencing Academy and a local youth basketball league.
"Kids want to be active, and we can create an environment here for them to do that," Sarne says, noting the facility conducted a basketball camp over winter break in which more than 40 children participated. "We want them to get familiar with the facility at a young age. That way, when they cross over into their adolescent years, and it's time for them to start getting into a fitness center, they'll already know we're a good fit for them."

The facility also aims to make as much information available to its members as possible to help them be successful, so a new website and updated blog with the latest fitness and nutrition information will debut later this year. Members are always encouraged to take advantage of the seminars and newsletters the facility puts together.

Ellis Athletic Center is situated on the beautiful Ellis Preserve on the corner of Route 252 and Route 3 in Newtown Square in the Ellis Preserve Corporate Center, but all members of the surrounding community are encouraged to visit the facility to consider joining. Sarne says Ellis Athletic Center is not a "volume" fitness center but rather a comfortable place where people can go to work out without feeling crowded or intimidated. "We have a very manageable volume of members," he says. "In fact, we try to achieve a one-on-one relationship with just about everyone. At the end of the day, if people look forward to coming here for that reason, it's a better experience for everyone."

Ellis Athletic Center
3819 West Chester Pike
Newtown Square, PA 19073
610-355-7360 | www.ellisathleticcenter.com

Photograph by Jody Robinson