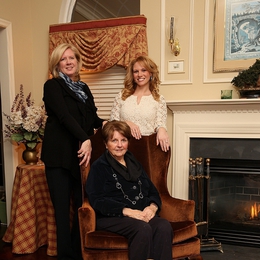 Financial Planning with Family Values
With three generations of highly skilled women at the helm, The Capital Legacy LLC's mission is to enrich lives throughout the Philadelphia suburbs
A skilled financial adviser can craft a long-term investment plan built to weather the ups and downs of an unpredictable market. The advisers of The Capital Legacy LLC, however, won't settle for simply being good stewards of their clients' financial futures. Instead, each of the firm's advisers strives to become not only an expert guide in navigating the complex transitions an investor inevitably encounters but also an integral part of a client's life.

"If someone has a problem, we know how to solve it," says Susan Allen, a CFP™ Professional and principal with The Capital Legacy. "Our people are smart and they care very deeply about our clients. There is a lot of passion in our business."

Susan and her fellow advisers at The Capital Legacy help clients address asset-related challenges of almost any sort, whether it's wealth planning for retirement, reorganizing finances to pay for a child's college education or optimizing a family's insurance coverage to preserve an estate. Yet the firm's passion extends far beyond the financial well-being of its clients; advisers of The Capital Legacy strongly support causes designed to strengthen the communities in which they do business—from enriching the lives of students within one of the suburbs' least privileged school districts to raising funds for one of the region's premier nonprofit health care foundations.

"In everybody's life, there are four things that are most important to them—health, family, religion and money—and we are involved in at least one of those four things for most of our clients," Susan says. "We spend an awful lot of time with someone to help them get through a transition in their life, whether it's retirement, a death in the family or a relocation, because there is a lot involved with each of those events till things are more firmly in place. The landscape is constantly changing, and we're here to help them prepare for it."

The Capital Legacy is unique for reasons beyond its ability help clients through life's many challenges. Susan is joined at the firm by two other generations of her family: her mother, Jane Kleibert, a retired CFP™ Professional, and currently a paraplanner for the firm; and her daughter, Laura Allen, a Certified Long-Term Care specialist. Jane has been working in financial planning for nearly four decades, while Laura practically grew up in the firm and, since graduating from West Virginia University in 2009, has been specializing in matters of insurance, risk management and long-term-care strategies.

In addition to Susan, Jane and Laura, The Capital Legacy boasts a team of professionals devoted to helping clients achieve and maintain their financial independence for the rest of their lives. Advisers carefully structure each plan around a client's specific financial history, personal philosophy and risk tolerance, with built-in flexibility to accommodate unexpected changes in a client's life. During each stage of the plan's development, advisers inform and collaborate with the client to help ensure progress for years to come.

Also, when needed, the firm will coordinate with outside estate-planning attorneys, accountants and other specialists. This includes Peter Gilbert, an estate-planning attorney with HighPoint Law Offices P.C. in Chalfont, who was voted "Best of Bucks Mont 2013" by the readers of The Intelligencer. In 2014, The Capital Legacy intends to work even more closely with Gilbert to educate clients—current and prospective—in matters germane to estate planning.

"By its very nature, estate planning overlaps financial planning; you could say that we build the car, and financial planners provide the gasoline that makes the engine go," he says. "Education is what people want and need, so we will drill down into different areas with what we have planned [with The Capital Legacy]. People have many different issues based on their age group or specific situation; what a 30-year-old needs is not the same as what a 50- or 60-year-old needs. People don't realize how much needs to be done to plan for the future, so we expect these classes to help a great deal."

In addition to working with High Point Law Offices, The Capital Legacy, LLC has longstanding relationships with Jonathan Ellis of Plotnick & Ellis and Tiffany Thomas-Smith of the Thomas Smith Firm, but the firm is happy to work with a client's current advisers as well.

Share the Wealth
Susan, who has been a financial adviser for more than 30 years, began her career working with nonprofits. This early experience sparked an interest in helping organizations devoted to improving the lives of others, through education, health care and cultural enrichment. For example, the firm works with Lauren Lavine, executive director of the Capital Health Foundation, a nonprofit that raises funds for the growing network of health care facilities throughout New Jersey under the Capital Health umbrella.

Also, through an initiative known as The Bensalem Educational Foundation, Inc., The Capital Legacy has been working with Sharon Kline, Ph.D., a longtime teacher turned education consultant, to broaden the cultural experiences of students within Bensalem School District. Together, they are promoting awareness in hopes to provide college scholarships for students, and Susan says they hope to continue to make even "more robust" cultural programs available to students. Lastly, the firm is involved with groups such as the Princeton Chamber of Commerce, through which its advisers help local business owners plan for the future as it relates to changes in tax law and other financial issues.

Of course, giving back applies not only to The Capital Legacy's extracurricular activities but also to its investment strategies for clients. The firm supports socially responsible—also known as green or ethical—investing that considers "financial return with a social conscience," says Susan. An example would be an investment designed to address some of the world's most pressing sustainability challenges.

"Socially responsible investing is about supporting companies that are committed to improving work conditions for human beings, promoting women on their boards and not harming the environment," Susan says. "There might have been a time when investing with a social conscience did not provide a sufficient return, but that's no longer true."

Although "feeling good" about one's investments is essential, it's even more important that one's investments are structured to seek sustainable wealth built for the long term—essentially, making sure that one's wealth does not run out, according to Susan.

"The life expectancy for a woman used to be 82 and for a man it was 78; for a baby born now, the life expectancy is 115," she says. "Even now, more and more people are living into their 90s. With the kind of planning that we do, we want to make sure they don't run out of money or become a burden to other members of their family."

Here again, the firm's firsthand experience has given it unique insight into the challenges facing many clients. Jane's husband—Susan's father, Laura's grandfather—was sick for several years prior to his death, and in the process of caring for his health while working and keeping her household intact, she found herself in crisis management. This experience has helped the firm better prepare other families in such matters, both by furnishing contacts with qualified medical students equipped to deliver trusted, live-in assistance for ailing family members and through insurance analyses to provide funds needed to preserve a loved one's estate for beneficiaries.

"When we talk about financial planning with our clients, I talk about my own family," Susan says. "I met some of my clients through my mother, and a lot of my clients knew me when I was pregnant with Laura, so they have gotten to know us as a family. Considering our approach to intergenerational planning, I think this makes us a natural fit."

With the decades of experience of professionals such as Susan and Jane, paired with Laura's fresh-eyed approach from joining the firm just a few years ago, The Capital Legacy has not only an accomplished past but also a bright future ahead of it.

The Capital Legacy LLC
780 Newtown-Yardley Road, Suite 310
Newtown, PA 18940
215-860-8400 | www.capitallegacy.net

Securities offered through LPL Financial. Member FINRA/SIPC.

The legal firms and nonprofit organizations mentioned in this article are not affiliated with, nor endorsed by, LPL Financial or The Capital Legacy, LLC.