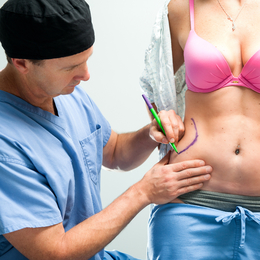 Transformative Experience
Dr. Earl Bryant addresses patients' cosmetic concerns so that they can focus on their health and happiness
After five years as an emergency physician at one of the busiest trauma centers in Philadelphia, Earl M. Bryant, D.O., wondered if there might be another field where he could use his knowledge to help patients under happier circumstances. "I wanted to feel like I could make a more positive impact," he says. "When you can make a positive change, it translates to a greater general appreciation of life, well-being and happiness." He found this sort of satisfaction by opening Physician Transformations.

Physician Transformations is a full-service medical aesthetics practice. It specializes in full-body liposculpting using the latest liposuction and laser technologies to help patients meet their goals. It also offers laser facial rejuvenation procedures, laser hair removal, spider-vein treatments, state-of-the-art skin treatments, Botox, dermal fillers, chemical peels and a variety of medical-grade skin-care products.

Dr. Bryant has received extensive training in aesthetic medicine. He is an associate of organizations such as the American Academy of Cosmetic Surgery, the American Society of Liposuction Surgery and the American Society for Laser and Medicine in Surgery, yet he maintains his status as a Fellow of the American College of Emergency Physicians. He is part of the clinical staff at Albert Einstein Medical Center, training residents and practicing several days a week.

Because of Dr. Bryant's high degree of training, Physician Transformations is able to offer patients a level of experience, safety and skill that other practices cannot match. It also adheres to a level of ethics and service that allow it to offer excellent results. "What makes us special is that we have the ability and integrity to choose our patients carefully," says Dalia Bryant, the practice's office manager. "More than getting patients through the door, we want them to get good results; we want them to be happy.

"We try to listen to what our patients are looking to do instead of imposing our values and aesthetics," she continues. "We answer patients' questions, explain the procedure, discuss what results patients can expect and what we can and cannot help with."

Many of Physician Transformations' patients lead a healthy lifestyle but have areas of excess fat—muffintop, saddlebags, love handles and double chins—that they cannot shed no matter what they try. These stubborn spots are sources of frustration and embarrassment for patients, especially men who develop the appearance of breasts (a condition known as gynecomastia). Age plays a role in these trouble spots, as do hormones, medications and genes.

Dr. Bryant, however, does not promote any of his procedures as a replacement for maintaining a good diet and activity level. "I encourage a healthy lifestyle and counsel patients on the importance of diet and exercise to maintain their results," he says. "The goal is for patients to look and feel better about themselves." Dalia adds that, for most of their patients, liposuction is a springboard to a healthier lifestyle. "Once the initial weight is off, patients are inspired to continue on the journey. "It is really effective to be able to go in and target stubborn pockets of fat," Dr. Bryant adds.

Liposuction is one of the techniques he uses for these spot treatments. "Liposuction has gone through a big transition from when it appeared 30 to 40 years ago," he says. "It used to be much more invasive and traumatic, but over the decades it has evolved into a safe and effective procedure to remove fat from areas of the body." Technological advancements now allow the fat to be liquefied before removal, allowing the doctor to use smaller instruments and create a more contoured appearance. Physician Transformations offers several varieties of liposuction. SmartLipo uses a small laser to melt fat and tighten skin, while Vaser uses ultrasound. "Both these techniques help to extract fat more safely and with better overall results," he adds.

Dalia explains that the instruments used for liposuction are no bigger in diameter than a piece of uncooked angel hair pasta and the incision needed is the size of a freckle. All procedures are done on an outpatient basis using oral medication for relaxation, while the patient is awake but numbed. During the procedure patients are able to listen to music—their own or supplied—with Dr. Bryant often quizzing them on music trivia. "People in the waiting room are surprised to hear patients laughing during surgery," Dalia says. "We want to make them feel as comfortable as possible." Patients are typically up and walking around shortly after the procedure and are able to return to work and their regular routines within a couple of days.

"We take pride in the fact that we are hands on," Dr. Bryant says. "When you are a patient, you are working with our office intimately. Our dedicated staff develops relationships, and I do all the procedures myself. We are a small but busy, active practice; we take care of each individual."

Therese Marinetti, who asked that we not use her real name, is one such individual. Concerned about stubborn love handles, she met with several doctors but felt immediately comfortable with Dr. Bryant. "I just got that feeling," she says. "He explained everything; I felt like I was talking to a friend. He has a different demeanor than most. I didn't even hear back from the other two doctors I met with." Carrie Booth—also not her real name—meanwhile, felt more at ease when she selected Physician Transformations for her no-cut chin lift, knowing that Dr. Bryant is a licensed and practicing emergency-room physician. Both women are thrilled with their results.

"Having the procedure has completely changed my self-image," says Booth. "I can finally look at a picture of myself and feel good about it." Marinetti has referred friends and family to Physician Transformations, knowing that they will receive the same great service she did. "I felt like I had more personal care; I wasn't just another patient," she says. "Even during the follow-up, I felt I was getting the attention I deserved and the treatment I was paying for."

Dalia says that some of the most life-changing procedures performed at Physician Transformations are on men with enlarged breast tissue, otherwise known as gynecomastia. Dr. Bryant performs male breast reduction on men from all walks of life who have developed excess fat, giving them the appearance of breasts. These men tend to be very self-conscious; they often wear double and triple layers of shirts to disguise their chest and avoid taking their shirts off even in front of their spouses. In addition to the cosmetic procedures Physician Transformations offers to men, Dr. Bryant also offers male hormone therapy that can help improve a man's general overall energy, strength, concentration, weight and sex drive.
"We have people come in very thankful," Dalia says. "It makes a huge difference for them to wake up and look in mirror. As much as we want to focus on who we are as people on the inside, in reality it is a combination. What we see on the outside informs how we feel inside and vice versa. We are physical as well as mental beings."

Dr. Bryant adds, "We all have our issues—you'd be surprised who comes into our office. Fortunately we can take care of some of those issues."

Whether patient opts for liposuction or another procedure—Botox, dermal fillers, laser treatments, (including the fractional CO2 laser facial rejuvenation treatment), laser hair removal, spider vein treatments and chemical peels—for patients looking to rejuvenate their appearance, Dr. Bryant's goal is to make each patient look their best for their age.

"We do not want the credit," adds Dalia. "We don't want anyone to know by looking at you that you had work done. We want people to compliment you on how great you look and for them to have no idea why you look so good."

Physician Transformations
17 Bishop Hollow Road, Suite C
Newtown Square, PA 19073
484-420-4407 | www.physiciantransformations.com

Photography by Jeff Anderson