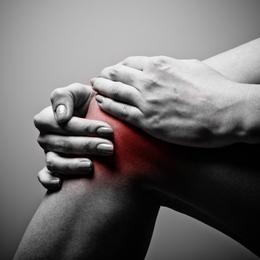 Joint Partners
How local medical centers are helping patients with wonky knees and worn-out hips recover their mobility
George Lucas was on to something when he envisioned his iconic "Star Wars" villain, Darth Vader, a character who was more machine than man. Although purely science fiction, the towering Vader was grounded in reality, as the world of medicine has long been finding ways to replace fragile or failing body parts—joints such as knees and hips, in particular—with synthetic alternatives.
Good news: Science fiction is beginning to look more and more like science fact. Hip-replacement surgery tends to produce fairly predictable results in healthy individuals, and knee-replacement surgery continues to produce better outcomes for patients of all ages—from teenagers to centenarians.
"In the 1990s, many patients [who had knee-replacement surgery] were in bed for three days and stayed in the hospital for two weeks," says Craig L. Israelite, M.D., orthopedic surgeon and co-director of Knee Service at Penn Medicine in Philadelphia. "Compare that to today's standards, where patients get out of bed almost immediately, which helps a lot more with getting back to the normal activities of daily living.
"The instruments we use and the components are much more facile than they ever used to be," he continues. "Also, now the cuts have been designed so the implantation and insertion of devices are exceptionally reproducible. … We're always constantly trying to invent the better mousetrap."
To Dr. Israelite's point, more sophisticated instrumentation, longer-lasting materials and cartilage-preserving techniques, as well as the emergence of multimodal pain management, have improved outcomes for patients in need of knee and/or hip replacement. Yet these factors are secondary to the dexterity and experience of the man or woman who performs the surgery, according to Robert E. Booth Jr. of Aria 3B Orthopaedic Institute, who has performed more knee replacements than perhaps any other human—18,000 since he started counting in 2000.
"Everyone looks to the parts, but the surgeon is the No. 1 reason knees don't do well," says Dr. Booth, whose practice has offices in Philadelphia and Langhorne. "The design of the parts has changed minimally over the past decade. What's changed is how we put them in. There are some spectacular anesthetic techniques and drugs that were not available in years past, and we're now making incisions that are a third of the length they used to be. It's almost embarrassing seeing incisions from 15 years ago; the biological insult of the procedure is much less."
Likewise, the realm of anesthesia has moved from one of general anesthesia to one of spinal taps and epidurals, and the thinking is slowly moving toward blocking specific nerves as a way to limit patients' pain and speed them toward recovery. In fact, changes in pain management before, during and after the procedure have not only helped patients get back on their feet more quickly but have also lessened patients' fears regarding single or bilateral knee replacements, according to Dr. Booth, who has been "doing knees" for more than 15 years.
"Back when I first started, there was a huge backlog of patients because the first knees weren't very good and people deferred knee surgery till we 'got it together,'" he says. "Nowadays we can do a single knee in a slim person in 25 minutes, and that's been helped along by much improved instrumentation."
Speed is essential to a positive outcome because it decreases the chance for blood clots and infection. This has helped significantly expand the field of candidates for knee replacement; Dr. Booth, for his part, has replaced the knees of many patients age 90 or older.
"The oldest person I did was 101," he recalls. "He was a doctor, and for him it was a choice of doing that or leaving his home of seven years. He lived three years after the surgery, and he also got married once more. … I also did one for someone who was as young as 16. The vast bulk of people are almost a decade younger now," compared to when he first started doing knee replacements.
"There is a definite trend of treating older and younger," agrees Andrew M. Star, M.D., medical director of Abington Memorial Hospital's Orthopaedic & Spine Institute and chief of the hospital's Division of Orthopaedic Surgery. "You have younger people who are essentially disabled and see this as a better option. Also, older people are living longer and being active later in life.
"People in this day and age do not do well at accepting limitations, and that's a dramatic change," he continues. "Before it was, 'I have a bad knee. I'll just manage with that.' … I had a lady come to me who was 98 and in a wheelchair. She said she would rather not survive the surgery than continue to live like this. She lived for another four years [after the procedure]."
Although no surgery is without its share of risk, joint replacements have come a long way in a relatively short period of time. In other words, it's "a good time" for those in need of a knee or hip replacement, and it's equally promising for the men and women who are performing these surgeries.
"I have colleagues who treat cancers and heart disease, and those are great [areas of practice], but they deal with a long disease process," says Dr. Israelite. "My personality is much more 'If it's broken, fix it.' Joints are mechanical designs, and if you have a mechanical problem, you treat it with a mechanical solution.
"If you design the prosthesis and put it in the right way, it should perform," he continues. "It's my job to produce results time after time and hit a home run every time. In baseball, if you hit .300, you're in the hall of fame. If I bat .300, I'm in the hall of shame and looking for a job."
Playing till it Hurts
Injuries among young athletes may result from "overspecializing"

The sports injury used to be a time-honored badge of courage, even a rite of passage. Yet steady increases in the number of injuries in child-age athletes suggest more and more of these wounds are, in a sense, self-inflicted.
It's called "overspecializing," according to Alfred Atanda Jr., surgical director of sports medicine and pediatric orthopedic surgeon at Nemours/Alfred I. duPont Hospital for Children in Wilmington, Del., and it may be responsible for many of today's young athletes ending up on the operating table.
"I'm 35, so I'm a product of the '80s, and back then every sport had its season," he says. "Now you have soccer centers and baseball centers where people are playing the same sport 12 months a year. It's a big business, and kids are driving themselves or being driven by their parents to be more like professional athletes. They think the only way to get to the top is to keeping playing and playing and playing, but when you're 12 and you're playing the same sport all the time, you are very susceptible to injury."
Particularly at risk—especially for tears of the anterior cruciate ligament in the knee—are kids who play sports that require a lot of "cutting and pivoting," such as basketball, handball and soccer. Dr. Atanda would know. He played soccer for 25 years, and in that time he tore both his ACL and his Achilles tendon. With a family and a profession that requires him to stay nimble, his days as a striker have come to an end.
"Everyone wants their kid to be strong, fast, smart and better than other kids, but these days I think it's being taken too far," he says. "Overall the goal for sports should be to have fun. I don't think the motivation should be college scholarships and a career in the NBA. If you happen to be really good at something and good things come your way as a result, by all means embrace it."
But, he cautions, if kids are pushed too hard, it can lead to conditions such as excessive anxiety, depression and, of course, the potential for injury.
Surgical Precision
The Philadelphia region is blessed to have a number of gifted orthopedic surgeons. Following are some of the best.

Dr. Alfred Atanda Jr.
Dr. J. Richard Bowen
Dr. Kirk W. Dabney
Dr. Richard W. Kruse
Dr. William G. Mackenzie
Dr. Freeman Miller
Dr. Suken A. Shah
Dr. Mihir Thacker
Nemours/Alfred I. duPont Hospital for Children
Wilmington, Del.
302-651-4200

Dr. Robert E. Booth Jr.
Aria 3B Orthopaedic Institute
Visit aria3bortho.org for details on locations in Langhorne and Philadelphia.

Dr. Nicholas A. DiNubile
Premier Orthopaedic and Sports Medicine
Havertown
610-789-0150

Dr. Craig L. Israelite
Penn Medicine/Penn Orthopaedics
Philadelphia
800-789-7366

Dr. Jess Hanley Lonner
The Rothman Institute at Bryn Mawr
Bryn Mawr
800-321-9999

Dr. Lawrence S. Miller
Cooper Bone and Joint Institute
Newtown Square
856-342-3159

Dr. Ray A. Moyer
Temple Sports Medicine
Fort Washington
215-641-0700

Dr. A. Lee Osterman
The Philadelphia Hand Center
King of Prussia
800-971-4263

Dr. Scott A. Rushton
Lankenau Medical Center
Wynnewood
610-642-3005

Dr. Peter Sharkey
The Rothman Institute
Media
800-321-9999

Dr. Andrew M. Star
Abington Memorial Hospital
Willow Grove
215-830-8700