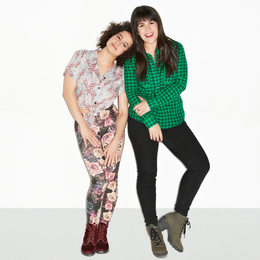 Funny Broad
Wayne native Abbi Jacobson shows her roots in the new Comedy Central show "Broad City"
All are welcome to take classes New York City's renowned Upright Citizens Brigade Theatre, an institution founded by A-list comedians Amy Poehler, Ian Roberts, Matt Besser and Matt Walsh. For a select few, however, these classes are stepping stones to comedic fame. Such is the case for Abbi Jacobson, a comedian who, along with fellow UCB alum Ilana Glazer, has gone from improvisational standup comedian to web-series star to cable TV leading lady.

Although the girls' show, "Broad City," is now a hit series on Comedy Central this year, it started as a series of short webisodes based on the real-life misadventures of Jacobson and Glazer (pictured, right to left). The web series quickly amassed a cult following, catching the eye of established comedians including Poehler and Kristen Schaal, both of whom made guest appearances. Poehler proved such a fan, in fact, that she now serves as executive producer of the Comedy Central series.

"We decided that a web series would be a really good way to create work for ourselves," Jacobson says. "We just had an interesting dynamic and we just thought it would be fun to just amplify it and do something about us."

The decision proved a wise one, as "Broad City" has just been renewed for a second season. The girls are even heading out on tour in November, with a live show that features a mix of sketches and videos as a platform for their unique brand of humor. The tour will bring Jacobson back home for a gig at the Trocadero on November 5. She spoke with us about the live shows, her time at UCB and her roots in the Philadelphia suburbs, where she says her "whole family" still lives.

How did you decide to take your show "Broad City" and do a live version?
Ilana and I both came up with ["Broad City"] at Upright Citizens Brigade Theatre, and that was a space that we both really enjoyed performing at and feel like it's a big honor to get to have a show there, so we pitched them this idea and they were down.

Is it through the Upright Citizens Brigade that you got in touch with Amy Poehler?
We were doing our second season of the [web series] and we wanted to have a really cool guest star so we asked Amy through one of the teachers at the theater. … We asked her because we were alumni and she founded the theater, and we thought that there's not really a better person to ask.

What's one of the best pieces of advice or criticism that you got while you were at UCB?
I guess a really good piece of advice from one of my teachers, who is on the show, this guy Chris Gethard who plays Ilana's boss on the show. … He, in so many words, was like … "You are funny as you," [and] "Use the strengths that you have as a person to be funny," and that's exactly what we do on the show every day.

How close is the Abbi in "Broad City" to who you are in real life?
I use a lot of the same details from my life. Like, Abbi's from Philly, she went to school where I went to school, just because those details are fun for me to get to use. We tend to write a lot from a real place … but the way that Ilana and I actually act and do things, I think, is a heightened version of us. For instance, I think it's really fun to play up the insecure side of myself. I'm much more insecure on the show because that's a really fun thing to play. And there's a lot of that. I think Ilana and I are more similar in real life.

Do you feel that gender is a contributing factor in how you address comedy?
I think it's a really good time to be a woman in comedy right now or just anyone in comedy. I mean, Ilana and I are telling stories from our point of view, so … some of the stories are going to be more female heavy or topics that maybe females can relate to more, but it's not something that is ever on our agenda at all. If we find it funny, it just gets added into the bowl of everything else that we find funny.

What might we see in the "Broad City" live version, and how you feel about performing back home?
The "Broad City" live shows, you're seeing actually the real me and Ilana. ... Like, we're definitely still "on" and performing, but you're coming to see us rather than the characters on the show; it's not scenes from the show, live. It's a little bit of a variety of standup, and you'll see sketches, there's videos, there's guests—it's exciting. The one we do here in New York, we really make it different every month and it's just a really fun break for us, to get to perform live. And yeah, I mean, I always wanted to perform back in Philly and I never really have done that at all so it's a very cool thing for me to get to do.

Does anything about your childhood in the Philly suburbs come into play in your style of writing?
Yeah, I think so. It's really observational humor and I think we get Philly. … Abbi on the show is also a transplant from the suburbs so that's just like a type of person that lives in New York, I think. … I guess everywhere that I've been and lived and stuff has contributed to my writing.