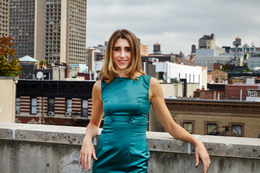 Role Model
Haverford's Sarah Megan Thomas, co-founder of Broad Street Pictures and star of the upcoming Wall Street film "Equity," looks to break new ground on both sides of the camera
Although she's best known as a performer, Sarah Megan Thomas considers herself, first and foremost, a storyteller. She's always had an interest in both—even as a 6-year-old growing up on the Main Line, when she and her sister staged an "abbreviated" production of the musical "Les Misérables."

She honed her interests as she grew older. At the Shipley School in Bryn Mawr, Thomas nurtured her talents in the arts and sports such as crew and basketball. After high school, she moved on to Williams College, a prestigious liberal arts school in Williamstown, Mass., and later moved to England to earn her graduate degree from Drama Studio London.

Her talents ultimately led her to a career in film, starting out playing minor roles in films such as "The Girl in the Park," starring Kate Bosworth and Sigourney Weaver. Her "big break" came in 2012, when she starred in "Backwards," based on a screenplay she wrote about a competitive 30-year-old female rower who had reached a crossroads in her life, both personally and professionally. The film, which also starred James Van Der Beek of "Dawson's Creek" fame, was inspired by Thomas' experience at Shipley; in homage, she chose to shoot the film at locations along the Main Line and in Philadelphia.

Although she admits to sometimes being torn between basking in the spotlight on the stage and working as a creative force behind the scenes, Thomas has reached a point in her career where she no longer has to choose between the two.

In 2014, she partnered with fellow actor Alysia Reiner (of "Orange Is the New Black" and "Sideways" fame) to found Broad Street Pictures, a production company that enables the pair to produce films that tell stories close to their respective hearts. First up is "Equity," a female-driven Wall Street film that Thomas says was shot "mostly" in Philadelphia.

Set in a post-Great Recession world, "Equity" follows the ups and downs of a senior investment banker played by "Breaking Bad" star Anna Gunn. The story centers on Gunn's character's efforts to take a social-media company public, as well as the financial scandal that unfolds. The Meera Menon-directed film, which also stars Thomas, Reiner and veteran actor James Purefoy, is slated for a 2016 release.

"I enjoy the whole creative process, not just the performing," Thomas says. "I've always been influenced by women who wrote, produced, directed and starred—being able to be an actress and also being able to create something new."

She believes the message behind "Equity" is an important one because, even in 2015, gender equality in the United States remains an elusive ideal; in addition to a reported lingering pay gap between men and women, leadership positions within certain industries continue to be dominated by men. According to Catalyst, a New York-based nonprofit whose mission is to expand opportunities for women in business, women account for less than 1.5 percent of CEOs in S&P Fortune 500 finance and insurance companies. Even so, Thomas has been heartened by signs that suggest these dynamics are "starting to change."

We spoke with Thomas about the importance of working toward one's goals, the changing state of gender equality—on Wall Street and in Hollywood—and how coming of age in the Greater Philadelphia Area helped her become a good storyteller.

On Broad Street Pictures and 'Equity' …
"Alysia and I founded Broad Street in 2014. We're dear friends, and she had a supporting role in 'Backwards.' As I was looking for my next project, she emerged as someone who I knew was incredibly talented, and we have the same work interest, the same interest in promoting change for women, only with different resources.
"With 'Equity,' the goal is to entertain. It's experimenting a little with how women work together, about the dynamics of how one powerful woman interacts with another woman who wants to be just as powerful. So it explores the mentor/mentee relationship, but it also explores the competition that can exist between two women, depending on the relationship. It has suspense, it has drama, and when you leave the theater and go out to dinner afterward, we want it to be a film where people talk about these issues."

On Choosing the Projects She Wants to Pursue …
"For me, it's about stories that have never been told before or an angle that has never been explored; as an independent, how do you get your story told if it's not something new? That's the first criteria. Also, it has to be something close to my heart. Like any good writer, you're attracted to the stories you relate to as an individual. I was always interested in telling stories … with strong female roles. Maybe there's a character that might have been played a different way by a man but not a woman.
"With 'Equity,' I developed an interest in that world because my husband was working on Wall Street. … Every other Wall Street movie made money; the public is fascinated with these films. The thing is, in almost every other Wall Street movie, you only see women in the background. Demi Moore in 'Margin Call' was probably the closest, but it wasn't a leading role. As a Wall Street wife, I've had these women in our house for entertaining, and I've found that there's a lack of women in senior roles. You can't believe how brilliant and smart and talented these people are, and I was fascinated about telling their story. I was interested in telling a story that included aspects that other films didn't. It's a post-financial-crisis movie, so there had to be drama, and I spent months interviewing people in that world about what it was like to go through that, hearing their stories.
"With 'Backwards,' I thought it would be a good story about a woman who almost made it to the Olympics. I love sports movies, but at the end of those movies, the star usually wins. I didn't want to tell that story. There are some athletes I know who are amazingly talented but they haven't won the gold. I was interested in telling that story, in a wholesome, PG kind of way, because I thought it was important for young girls and families. For me, the message was that if you work hard you will achieve your goal, but maybe not in the way you thought it would happen. Sometimes the goal you set out to achieve may not be the goal you get to achieve, but you still get to experience something remarkable."

On Women in Film …
"Right now, there are a lot of really talented women that are producing more content, but we also need more female directors. We interviewed probably 40 female directors [for 'Equity'], because there are so many talented ones, but it all starts at the top. We need more female producers to create content. For example, I enjoyed 'Boyhood' [the 2014 film written and directed by Richard Linklater], which was an incredible independent film, but his experience wasn't my experience, so if I were to produce that film I would probably want the director to be male.
"Also, the ratio of men to women on camera is abysmal. Statistically, there are more speaking roles for men on TV, but half the population is women, so half the people we see in the media should be women. … It is starting to change."

On Growing up in the Greater Philadelphia Area …
"Now [my husband and I] live in New York and have a 2-year-old son, so we get back to the area about once a month. My parents still live [in the Philadelphia area], and we call their house our 'Hamptons.' … So much of who you are has to do with your family and where you live, where you grow up. I found Philadelphia and the Main Line to be a very supportive environment. Shipley was great as well; it allowed me to be a diverse human being and try lots of things. That's so important, because if you're able to be a diverse person, it allows you to tell more diverse stories."

Photograph by Felicia Perretti