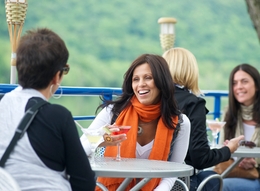 Top Towns 2011
The best places to live, work and play in the Philadelphia suburbs
There's no place like home—especially if your home is located in a revered part of the world such as Bryn Mawr in Montgomery County … or Paoli in Chester County … or Bucks County's Buckingham … or Radnor/Wayne in Delaware County. The Philadelphia suburbs collectively offer one of the highest standards of living in all of the United States, with no shortage of desirable places to live, work and play.
It may be difficult trying to distill the personality of a place based on ones and zeroes, because numbers can't effectively capture the worth of amenities such as nearby dining and shopping options, nightlife, medical facilities, etc.—but that didn't stop us from trying.
With key analysis from Dr. Wayne Morra, associate professor of economics at Glenside's Arcadia University (and help from senior business administration student Brittany Bonvino), we gathered data on nearly 90 different townships, boroughs and villages from Bucks, Chester, Delaware and Montgomery counties, and ranked them based on weighted factors such as median property values, median property taxes, average SAT scores (math, verbal and writing), percentage of college-bound high school students, and crime risk.
Regardless of ZIP code, the livability of any town—or any neighborhood—comes down to the simplest and most intimate of terms, such as a friendly wave from one's next-door neighbor, or pulling into the driveway on an early spring evening to the sounds of neighborhood kids playing outside, as the smell of freshly cut grass swims in the breeze—all of it there to remind you that, yes, you are home.
Jump to:
TOP 25 SUBURBAN TOWNS
1. Bryn Mawr
2. Paoli
3. Devon-Berwyn
4. Dresher
5. Buckingham
6. Bala Cynwyd
7. Huntingdon Valley
8. Fort Washington
9. Bryn Athyn
10. Ardmore
11. Radnor/Wayne
12. Blue Bell
13. Churchville
14. Merion
15. Washington Crossing
16. Abington
17. Richboro
18. Warrington
19. New Britain
20. Plymouth Meeting
21. Montgomeryville
22. Audubon
23. Chadds Ford
24. Wyncote
25. Chalfont
Buckingham
Buckingham Township is among Bucks County's most sought-after ZIP codes. Known for comfortable living with vistas of rolling tree-lined hillsides, Buckingham also has pockets of upscale shopping centers and a small yet vibrant arts and design district (especially within the historic village of Holicong), and it's a quick drive to the many restaurant, shopping and nightlife attractions at Peddler's Village in Lahaska and Doylestown's famed intersection of State and Main Streets, not to mention those along the river in the energetic, artistic borough of New Hope.
To be sure, Buckingham sits at the center of one of the most luxuriously livable parts of the county. Neighboring Doylestown's famously walkable downtown district features numerous shopping and restaurant options, as well as arts and culture galore in its multiple museums (Michener, Mercer and Fonthill), not to mention one of the area's most respected suburban medical centers, Doylestown Hospital.
Central Bucks School District, of which Buckingham is part, produces some of the area's best-educated students and most talented student athletes, with some of the county's highest average SAT scores and percentage of graduating seniors moving on to college life (92.4 percent).
Top 10 Bucks County Towns
Buckingham
Churchville
Washington Crossing
Richboro
Warrington
New Britain
Chalfont
Northampton
Newtown
Southampton
Paoli
There must be something in the water in Paoli. The figurative jewel of Chester County, Paoli borders other esteemed Chester County locales such as Berwyn and Malvern.
Quality of life is vital to those who choose Paoli as their home; besides ample opportunities for recreation, dining and shopping, it's also home to several leading destinations in the areas of health care and long-term care—including Paoli Hospital, a general medical and surgical hospital which recently brought trauma care back to Chester County. (U.S. News & World Report ranked the hospital among the best—No. 13 out of 91—in the Philadelphia metropolitan area.) Beyond efforts to attract more businesses and culture into its embracing borders, Paoli reportedly has several initiatives in the works to make the community's two square miles even friendlier to bike riders and pedestrians alike.
Two exceptional school districts educate the students of Paoli: Tredyffrin-Easttown School District—which produces an exceptionally high percentage of college-bound graduates (more than 95 percent) and whose SAT scores ranked the highest of any other school district in the Philadelphia suburbs—and the equally remarkable Great Valley School District.
Top 10 Chester County Towns
Paoli
Devon-Berwyn
Exton
Malvern
Phoenixville
Downingtown
Kennett Square
Spring City
West Chester
Coatesville
Radnor/Wayne
Award-winning schools and universities. Spectacular parks. A dynamic downtown district. Nationally recognized conservation and recycling initiatives. There's very little that Radnor Township, which was named one of the top 100 Best Places to Live and Launch by Fortune Small Business Magazine, doesn't have.
The township has become something of a "green" pioneer, as a proud proponent of recycling and having purchased significant amounts of its energy consumption from renewable energy sources. Current and future plans call for hiking and biking trails and other recreational pursuits to give residents greater access to the area's scenic beauty. It's also among the best places to raise and educate a family, with more than 91 percent of Radnor Township School District students heading off to college after graduation, and SAT scores among the highest (1741—verbal, math and writing combined) in southeastern Pennsylvania.
The charming community of Wayne (which extends into both Montgomery and Chester counties, though its center is in Radnor Township) boasts hundreds of acres of preserved open space. Downtown Wayne has quickly become an "it" destination, renowned for its copious shopping and dining destinations, yoga studios, fitness clubs and cultural amenities; the Wayne Art Center offers instruction in the visual arts for people of all ages. In fact, the Delaware Valley Regional Planning Commission designated Wayne a "Classic Town of Greater Philadelphia."
Top 10 Delaware County Towns
Radnor/Wayne
Chadds Ford
Broomall
Springfield
Swarthmore/Wallingford
Havertown
Media
Newtown Square
Chester Heights
Lansdowne
Bryn Mawr
Considering the idyllic, flowering campuses of its elite colleges and preparatory schools that have produced no small number of exceptional luminaries; the quaint walkabout of its boutiques, restaurants and taverns; and its rich history as the center of the affluent Main Line, Bryn Mawr has earned a certain quiet mystique. The name alone evokes a sense of history and grandeur.
Along the posh artery of Lancaster Avenue, there's the storied movie house known as Bryn Mawr Film Institute, and a number of new and exciting restaurants and specialty shops sure to ramp up the quality of life in this already breathtaking place bordering Philadelphia and Delaware County. Everyone from Katharine Hepburn and Jayne Mansfield to former leader of the free world Woodrow Wilson and "Werewolves of London" legend Warren Zevon has either lived in or frequented Bryn Mawr. It's easy to see why, because it either has or is close to everything a suburbanite needs to enjoy the good life.
Household values here are among the highest in the region (with average household incomes to match), as are the SAT scores of students of Lower Merion School District, which educates students living in Bryn Mawr. Furthermore, an overwhelming majority of graduating high school seniors—nearly 95 percent—choose to further their education by heading off to college.
Top 10 Montgomery County Towns
Bryn Mawr
Dresher
Bala Cynwyd
Huntingdon Valley
Fort Washington
Bryn Athyn
Ardmore
Blue Bell
Merion
Abington
Photography by Anthony Sinagoga Photography, courtesy of the Bucks County Conference and Visitors Bureau
Data used for the ranking was gathered from sources such as the Pennsylvania Department of Education, the Pennsylvania Department of Revenue and City Data.