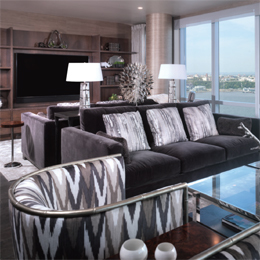 Joy and Satisfaction
Susan Taylor is immersed in all things stylish for living, including home, office design and fashion, as well as baking. While she and her husband, Fred, spend most of their time in a quaint apartment in Bucks County running her business, Black-eyed Susan, they occasionally retreat to their newly constructed home in Charlotte, N.C.
"It's a bit like a whirlwind romance," she says.
Often called a tastemaker, Susan designs with style she describes as equal parts modern and classic. With skillful editing, her work sings a delightful tune between old and new, classic and modern. She likes what she characterizes as a "timeless look that doesn't feel like the expiration date is looming."
"My work is focused on presenting a fresh spin on traditional design," she says. "I'm always influenced by the location of a home as well—that's what makes it new and exciting and allows us to bring fresh ideas to each project."
Although Susan's design firm is located in historic Buckingham, she works on projects nationwide.
"Bucks County is where I launched my design firm, and we get so many word-of-mouth referrals here that it's hard to leave," she says. "I love working all over the country and, of course, in Bucks County. We currently have projects in St. Michaels, Md.; Manhattan; Charlotte and Asheville, N.C., while carrying on a full load locally as well."
Susan and her team enjoy each phase of the design project. In the initial creative concept, she creates a narrative of how the homeowners might live in the home; pets, travel and children, as well as careers, all play into the picture and allow her mind to come up with a new design that represents her clients in a way that captures their tastes, styles and likes but in a way that is elevated beyond what they would do on their own.
"My job is to stretch the envelope and imagination beyond their vision to be unique and personal but not uncomfortable," she says. "I work with a talented team of designers who make my work look easy. But don't be fooled; I'm hard to keep up with. At times on a first appointment, my design ideas and creative thought process flow too abundantly and the whole vision can be daunting.
"We love the final reveal," she continues. "While I can visualize the outcome in my mind long before the pieces come together in the installation, some clients don't have a full grasp of the final look until they walk through the door after every detail is perfectly placed. We develop personal relationships with our clients and this is the time the joy and satisfaction of pure style design in complete. Style is my passion. Design is my dream."
Black-eyed Susan
5222 York Road,
Holicong/Buckingham, PA 18928
215-794-1800 | www.besusan.com
Published (and copyrighted) in Suburban Life Magazine, December, 2016.