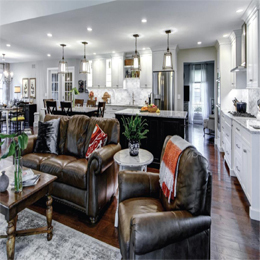 From Start To Finish
Building or renovating a home is a major project that involves numerous professionals, including a contractor, architect, interior designer and various craftsmen. For the homeowner, it can be overwhelming, time-consuming and costly to coordinate between all of those service providers, but there's one company that has simplified the process by bringing all of the those services together under one roof—Harth Builders.
Serving Bucks and Montgomery counties since 1996, Harth Builders is more than just a general contracting company; they are a Design-Build remodeling firm specializing in taking projects from conceptual design through completed construction. Even though their bread and butter is remodeling, they have recently expanded their services to include custom home building. With more than 30 remodeling professionals on staff, including two architects, two draftpersons, two engineers,three designers and several carpenters, each of their projects is designed and built by the same team from start to finish.
Owner Gregory Harth says the Design-Build approach is ideal for homeowners who lack the time and expertise to manage a large construction project. "Our clients are typically busy professionals who appreciate the convenience and efficiencies that are gained by working with a Design-Build firm," he says. According to Harth, the design-build process is akin to one-stop-shopping for home renovation.
Their unique design-build process is what sets them apart, says Katie Petruzzo, one of Harth's designers. "Our strength is in our communication, attention to detail and overall organization. Working together on each project as a team gives us access to the right answers and enables us to maintain an efficient construction schedule."
Interior projects range from kitchen, bathroom and basement renovations to game room and mudroom additions. Exterior projects include outdoor living spaces, garages and barn renovations. They also perform entire home renovations and custom home builds—all of these projects are designed specifically toward each client's lifestyle, taste and budget.
A wide array of styles exists for clients to be inspired by, from traditional to contemporary. To help clients select the look with which they will be happiest, Harth Builders encourages homeowners to explore the Houzz.com website for ideas and inspiration. By gathering photos of homes they like, it helps the design team at Harth triangulate on the aesthetic their clients are trying to achieve.
Their work hasn't gone unnoticed—Harth Builders has won Best of Houzz every year since 2013. According to Petruzzo, these awards are bestowed upon just four percent of remodeling professionals listed on Houzz annually. Harth has also won numerous Contractor of the Year (CotY) awards at the local, regional and national level. In fact, a recent exterior renovation they performed on the Dixon Meadow House in Whitemarsh recently earned them national honors from the National Association of the Remodeling Industry (NARI).
"Switching from residential to commercial design speaks to the talent and adaptability of the design team," Petruzzo notes about the recognition. At the outset of each project, the Harth Builders team conducts extensive interviews with clients to discuss their wants, needs and goals. Some clients come in with a plethora of ideas; others leave everything up to the design team.
"Every client is unique; no project is the same," Petruzzo says. "We have clients who have come in with different floor plans sketched out ready to hit the ground running, and we have other clients who have no idea where to start. We tell our clients that you don't have to be a creative individual, that's where we come in."
According to Design-Build Consultant, Christopher Lux, Harth presents the client with five to six options of how to conceptually transform the space during the first design meeting.
"They often choose a hybrid of all those different options," he says. "Sometimes they want to keep a portion of one concept and incorporate elements of another. We'll take that feedback and revise our design to get closer to the right results. The process is highly collaborative, incorporating the feedback of the homeowners and the professional guidance of the design team."
That is exactly what happened with a recently completed project in North Wales. As seen in the photos, the entire first floor was reconfigured and two-thirds of their existing covered porch outside was turned into interior space. Because of the magnitude of the project, many options were presented.
"As we discussed the scope of the project, they initially came up with six or seven design plans that were very detailed and all uniquely different," Donna Smith recalls. "There was a big team—Greg, the designer, my husband and I, the engineer and the architect."
Harth Builders discussed the scope of the project and the Smith's goals to get an idea of how they live and entertain. Smith says it was a collaborative process to make sure the transformed space would fit their lifestyle.
"They were very thorough and wanted to learn about our family, our lifestyle, and how we entertain," Smith recalls. "They really were very interested and understanding in our lifestyle and how we live in our house and that was evident throughout the project as things unfolded. They were truly excited about making this our dream home."
As the project was underway, modifications from the original design were made, but Harth Builders was more than willing accommodate the change requests to ensure that the outcome was exactly to the Smith's liking.
The project was unique because of the many structural challenges they faced. "The challenge was keeping the overall floor plan one open concept, with no columns in the middle of the rooms," Lux recalls. "To achieve that, we had to install a 1,600 pound steel beam. It was the largest free-span beam we've installed to date, at nearly 26-feet in length." "It makes the space completely open and continuous," Petruzzo says. "It's simply gorgeous."
Smith cannot agree more. She says the three-month process was difficult at times, but "Chris and his team made every step of the way exciting and enjoyable." "It's fantastic," she says. "They've totally transformed the way we function on a daily basis with cooking, having family meals together and entertaining family and friends. Chris and lead carpenter Bill were outstanding ensuring [that with] every aspect we were very highly satisfied. I would highly recommend them and use them again for another project."
HARTH BUILDERS
1021 N. Bethlehem Pike | Spring House, Pa.
(215) 654-0364 | HarthBuilders.com
Published (and copyrighted) in
Suburban Life Magazine
, June, 2017.