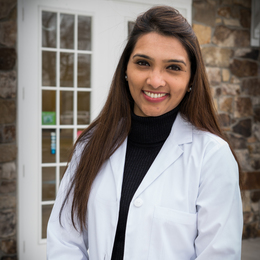 The Right Fit
Chalfont Dentistry provides dental care you can trust. With a newly expanded office, Dr. Sindhu Gundabathula helps patients attain healthy, lifelong smiles
Dr. Sindhu Gundabathula is proof that realizing a dream comes as a direct result of careful planning, patience and plenty of hard work.
Dr. Gundabathula first imagined what she considered to be "the perfect dental practice" while she was studying at prestigious NYU College of Dentistry. After graduating in 2008, she worked as an associate for seven years. She then spent more than two years looking to find the practice of her dreams, which she ultimately found in Chalfont in 2015, right on the border between Bucks and Montgomery counties.
The practice, known as Chalfont Dentistry, began as a quaint two-chair practice. With a recent renovation now complete, the expanded practice can accommodate significantly more patients—six chairs, as opposed to two—in a bright, welcoming and comfortable environment designed to put patients at ease. There, she and her team of professionals offer the full gamut of general, preventive and restorative dentistry services.
With roughly 90 percent of new patients coming in by way of word-of-mouth referral, the newly expanded Chalfont office caters to an ever-growing patient base. People come to the practice from across Bucks, Montgomery and other surrounding counties, according to Fran Schaeffer, the practice's front-office coordinator.
Dr. Gundabathula is a member of the American Dental Association, Academy of General Dentistry and American Academy of Cosmetic Dentists. We spoke with Dr. Gundabathula and Ms. Schaeffer to learn more about Chalfont Dentistry's approach to treatment, how they can help patients play a more active role in improving their dental health (and their overall health), and their plans for the future of the practice.
What are some of the lengths Chalfont Dentistry goes to treat patients?
Dr. Gundabathula: It starts with our scheduling. We allocate enough time for each procedure and that helps us provide maximum attention to every patient and their treatment needs. With every patient, we take a detailed approach, we take our time and do our best to offer good treatment options and help them decide what's best for their oral health. Also, our patients can reach me directly for dental emergencies.
I am a big proponent of preventative dentistry, which is why we encourage everyone to come in for regular checkups every six months. When they come in for their routine checkups, in addition to taking digital radiographs to assist in the diagnosis, we take digital photos with our intraoral camera and show them what we see, which is very helpful in educating them.
Now that you have expanded your practice, what specialized technology are you looking to add to enhance patient treatment?
Dr. Gundabathula: Previously, space was our biggest challenge. Now that we've finished expansion of the office, we have the room to house some specialized equipment that can improve the patient experience. Apart from adding four new chairs, we added intra oral camera and the newest handheld X-ray unit. Other equipment we're trying to incorporate is a CEREC machine for creating in-house same-day dental restorations, a digital panoramic machine and a cone beam computed tomography (CBCT) machine with 3-D imaging for improved diagnosis.
We're seeing more and more research suggesting that dental hygiene and overall health go hand in hand. How are the two linked?
Dr. Gundabathula: Not keeping up with routine dental care can cause gum disease and severe damage to teeth. If you continue down that path without pursuing the necessary interventions, you will likely lose your teeth in the long run. Even so, the problems that result from poor oral hygiene can extend well beyond the mouth. Studies have shown that there is a correlation between a lot of health problems and poor dental hygiene, including diabetes, heart disease and inflammation, among others. That's why we continually reinforce the need for good dental hygiene and give patients the tools they need to get to where they need to be.
Aside from the regular brushing and flossing, what other guidance do you provide?
Dr. Gundabathula: We like to talk a fair amount about the importance of diet, which plays a substantial role in oral health, including the prevention of cavities. Our hygienist talks with patients about how they can modify their diet, and how simple things like too much coffee and soda can affect your teeth. She also explains how some of them might need to do more than just brushing and flossing like the use of proxy brushes, soft picks and other appropriate dental aids.
For new or prospective patients, do they need to know anything in particular prior to coming in for their appointment?
Dr. Gundabathula: We always welcome new patients. We want them to know that our staff is very caring, and our dental office is a "no rush" dental office. We allocate more time than normal for our new patients, so that we can give them enough time to introduce ourselves and get to know them and understand their dental needs. We do everything we can to make the patient feel at ease. By the end of their initial consultation, we provide them with all the information they need with regards to their oral health and hygiene and discuss with them if any further dental treatment is needed for them. Our most important goal is that every patient of ours should be very happy for choosing our dental office.
Of all of the dental practices located within the area, what do you feel sets your practice apart?
Dr. Gundabathula: We listen to what the patient's primary concerns are, rather than just telling them what he or she needs. I'm also very sensitive to the fact that some patients need more time for their treatment, and we take that into consideration when scheduling the appointments. One other thing we really focus on is to see all our patients on time and in rare cases of delay the wait time is less than 10 minutes.
Also, our location helps us serve people from different towns nearby, especially those looking for a dentist near Warrington, Doylestown, Horsham, North Wales, Montgomeryville and Lansdale. We are within 15 minutes or less from all those towns since we are right on the border of Bucks and Montgomery counties.
Ms. Schaeffer: It's a very personal practice. It's amazing how well Dr. Gundabathula knows her patients, and how well she listens to them—not just about their health but about their everyday lives, too. She knows and remembers everyone and treats them like she would treat her own family.
Considering the recent expansion, what do you foresee for the practice's future?
Dr. Gundabathula: We're looking to add a couple of hygienists to the team and also bring in specialists to the practice, or an additional associate. We hadn't thought about these possibilities prior to the expansion, but now that we have the additional space, it will be easier for us to plan for what's next.
Chalfont Dentistry
3425 Limekiln Pike, Suite 5
Chalfont, Pa.
(215) 660-3636