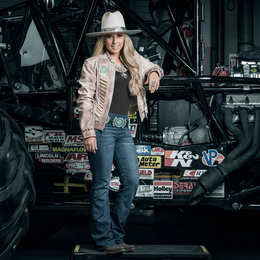 Taking the Wheel
Monster Jam competitor Brianna Mahon proves motorsports aren't "just for the guys."
Brianna Mahon has had to get adept at "leading a double life," as she calls it.
Most weekdays, she passes the hours styling clients' hair at DC Country Kutz Salon & Boutique, the business she runs in Dalton City, Ill. On weekends, she becomes someone else entirely: the fearless driver of Whiplash, a 1,500-horsepower, 12,000-pound monster truck.
Mahon was in town last month—her first time in Philadelphia—at Lincoln Financial Field for the return of Monster Jam. There, she and her fellow drivers tried to outdo one another by making their trucks do corkscrews, backflips and other spectacular aerial stunts. Although Mahon finished in the middle of the pack in terms of overall scoring, she says she always goes home with a smile on her face "as long as the fans are happy."
We spoke with Mahon from her home in Dalton City. She talked about why traditional team sports aren't for her, how she overcame a life-changing injury to pursue a career she loves, and why more young women are following her lead into the world of motorsports.
How did you first get involved in motorsports?
I was pretty much born into it. … I was riding at three [years old]: four-wheelers, dirt bikes, snowmobiles—really, anything I could get my hands on. I tried the traditional school sports, like dance, softball and basketball, but team sports weren't for me. I decided to dive into [motorsports], and I started doing motocross full time. I went pro in 2010. My pro career ended one year later, in 2011, when I had my worst injury. I was out for two years in recovery. I had a business degree to fall back on, but I also transitioned into dirt-track racing and spring cars. Somehow Monster Jam came along. Once I gave it a try, I fell in love with it.
It's good to see the injury hasn't stopped you.
In motocross, you can have some crazy injuries. Mine was kind of life changing. Another rider was out of control and landed on top of me, and it crushed everything in my right hand, my throttle hand. I had to have joints reconstructed, and I was literally in a cast for two years. The hand doesn't work like it used to, and I live in pain daily, but it could have been a lot worse—a hundred times worse. You get numb to the pain, and I've learned how to adapt, so now I'm sort of ambidextrous. I spent years being angry about it, but if it hadn't happened, it wouldn't have led me to dirt-track racing, and it never would have led me to Monster Jam.
Speaking of Monster Jam, the freestyle stuff you're able to do with a 12,000-pound truck is amazing. How much of your routine is planned, and how much is, "OK, let's see if this works?"
It is completely unscripted. There's the start of a game plan, where I'm thinking of my first two hits. Then, if everything goes right, if everything works out, you start thinking: What's next? Otherwise you just go for it.
Motorsports, like many other sports, has typically been regarded as "a guy thing." You're another example of how that's changing.
I have so many people who say, "My daughter didn't come to the show because she didn't know girls could drive monster trucks." Then they come to the very next one. It's been awesome to be part of that. Sometimes I hear things like, "Are you really the driver or the model?" All the women who do what I do come from a motorsports background; it's not just, "She's pretty; let's put her in a truck." … In motocross, some of the guys didn't like having to compete against women. With Monster Jam, the guys have been very welcoming. They want us there, and they want to see us succeed. We all support each other.
You own a hair salon, too. Is it tough balancing your schedule between those two different worlds?
It actually works out perfectly. We fly out every Thursday, and fly home Sunday. You come in, have a media day, have a practice, you perform, and then you come home. … In the hairdressing world, a lot of stylists get burned out fast; they do it just for a job. I just take it day by day. Being on the road helps me come home, and it makes me realize: I want to do this. My new clients are floored when I tell them what I do [with Monster Jam]. A lot of times they know that's what I do, and that's why they come to me. Some clients drive three to four hours just to see me. It's kind of like leading a double life.
What do you do with your time when you're not working, either at the salon or in a monster truck?
I like to hike, fish, or do relaxing things. I like to go to a lot of country concerts. But I'm always racing something or riding off road.
Photography courtesy of FELD Entertainment
Published (and copyrighted) in Suburban Life Magazine, June 2018.
.
.
.