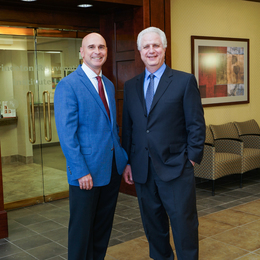 An Artist's Touch
Through artistry and attentiveness, the surgeons and staff of Princeton Rejuvenation Institute deliver the cosmetic results their patients desire.
Artists see the world a little differently than those around them. On a blank canvas, for example, they may see the makings of a serene landscape, done in brilliant watercolors. In a ball of clay, they may envision a fully formed ceramic creation, kiln-fired to a smooth sheen. In an untouched block of stone, they may imagine a perfectly sculpted statue, with every curve captured in exquisite detail.
Matthew J. Lynch, M.D., and Jamie R. Wisser, M.D., FACS, can relate. The human body is their blank canvas, their ball of clay, their untouched block of stone. While they see the human body as nature's most beautiful form, they also understand that even a finished masterpiece can benefit from a few carefully chosen, artfully placed "brushstrokes."
Drs. Lynch and Wisser lead the surgical team of Princeton Rejuvenation Institute in East Windsor, N.J., where they use a blend of artistry and surgical skills to sculpt, shape and otherwise beautify the human form. The practice offers a full spectrum of cosmetic services, ranging from skin care and minimally invasive aesthetic procedures to cosmetic and reconstructive surgery of the entire face and body.
Yet no matter the mode of intervention—a rhinoplasty or a facelift, a breast augmentation or an abdominoplasty, cosmetic injectables or medical lasers for facial rejuvenation—the surgeons strive to deliver a clear path to achieve the natural-looking results each patient desires.
"Artistry is at the heart of everything we do, whether it's dermal fillers, laser treatments or operative interventions," Dr. Wisser adds. "We approach every patient with the notion that if you restore the form, functional or cosmetic benefits will follow."
'The Greatest Reward'
Drs. Wisser and Lynch share an interest in the space where art and medicine intersect. Dr. Lynch used his surgical skills to correct facial deformities in pediatric patients—namely, cleft palates and cleft lips—early in his career. He later found himself drawn to other aspects of plastic surgery, specifically breast reconstruction following mastectomy or lumpectomy, augmentation and breast reduction, which remain his particular areas of specialty interest.
Dr. Wisser, on the other hand, was intent on his career path at a young age.
"I knew I wanted to be a plastic surgeon when I was eight years old," says Dr. Wisser, who comes from a family of physicians. "I knew then that the human body is the ultimate artistic medium, and that plastic surgery was the branch of medicine with the highest risk, the highest stakes and the greatest reward."
Backgrounds in the fine arts underlie the surgical approach for both surgeons. Throughout Dr. Wisser's life, for example, he has worked with media including charcoal, pencil, watercolor and sculpture. These skills have proven to be extraordinarily useful when evaluating patients.
"When people share the outcome they are hoping to achieve from a particular procedure, I will draw it for them," he says. "'Do you have a computer-generated image of the anticipated end result?' may be asked. My answer is: 'Sure, we could do that, but what really matters is whether the individual who will be doing the surgery can visualize, draw and build it.'"
Princeton Rejuvenation Institute is a throwback of sorts, offering a modern "boutique" environment where individualized care is their primary focus. Every patient interaction is conducted by a board-certified plastic surgeon, either Dr. Lynch or Dr. Wisser, along with support from their staff. Gabrielle Perret, their medical aesthetician, has comprehensive training in both Switzerland and the U.S., and prides herself in creating programs with the doctors for optimizing patient results. This leads to long-lasting patient relationships as they enjoy a variety of aesthetic services throughout the center.
The surgeons perform most procedures at the practice's onsite ambulatory surgical facility, Reliant Surgical Center, LLC. The center is certified by Medicare and fully accredited by AAAASF. The physicians and staff are committed to providing patients with a safe and comfortable environment that encourages active patient and family involvement. They specialize in the treatment of patients who have either failed to respond or experienced difficulties with prior treatments.
"We pride ourselves on quality and maintaining a high safety profile," Dr. Wisser adds. "That goes for every aspect of the practice, including the procedures we perform and the products and services we offer. Before we consider adding any new product or procedure, we assess and review tried-and-true evaluations. We need to make sure it offers quality results, before we jump on board with something new."
Dramatic Results
Drs. Lynch and Wisser believe in educating their patients so they can make informed decisions. This includes a detailed explanation of patients' options, from minimally or less invasive interventions to more dramatic surgical modalities.
These surgeons strive to learn as much as possible about the individual, including his or her hopes in regard to postoperative outcomes and what motivates the individual who wants to reshape, enhance or otherwise transform a certain part of the face or body. Dr. Lynch calls it "treating the whole person."
"Only after we have a good understanding of the patient's hopes do we use our artistic skills to transform the individual into the most desired image of the self," he says. "I always start with the most conservative options, beginning with cosmetic procedures and build up to surgical options. It's a collaborative process, so you're letting the patient know that if you 'underdo' something, they may need a more dramatic intervention to achieve the desired result."
The surgeons and staff even provide their personal cellphone numbers, and patients are encouraged to reach out with questions or concerns at any point in their treatment. Working closely with patients and making certain their needs are being met, both physically and emotionally, is in itself an art form.
"Each patient receives our most undivided attention through every step of the process," Dr. Wisser adds. "Their needs are our primary concern, and that's the standard we judge ourselves by every day."
Princeton Rejuvenation Institute LLC
300B Princeton Hightstown Road, Suite 101
East Windsor, N.J.
(609) 448-9055
PriMedSpa.com
Published (and copyrighted) in Suburban Life Magazine, June 2018.
.
.
.