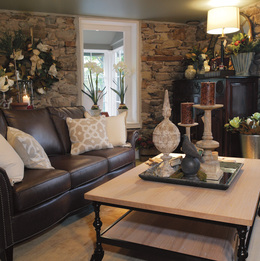 Always in Style
Trend-spotting design firm Black-eyed Susan breathes new life into any home interior
November ushers in the entertaining season, bringing Thanksgiving and the winter holidays into full swing. It also marks a time when many people wish to enliven their homes with a redesigned interior. But with the frantic pace of the season combined with family obligations and other holiday-related responsibilities, redesigning a home can present an imposing challenge.
Solution? Susan Taylor, one of the region's foremost interior designers, who possesses an uncanny ability to breathe new life into any space, no matter how tired. Taylor, owner of the premier Bucks County interior-design firm Black-eyed Susan, enriches her clients' homes—or even just small parts of them—by adding sophistication and a "twist of the unexpected."
Taylor encourages existing clients and newcomers alike to visit as often as possible her accompanying retail store, Black-eyed Susan in Holicong, where she always has some surprises to share. In addition to inspired floor displays, she also offers a series of in-store evening events. Each event includes both a demonstration and a lecture, all related to improving home interiors through smart design.
"These events are a great way to connect with clients," Taylor explains. "I want my visual displays to spark ideas for my clients' projects. Perfect placement is my passion. Even though my design studio is located in the retail store, most of the full-service design is presented in the client's home. We bring multiple design choices in order to give our customers several different options."
When Taylor first partners with a client, she starts the process by taking photographs and measurements during an initial home visit. The real design transformation begins with a follow-up appointment. Full-service design options include entire room layouts, furniture additions, accent lighting and window treatments, with other accessories to add to the mix.
Style with Punch
When it comes to adding life to a living space, the best way to achieve balance is to use a classic approach blended with new and trendy touches, according to Taylor. "Black-eyed Susan is all about style, which is lasting, while trends and fashion change too often," she says. "Style is also engaging, and that is what you find when you walk through the door of Black-eyed Susan. There's nothing about my business or design approach that's bland or vanilla."
Taylor's merchandise is a mix of personally selected accents from around the globe. A keen eye for things both classic and modern—"traditional style with urban punch"—keeps Taylor on the cutting edge of style.
"I offer an eclectic mix of accessories, mirrors, floral, furniture—both vintage and new—lamps and chandeliers, and all things stylish in home décor," she says. "I find things from about eight major markets per year, plus flea markets and estate sales."
In addition, Black-eyed Susan specialties such as draperies and art can help transform the character of any living space. For those looking to spruce up their homes on a fixed budget, Taylor says something as simple as a painting accent or a swatch of vibrant color can significantly enhance the look and feel of a room: "Painted stripes, high-gloss paint and painted ceilings are all painting techniques that I employ."
Furthermore, adding unique accessories can give an instant facelift to a living room or family room. "A French country living room could be brought to life by taking some of the more provincial, expected prints out of the room and adding an unexpected color, perhaps a graphite or stone color," says Taylor.
Other ideas for updating a room include adding drum shades or new lamps with a hint of modernism to update a traditional look. Larger-sized pillows—down-filled and welted or flanged—would offer a quick change as well. Finally, a wall of oversized mirrors could add depth to a room. "Vintage touches and new accessories, done within a budget, can create a new look without letting spending get out of control," she says.
For those who crave a trendier style, Taylor is more than capable of making this vision a reality: "I have an out-of-the-box approach and can integrate today's styles and trends flawlessly. Right now the trend is to a more urban look, less fussy and more symmetrical. It's a great mix with lots of great options. With the trend now involving cleaner and sleeker lines of modernism, neutral colors like gray and taupe take center stage."
In addition to full-service decorating and design, Taylor also offers a full range of consulting options, including paint consultations, accessory calls, staging and restyling. She also often complements the work of other designers, stepping in to provide the perfect finishing touches to make the room complete.
Black-eyed Susan was based in Yardley for the past 18 years, but Taylor's growing client base necessitated the move to Holicong. Today it represents a portion of The Factorie at Holicong, along a stretch of road Taylor refers to as the central "design corridor in Bucks County." The new location shares 10,000 square feet of space with Best of Persia, which offers a diverse mix of the highest-quality rugs as well as fine furniture for the home, office or study. The Black-eyed Susan showroom changes continually to reflect not only changes in season but also Taylor's moments of inspiration.
"I do complete floor changes at least once a month, so I can give the customer a new vision and inspiration to personally incorporate into their own style," she says. "My visuals often set the stage for the design direction of a new project for an interior client. They're the foundation for the magic that is to follow."
Black-eyed Susan/Susan Taylor Interior Design
5222 York Road, Holicong
215-794-1800
Website: besusan.com
Blog: besusan.blogspot.com
Monday through Friday: 10 a.m. – 6 p.m.
Thursday: 10 a.m. – 7 p.m.
Saturday: 10 a.m. – 5 p.m.
Sunday: 12 noon – 4 p.m.
Erica Lamberg is a freelance writer based in Montgomery County.