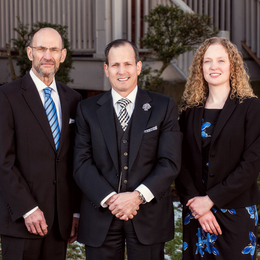 Leading by Example
LaMonaca Law's cutting-edge approach to family law is not just ahead of the curve; it defines the bend.
Every January for many years, Gregory P. LaMonaca has gotten behind the wheel of his car and driven it up the Northeast Extension toward a secluded destination where he could spend a few uninterrupted days of careful planning. He started this annual tradition, which he has dubbed "The Pocono Summit," as a way to give himself a figurative North Star to follow for the year ahead.
"A lot of notable entrepreneurs have done something similar to get away from the hustle and bustle, and it is time well-spent," says Mr. LaMonaca, the founder of the Main Line-based family law firm, LaMonaca Law. "By the time I get back into the office, we're ready to move forward like we've been shot out of a cannon."
While much of his summit is spent assessing the past year, and developing a forward-looking plan for every aspect of his own life—personal, family, work, etc.—he also uses the time to outline the many ways in which he can better serve others. Specifically, he focuses on his fellow team members and on the clients who knock on his door seeking resolution to matters of divorce, child custody, and other issues arising in family law.
The summit typically lasts less than a week, yet its success depends on months of research and preparation. Toward the end of each year, Mr. LaMonaca meets for hours with every member of his team, to assess how he can help each of them to move forward in his/her career and life. On the first of January, for example, three individuals in the firm received well-earned promotions; Christopher Casserly and Alicia Fastman were each promoted to partner, each overseeing a full team operating out of separate buildings, while Lawrence Welsh was promoted to chief legal counsel.
At the same time, Mr. LaMonaca aims to help each member of his team find fulfillment beyond their professional aspirations.
"We are guided each day by LaMonaca Law's core values," he says. "I spend hundreds of hours in one-on-one education with each team member, because I want to see what makes each one tick, what unique talents each one has, and where I can help each one individually, and by so doing, how I can help all of us collectively. In the process, I learn and grow, too, so it is a never-ending cycle. Helping people find their passion is my passion. I see my job as creating other leaders, because every single person here can be a leader, in this firm and in other areas of his or her life."
The net result: All of this knowledge and power is focused on helping clients.
Always Growing
This unique approach has fueled the firm's remarkable growth. In 1994, the same year Mr. LaMonaca married his high school sweetheart, Monica, he founded LaMonaca Law, which then operated out of a spare bedroom in their first home. In the 25 years since, they have built the firm into a sprawling enterprise housed in multiple buildings on three streets in downtown Media.
Likewise, the firm's legal team has expanded to accommodate demand. The team now numbers approximately 20 people whose ages, experience, backgrounds, and political affiliations, Mr. LaMonaca suggests, present such diversity that the firm is better able to serve its clientele.
"If a client feels more comfortable with a male or female attorney, we can accommodate," he says. "If someone wants an attorney who has a certain number of years of experience, we can accommodate. Every single client will be matched with a lead attorney, but we employ a team approach. Each client will also have a select team tailored to that client's budget, needs, and desires. There are very few situations we cannot handle."
In fact, the firm has created three teams devoted to clients with specialized needs. The Forensic Support Team, led by Mr. Welsh, oversees a team of individuals who are devoted to dealing with the financial aspects of a divorce. The firm's Appellate Unit, led by Melissa Towsey Rich, handles all aspects of appeals for clients, including referrals from other firms that do not handle their own appeals in family law cases. The Child Custody Unit, which Mr. LaMonaca leads, addresses various matters of child custody, including complex issues such as child abduction, alienation, grandparents' rights, and international child custody.
LaMonaca Law's attorneys serve clients throughout the Main Line, the Greater Philadelphia area, and beyond. The firm's attorneys have been admitted to practice in Pennsylvania, New Jersey, and in the Federal courts, as well as in various appellate courts, including the U.S. Supreme Court.
In addition, they have gained a reputation for being among the best in their field; many of their team members have won awards and recognition in the area of family law. Mr. LaMonaca, for example, has been named "Top Attorney" in family law and divorce by Suburban Life every year since 2010, "Top Lawyer" for divorce and custody by Main Line Today a dozen times, dating back to 2004, and one of the "Top 100 Family Law Attorneys in Pennsylvania" by the American Society of Legal Advocates.
Focused on the Future
Besides the firm's experience, diversity, and passion for helping others, Mr. LaMonaca attributes the practice's growth to his "Brutally Honest" system. The three-phase process, which Mr. LaMonaca co-created with a former custody client, helps individuals assess their past and analyze their present as a way to determine current goals, and then create a plan to move forward.
Mr. LaMonaca has worked to share his wisdom with an audience beyond his firm's client list. In 2009, he co-authored a book called the Brutally Honest Life Management Journal, to empower readers to reconnect with the things that matter most in life. A follow-up book, the Brutally Honest Pennsylvania Divorce & Custody Survival Guide, helps readers who are mired in a divorce or custody dispute to visualize the path to a brighter future. An updated and expanded version of the book, now titled the Brutally Honest Pennsylvania Divorce, Custody & Financial Survival Guide, is available for free download through his firm's website, LaMonacaLaw.com.
Mr. LaMonaca will soon add to his publishing credits with the release of his long-awaited third book, The Brutally Honest Guide to Sur-thriving Generation Now. Expected this spring, the book contains vital lessons that may apply to anyone looking to make a significant life change. In it, Mr. LaMonaca shares real-life examples that have helped him in various aspects of life, ranging from personal relationships, health, and career, to personal growth, finances, emotional intelligence, and financial literacy in children.
"There's an arsenal of things in this book that can make an immediate difference in people's lives," he says. "Although there are specific references and examples that can help people who are going through a divorce or a custody dispute, anyone who reads it will gain important lessons that will help him or her to improve their life in some way."
As he looks in the rearview mirror, Mr. LaMonaca is pleased with his many accomplishments: a loving family; passionate and devoted team members; several published books; and a law firm thriving itself, by way of helping others to thrive. But that does not mean that he is content or complacent. While he has no intention of slowing down, he has started to consider his legacy.
"I want what I've done to help people for generations," he says. "Whether it's through promoting family values, my work in family law, the time spent with my team members, creating a high-tech, innovative practice, or the books I've written, my greatest passion is helping people find a path toward a better place in life. That's what gets me out of bed every single day."
LaMonaca Law
(610) 892-3877
341 W. State Street
Media, Pa.
325 Pearl Street
Media, Pa.
Photograph by Jeff Anderson

Published (and copyrighted) in Suburban Life magazine, February 2019.
For more info on Suburban Life magazine, click
here
.
To subscribe to Suburban Life magazine, click
here
.
To advertise in Suburban Life magazine, click
here
.