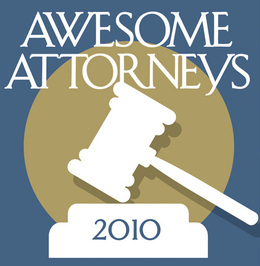 In Confidence
A surplus of good counsel from our region's top attorneys
The verdict is in: The Philadelphia suburbs are blessed with an abundance of top-notch attorneys from all areas of practice. Yet even with so many choices, finding the right attorney to help you navigate the complexities of the legal system can be a challenge.
Suburban Life has partnered with Avvo Inc., a Seattle-based company that rates and profiles attorneys nationwide, to help spotlight some of our region's top attorneys. Avvo has compiled a comprehensive list of top lawyers in Bucks, Chester, Delaware and Montgomery counties, according to their particular areas of expertise.
Attorneys in the 2010 Awesome Attorneys List Compiled by Avvo Inc. are ranked in their professional backgrounds based on Avvo's proprietary algorithm. The Avvo Rating is a score on a 10-point scale distilled from the raw rankings generated by Avvo. All attorneys listed received an Avvo Rating of 7.8 or higher. The ratings and rankings were calculated October 15, 2010.
Read the Q&As with some of the attorneys here.
Read our "readers choice" list of top attorneys here.
The 2010 Awesome Attorneys List, compiled by Avvo Inc.
Bankruptcy/Debt Law
Alfred M. Abel Law Offices, Jenkintown/Plymouth Meeting
215-392-4969
Barbieri and Associates, Exton
610-280-7078
Dunne Law Offices P.C., Philadelphia
215-854-6342
Mudrick & Zucker P.C., Conshohocken
610-832-0100
Consumer Litigation Group, Media
610-616-5303
Business Law
Unruh, Turner, Burke & Frees, West Chester
610-692-1371
MacElree Harvey Ltd., West Chester
610-436-0100
Law Offices of Nancy L. Lanard,
Warrington
267-234-7500
MacElree Harvey Ltd., West Chester
610-436-0100
Lundy, Flitter, Beldecos & Berger, Narberth
610-668-0770
Criminal Defense Law
Fairlie & Lippy P.C., North Wales
215-997-1000
Law Office of Williams & Scheetz, Richboro
215-322-7340
Fairlie & Lippy P.C., North Wales
215-997-1000
Mudrick & Zucker P.C., Conshohocken
610-832-0100
Rubin, Glickman, Steinberg & Gifford, Lansdale
215-822-7575
Employment/Labor Law
Hardwick Law Offices LLC, Doylestown
215-230-1912
Gallagher Law Group P.C., Exton
610-647-5027
Kraut Harris P.C., Blue Bell
215-542-4900
Hardwick Law Offices LLC, Doylestown
215-230-1912
DiOrio & Sereni LLP, Media
877-218-9917
Estate Planning Law
Fox Rothschild LLP, Warrington
215-345-7500
Law Offices of Michelle C. Berk P.C., Fort Washington
215-793-4800
Unruh, Turner, Burke & Frees, Phoenixville
610-933-8069
Steven J. Fromm & Associates P.C., Philadelphia
215-735-2336
Unruh, Turner, Burke & Frees, Phoenixville
610-933-8069
Mackrides Associates, Media
610-565-6688
Debra G. Speyer Law Offices, Bala Cynwyd
610-949-9555
MacElree Harvey Ltd., West Chester
610-436-0100
John B. Whalen Jr., Chesterbrook
610-407-0220
Family Law
Bennett & Associates, Wayne
610-254-9060
Solomon, Berschler, Warren, Schatz & Monaghan, Norristown
610-279-4300
Elliott, Greenleaf & Siedzikowski P.C., Blue Bell
215-977-1000
MacElree Harvey Ltd, West Chester
610-436-0100
Petrelli Law P.C., Philadelphia
(215) 523-6900
Vetrano & Vetrano, King of Prussia
610-265-4441
Hangley Aronchick Segal & Pudlin,
Norristown
610-313-1670
Land Use/Zoning Law
Curtin & Heefner LLP, Morrisville
215-736-2521
MacElree Harvey Ltd., West Chester
610-436-0100
Unruh, Turner, Burke & Frees, West Chester
610-692-1371
Tupitza & Associates P.C., West Chester
610-696-2600
Saul Ewing LLP, Chesterbrook
610-251-5050
Personal Injury Law
Fairlie & Lippy P.C., North Wales
215-997-1000
Karp & Hart P.C., West Chester
610-430-2200
Fairlie & Lippy P.C., North Wales
215-997-1000
Murphy, Haskins & Dengler, Norristown
610-272-4222
Cherry Fieger & Marciano LLP, Media
888-684-2374
White & Williams LLP, Conshohocken
610-897-2550
Saile & Saile Attorneys at Law, Langhorne
215-860-5800
Tax Law
Lundy & Flynn LLP, Bala Cynwyd
610-660-7788
Chamberlain, Hrdlicka, White, Williams & Martin, West Conshohocken
610-772-2300
Law Office of Ilya Lipin, Bryn Mawr
617-835-4404
Eckell, Sparks, Levy, Auerbach, Monte, Rainer & Sloane, Media
610-565-3700
Law Office of Paul Roath, Norristown
610-272-5859
Workers' Compensation Law
Anthony J. Bilotti & Associates, Media
484-444-4400
McGraw & Associates LLC, Skippack
610-584-9400
Solomon, Berschler, Schatz & Monaghan, Norristown
610-279-4300
Brilliant & Neiman LLC, Trevose
215-244-8101
Law Offices of Daniel J. Siegel LLC, Havertown
610-446-3457