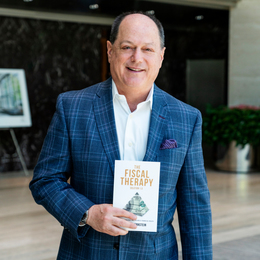 Invested in Change
In his new book, wealth strategist Marc J. Bernstein explains the transformative results of changing the way we think about money.
Marc J. Bernstein says everyone has "a money story," as in a collection of thoughts and attitudes about money, either positive or negative. More importantly, he believes this story not only has a profound effect on someone's personal spending and saving habits, but also has the potential to affect their overall happiness and ability to achieve their long-term financial goals.
Bernstein says he's no different. He traces a core aspect of his money story to a jarring experience he had as a young man—specifically, during his senior year of high school.
"When I was growing up, my father worked seven days a week building his business, and one night he got a call that changed everything," he recalls. "There was a fire at the warehouse where his business was located. I remember standing there with him, watching everything he had built just burn to the ground."
Bernstein's father was in his mid-50s at the time, at a point in his career when he was considering slowing down to spend more time with his family. Instead, he found himself facing a difficult decision: move the family to Missouri in pursuit of a new job; or stay put and invest his time, money, and energy into rebuilding the business out of the ash.
"He chose to stay, but he had to triple the size of his business just to get back to where he was before the fire," Bernstein says. "That experience, watching my father go through all that, has a lot to do with why I went into the career I did. I wanted to help other people gain the financial protection they need to be secure so what happened to my father won't happen to them."
Bernstein has spent nearly three decades working as a financial planner and wealth strategist. In that time, he has gained invaluable insight into the thinking behind his clients' fears, motivations, and dreams for the future. In the process, he has learned that many people have what he calls "an uneasy relationship with money."
"Even wealthy people spend too much time worrying about money—what they're doing with it, and even what they're not doing with it," he says. "I'd say most people spend their lives feeling a sense of unease regarding money. Rather than stress and uncertainty, my goal is to help them focus on security, ease, and abundance."
To help people transform this uneasy relationship, he put his thoughts on paper. The result: The Fiscal Therapy Solution 1.0: Six Steps to Personal and Business Financial Health, a highly engaging, concisely written book that uses real-life examples to help readers answer some of life's biggest questions. With the turning of each page, Bernstein ushers readers through the step-by-step process he has adopted at MWealth Advisors, the Conshohocken-based financial planning firm he founded in 2015.
Much like a plan to care for one's physical health and wellness, Bernstein's Fiscal Therapy Solution model is rooted in in-depth diagnosis, a carefully orchestrated and detailed action plan, and ongoing maintenance designed to achieve one's long-term goals. Put simply, his holistic approach is designed to help people "envision what they want their life to look like."
"Some people just want to get to retirement, but what else is there?" he adds. "Instead of retire, I say why not inspire or aspire? If you're an entrepreneur, do you want to start a different kind of business? Do you want to do something creative, like paint or write a book? Do you want to travel the world? Do you want to spend more time with your grandkids? No matter what it is you want to do with your time, you have to make sure your goals and attitudes are in alignment."
Many people inaccurately view money as a finite resource, for example, and this belief may incite feelings of fear, anxiety, or guilt when they spend money. As a result, they may struggle to achieve their long-term financial goals, whether those goals include funding an enjoyable retirement or leaving a lasting legacy for their children and grandchildren. That's why Bernstein believes reevaluating one's "money story" with the help of a trusted advisor is such a critical exercise.
"The thing I want people to take away from this book is that we have to be open-minded," he says. "We have to be careful not to let self-limiting thoughts get in the way, and to realize that our perceptions of money can and should change over time. From what I've learned, the more we talk about it, the better off we will be."
Bernstein says response to the book has been incredibly positive—among prospective clients, as well as among fellow financial professionals; later this month he will travel to China, where he will speak before a large gathering of life-insurance professionals. He believes the positive feedback stems from the fact that he's exploring territory that most people rarely discuss. With a follow-up to The Fiscal Therapy Solution 1.0 already in development, he's looking forward to continuing the conversation years into the future.
Photograph by Jody Robinson

Published (and copyrighted) in Suburban Life magazine, May 2019.
For more info on Suburban Life magazine, click
here
.
To subscribe to Suburban Life magazine, click
here
.
To advertise in Suburban Life magazine, click
here
.