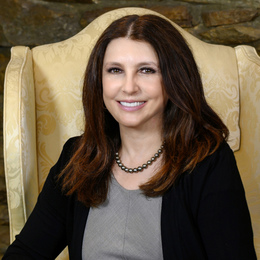 Winning Matters
As she celebrates 25 years as a solo practitioner with an emphasis in family law and criminal defense, attorney Carla Risoldi reminisces and looks ahead.
More than 25 years have passed since attorney Carla Risoldi decided to open a law practice of her own. Many fond memories from back then remain bright and clear in her mind.
"I will never forget the first time that I saw the circa-1698 stone farmhouse on the corner of Trenton and Durham roads in Langhorne," she says. "It was just perfect."
It was the end of 1993, and Carla had found an office she deemed "just right." The beautiful stone building on a tree-lined lot provided both an ideal location and an aesthetic that reflected her personality. After some thoughtful renovations, she hung her shingle—Risoldi Law Offices LLC—and opened for business on July 1, 1994, originally as The Law Offices of Carla V. Risoldi. She has been representing clients in matters pertaining to family law (divorce, custody, support, protection from abuse, grandparents' rights, etc.) and criminal defense (driving under the influence, drug, felony, and misdemeanor cases, as well as drivers' license suspension issues, traffic court, and juvenile court) ever since.
Carla advises that Risoldi Law is also the place to call if there is a personal injury situation such as an auto accident, medical malpractice, or worker's compensation.
"A lot has changed since 1994," says Risoldi, who also maintains a satellite office in New Hope's Logan Square for the convenience of her mid-county and New Jersey clients. "After all, at that time, we were using fax machines, pagers, or maybe a bag mobile phone, and America Online first offered gateway access to this new thing called the Internet. Now, I carry the entire law library on my laptop and we file our pleadings with the courts through e-filing. I still use AOL for my email address, though. If it isn't broken, why fix it?"
Personalized Attention
Carla immediately went to work after graduating magna cum laude from the University of Pennsylvania and Fordham Law School. She gained valuable experience in and out of the courtroom while working as an assistant district attorney in Bucks County and then with another local attorney. Those experiences, as well as the summer job she had with a large law firm during law school, shaped her views as she branched out on her own.
"From the very beginning, I dedicated myself to giving clients personalized attention," she says. "What struck me about the large firms was how divided they were between the 'rainmakers' who brought in the business and the people who actually did the work. It would not be uncommon for one attorney to 'wine and dine' potential clients and then hand off the actual work to other attorneys, some of whom were just cutting their teeth on the work that the clients thought they hired the experienced attorney to do.
"I did not want to run my office that way," she continues. "If you hire me, it means that, 99 percent of the time, you get me—the only exceptions being if there are scheduling conflicts that cannot be otherwise resolved or something unusual like that."
As a result, Carla has earned her share of accolades and respect, not only from clients but also from fellow attorneys and judges. When she brings a case into court, for example, she says the bench considers her arguments carefully. "By now, the judges know that I will not litigate something if it can be amicably resolved," she adds, "and when I am there I am there for a good reason."
Having practiced family law for such a long time, she knows the "ins and outs" of the process in the five-county Philadelphia area (Bucks, Chester, Delaware, Montgomery, and Philadelphia), as well as across the river in New Jersey. Being able to practice in both states proves useful when, for example, deciding where to file a case, when there is the option, or where people relocate and the cases are transferred from one place to another.
Hiring an attorney who practices in both Pennsylvania and New Jersey can be beneficial in other, less obvious ways. Traffic court is a good example. "New Jersey will give two points to a New Jersey driver for any out-of-state moving violation," Carla says. "If you are a New Jersey driver with a Pennsylvania citation and you hire a Pennsylvania attorney who does not know this, that attorney may think he or she did a great job getting your ticket reduced from 20 miles per hour over the limit to 5 miles per hour over the limit. New Jersey treats them equally and will give the New Jersey driver two points regardless."
Carla's dedication to her clients means that she is readily available to answer questions and explain their options, available for in-office consultations on nights and weekends, and by phone and email nearly all the time. After she advises them and provides the pros and cons of the different ways to proceed with a case, she says it's up to them to decide the path forward. "I always remind them, this is your case and your life," she says, "but I will be there to help you every step of the way."
In addition to her services as a litigator, Carla offers the option of mediation for divorce and custody matters. "While many people considering a divorce and/or separation choose the traditional litigation process, some may prefer to resolve their respective cases through divorce and custody mediation, which can save time, money, and the stress of litigation," she says. This is something that they would need to decide prior to contacting Carla, because once she is retained as one party's attorney, she cannot then mediate in the same case.
To accommodate these parties, Carla completed a 40-hour course in mediation and has started a separate business called samaggikaranam divorce & custody mediation llc. Samaggikaranam means "peacemaking" in the ancient Pali language, something Carla has become more interested in since she started practicing Buddhism more than four years ago.
"Yes, I am still the proverbial 'pit bull with pearls,' as I have been described for my tenacious representation of my clients, but I always seek agreements where they can be reached," she assures. "Mediation is just another option for some people who do not want to litigate their contested divorce and custody issues."
In addition, Carla has completed the requirements to be a court-appointed parent coordinator, as Pennsylvania has recently reinstated this process as an option for custody litigants.
"I started meditating and practicing Buddhism when life threw me some personal curveballs," she says. "I think that my own challenging experiences, as well as my determination to decide how I would handle them in a positive way, has only increased my compassion and understanding of the suffering that my clients are frequently going through when they encounter the divorce or custody process, are charged with a crime, or suffer an injury. There is always a better way to view what is happening in your life in a way that is intelligent and positive, as opposed to simply cursing your situation and lamenting, 'Why me?'"
Finding Happiness
Carla says she gets most of her clients from word-of-mouth, which she considers the greatest compliment she could receive. Furthermore, she has kept in touch with many of her clients over the years.
"Some of my former clients are even Facebook friends, so I follow their progress after the case has ended," she says. "As I predicted to them, they most often have moved on in their lives to find happiness, and I always congratulate them when they remarry or change their status, telling them how happy I am that they have found happiness in the post-divorce world."
As she looks back at the many years of successful practice, Carla looks to the future with a sense of profound optimism.
"We are just beginning with our 25th-year celebrations," she says. "I am looking forward to serving clients for many years into the future, helping them at what is often their worst time in their lives, when their families are crumbling or when they are accused of a crime that can serious implications on their future. I will continue to offer them my best efforts and advice, be available to them, and provide caring, compassionate, and diligent work on their behalf.
"After all," she continues, "if I can navigate through all the positives and negatives that life has thrown me, I want my clients to know that they can do it, too. And I'm here to help them through it."
Risoldi Law Offices LLC
1508 Trenton Road, Suite B
Langhorne, PA 19047
(215) 741-3700
Risoldilawoffices.com
cvresq@aol.com
samaggikaranam divorce & custody mediation llc
1508 Trenton Road, Suite B
Langhorne, PA 19047
(215) 741-1011
Sam-mediation.com
contact@sam-mediation.com
Photography by Terree O'Neill Yeagle Photography
Published (and copyrighted) in Suburban Life magazine, July 2019.
For more info on Suburban Life magazine, click
here
.
To subscribe to Suburban Life magazine, click
here
.
To advertise in Suburban Life magazine, click
here