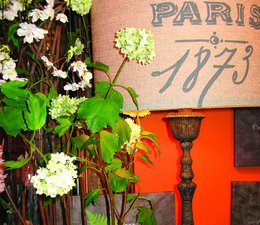 Style without Limits
Bucks County's foremost interior-design firm, Black-eyed Susan, offers classic style with an edge of the unexpected
A Rocky Mountain transplant, Susan Taylor has called Bucks County home for 22 years. In that time she has established herself as a sought-after designer of classic, compelling interiors through her firm, Black-eyed Susan.
"My sense of style is expressed in exuberant designs and through my stylish store; I am well known for my sense of color style," says Taylor, whose eye for design initially came from her late mother, whom she describes as "the style maven of refinement." "Mixing a 1950s lamp with a traditional table is fresh. It's all in the proper editing. I feel confident in my style and never impose my own over the client's. … Design should never be boring, and at the same time it should never be expected.
"I feel that my job as a designer is to stretch the imagination and vision of my client a bit beyond what they would do on their own," she adds. "Most clients who hire a designer are seeking a look that speaks of expanded style—accessible design with an edge of the unexpected. It should be fresh and personal."
Taylor's warmth, charm and willingness to take chances have placed her on the radar of many urban style setters. In fact, she believes her clients come to her primarily for her "signature look of modernism juxtaposed with a French antique or two." Her style keeps up with current trends and, in some cases, precedes them, always maintaining a proper balance that is never stuffy or bizarre. In historic and naturally traditional Bucks County, this could mean infusing classic design with lively pattern and saturated colors, or warm tones punctuated with what Taylor refers to as "bold accents"—in other words, honoring the past by melding it seamlessly into the present.
"When I first visit a new project with a client, I come with a project manager or assistant designer," she says. "We speak to the homeowner about their lifestyle, pets, children, entertaining style, hobbies, interests and personal style. … There are times when just making an appointment to go shopping together is a good start. Other times presenting a concept board with color, fabrics and inspirations of all kinds work best."
After discussing such topics, she and the client then discuss services to best suit the client's needs. For example, Taylor recently provided the design for the "empty shell" of an entire home in southwest Florida—Naples, to be precise—by fully furnishing the house with luxury and refinement to make it stand apart from the "do not touch" look seen in many Naples-area homes. With input from the homeowner, she worked on the design concept for several months before the "real work" began. After all the ordering was completed, she and her team packed a company van to the brim—accessories, custom draperies, etc.—and arrived on the scene to make it all happen. The homeowner drove into town just as the final accessory was being placed.
The timeline for turning around a project depends on its size and scope. For example, the Naples home required nearly eight months of work, though that project encompassed the finest of details, spanning multiple floors and three full bedrooms. (Taylor's design blog, called "Style"—accessible at besusan.blogspot.com—features highlights from many projects, including images and details of the Naples home and other finished projects.) A simple "restyle" project can often be accomplished within a week's time.
"If we are rearranging furniture, borrowing some things from other rooms, and adding new accessories, [a week] is totally possible," she says. "Most projects—let's say a room at a time—take approximately six to eight weeks. Each project depends on availability and the client's ability to make decisions," as well as the current workload of Taylor and her staff.
"I have had six to eight projects in the past few years where we work with the client presenting options for furnishings, window coverings, accessories and art," she says. "The client makes the basic selections and gives me a fair amount of creative license to complete the job. … I also do a good bit of paint consultations. Whether it's one room or an entire house, Black-eyed Susan offers any level of custom interior design."
For larger projects, all of the merchandise is sent to a central receiver and then delivered to the home at the same time. Then Taylor's team comes in and, within three to six days, depending on the size of the project, "makes the magic happen." Then the homeowner arrives to gives the final stamp of approval.
"At that point, we add or take away items that do not appeal to the client," she says. "I will say that this doesn't happen very often. I have a great team of project managers and this enables my firm to complete projects such as these with confidence and success."
Personal Touch
Taylor welcomes clients, prospective clients and casual customers who seek inspirational design ideas to visit Black-eyed Susan's breathtaking retail space; it's located along Bucks County's central design corridor, within the 10,000-square-foot The Factorie at Holicong. She makes moderate changes to the store daily—"Clients expect to see something new every time they walk through the door," she says—and major floor changes every four to six weeks.
"I get very personally involved in the feel of the store and do all of the merchandising myself with the help of staff members," she says. "Let's just say there are many a late night on the schedule when floor changes are due. I refer to it as 'the night shift.' … I keep a mix of traditional, modern, vintage and hip. Upholstered furniture comes in often, and accessories, which include art, fabulous floral, library accents, lamps, rugs and small accent furniture, come in almost daily.
"I like to keep a fresh supply of repurposed, vintage pieces at my fingertips as well. It's a great mix and always fresh. Ideas abound without limits."
In addition to Taylor's own designs and the ones she completes for clients, Black-eyed Susan has become well known for its educational and entertaining design classes and other in-store events, which occur once or twice per month. The schedule gets even more ambitious toward the end of the year, when the store is infused with what Taylor refers to as "Christmas magic." Classes require a small registration fee, which can be credited to purchases in the store. Participation is limited, so Taylor suggests signing up early.
"I have a very active list ready to be published very soon," she says, "and the subjects are all design or entertainment related—educational, hands on and interactive. … It's kind of a small fan club, but we always look for new participants.
"There is always an atmosphere of personal interest and inspiration in the store," she adds. "If I am not on a client visit outside the store, I am available for instant suggestions and visual layouts. Come see the magic."
Black-eyed Susan/Susan Taylor Interior Design
5222 York Road, Holicong | 215-794-1800
Website: www.besusan.com | Blog: besusan.blogspot.com
Monday through Friday: 10 a.m. to 6 p.m.
Thursday: 10 a.m. to 7 p.m.
Saturday: 10 a.m. to 5 p.m.
Sunday: 12 noon to 4 p.m.
Photography by Fred Taylor