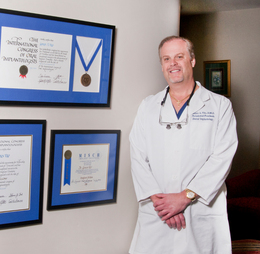 Making Dreams Come True with James A. Vito, D.M.D.
Dr. James Vito gives patients many reasons to smile
A woman enters Dr. James Vito's dentistry practice in Wayne at the end of her rope. As she sits in an examining chair holding its arms as tightly as she holds out hope, Dr. Vito listens as this woman, who requires extensive dental work, explains her dilemma. A tangle of frayed emotions, she tells him how she wishes her outward smile could match the one she feels straining to get out, and how she wants to stop covering her mouth with a hand when laughing in a crowd, and how she wants to stop pressing her lips together when posing for family photographs, how she wants to stop being a dental cripple.
"I just want a nice smile," she tells Dr. Vito, with more than a hint of pleading in her voice and a tear in her eye. "I just want to smile."
In much the same way legendary composer Harold Arlen blended Yip Harburg's lyrics for "Over the Rainbow" with his own unforgettable notes to create music history, Dr. Vito blends the woman's hopes with his unparalleled skills to help her find that pot of gold over the dental rainbow.
"Being able to give a patient exactly what they want so they not only look better but feel better about themselves is very rewarding," Dr. Vito says. "It's probably the closest thing to being a plastic surgeon—to take what a patient verbalizes and create a new look for them that meets or exceeds their expectations."
James Vito D.M.D. has been making his patients' dreams come true at his current location in Wayne since 2000. Prior to that, he practiced his unique brand of dentistry in Princeton, N.J., for 13 years prior to returning home to the Main Line.
In practice for 25 years, he is noted for and recognized by his peers for his accomplishments in general, cosmetic and advanced restorative dentistry. As a periodontist, he diagnoses and treats gum disease. As a prosthodontist, he specializes in making replacements for missing teeth and other structures of the mouth. Dr. Vito was trained and certified in both areas at the prestigious Periodontal Prosthesis-Fixed Prosthodontics program at the University of Pennsylvania's School of Dental Medicine, where his late father, Anthony, himself a dentist, taught and served as associate dean of clinical affairs.
"My father would take me down to the dental school when I was in high school," says Dr. Vito, "where I was exposed to and allowed to attend advanced dental seminars conducted by the leading authorities in dentistry and periodontal prosthesis. These authorities, who I grew up with because of my father, became my friends, my teachers and my mentors pushing me to excel in everything I did.
"The Periodontal Prosthesis-Fixed Prosthodontics program is so unique because of its multidisciplinary approach to dental problems," he continues. "One of the unique talents imparted to us is to understand why things happen or aren't working, so that when we rebuild somebody's mouth, we're not rebuilding in the same failures that brought the patient in originally.
"We take a very comprehensive look at a patient's entire dental problem, because even though only one tooth may be broken, there's a reason it happened and we need to understand why."
'Doing It Right'
Dr. Vito is also an implant specialist, skilled in the surgical placement of dental implants as well as their restoration. He holds three fellowships and is dual board-certified in implant dentistry through the International Congress of Oral Implantologists and the American Board of Oral Implantology/Implant Dentistry. He also is certified as a Master in Implant Prosthodontics through the International Congress of Oral Implantologists.
"When someone is missing teeth or has broken teeth, especially back teeth, it causes the face to collapse and causes the face to develop fine lines and wrinkles," he explains. "When we restore the teeth, sometimes the wrinkles don't fill out. Enough people asked if I could do something about these lines and wrinkles so about four years ago I got trained in the art of Botox and dermal fillers to eliminate these lines and wrinkles and maximize the aesthetics of the mouth and face."
Dr. Vito also offers intravenous sedation for apprehensive and fearful patients, administered by a board-certified anesthesiologist.
"We're a very unique practice, a very boutique-y practice, in that we can offer so many different procedures and do so many different procedures proficiently and well in our office," Dr. Vito says.
Dr. Vito's sterling reputation throughout Philadelphia, and specifically along the Main Line, attracts patients who live more than an hour away.
"Sometimes it's taken me even longer to get to Dr. Vito's office because of traffic, but it's definitely worth the drive," says Lisa George of Levittown, whose daughter is also the office manager of Dr. Vito. "I needed a lot of work done—root canals, extractions, jaw-bone reconstruction, full dental bridges—so I had to drive back and forth a lot.
"But it was worth it. Dr. Vito did a fantastic job. I can't believe how great it all looks. I'd recommend him to anyone who wants a great smile."
Dr. Vito says that the quality of his work, and that of his staff, is what brings patients to his practice.
"A patient came in for a consultation recently," he says. "Then he went to five or six other dentists for consults. In the end, the patient said he came back to us because of the level of comfort and confidence he had in us and the plan that we outlined for him. That tells us we're doing it right."
A patient comes to see Dr. Vito because he or she is self-conscious about their smile. They tell him their hopes and dreams—and he delivers by giving them a million-dollar smile.
And you can't put a price on that.
Dr. James Vito, D.M.D.
523 E. Lancaster Ave., Wayne
Office: 610-971-2590
Website: www.jamesvito.com
JamesVito.com
Teeth by Tonight
Dental Implants in Wayne, PA
E-mail: drjamesvito@verizon.net
Phil Gianficaro is an award-winning writer based in Doylestown.
Felicia Perretti is a freelance photographer based in Philadelphia.