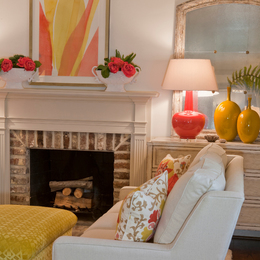 Designed for Life
Interior design firm Black-eyed Susan combines experience and inspiration to infuse local homes with personality
Design has become a competitive sport on reality television, but for interior designer Susan Taylor it is still based on friendship, collaboration and trust. Taylor credits her late mother, whom she describes as a "style maven," as her inspiration and an example of integrity and service—two principles that still guide her approach to business today.
At Taylor's retail boutique and design studio, Black-eyed Susan in Buckingham, service is a priority. The friendly and engaging staff welcomes visitors to the 100-year-old stone-and-timber building where Taylor shares her style ideas through ever-changing displays, room settings and tabletops that inspire and engage clients. Conversation is the starting point for any project she and her staff are involved in. "My clients are friends upon the first visit," she proclaims.
Taylor also consults with clients in their homes, throughout the region and across the country. The services of a professional can be helpful prior to making a new home-furnishings purchase or changing the design direction of the home. The cost of hiring a professional can even prevent costly errors. "I always tell a new client that my job is to keep them from making mistakes," Taylor says, "but also to stretch their comfort zone just a bit—not to the point of discomfort, but to the point of actually having a new look that fits their lifestyle and budget."
Taylor believes style is something that is gained with experience and from constantly monitoring current trends, not briefly popular fads. "There are so many fine designers that are inspiring and add to one's own style direction," she says. "The sum of many ideas and creative ideas builds great design direction." She describes her own approach as transitional style influenced by modernism.
"Modernism is timeless and classic," she says. "Clean lines and fine style exist forever," and, Taylor suggests, complement a wide range of architecture—even the most traditional Bucks County farmhouse.
Eternal yet Evolving
"My retail boutique and design studio is about great design first and foremost," Taylor says. "It is also a collection of my observations on style and life in general—and secrets to a life less ordinary."
Clients of Black-eyed Susan often comment that the store is always current. "I make it a point to make total floor changes very often, giving new vision and design direction," Taylor says. Though designing the retail space is an opportunity to design without restriction, Taylor's rule of thumb is to purchase only items that appeal to her personally when buying for the store. "I'm not easily swayed with current trends that I don't see using myself." The boutique carries upholstered pieces in a wide range of styles, accent tables, lighting, mirrors, art and accessories from a number of the major vendors, including Vanguard Furniture and Bliss Studio. The mix is always new and fresh.
At Black-eyed Susan, clients enjoy full-service, custom design through which Taylor and her staff plan, purchase and place items in their home, or if a client prefers she will advise those who wish to make their own purchases. Taylor's "Room Service" offers custom accessory calls, either as a complement to another designer's work, or as part of a project with her firm. An initial consultation determines the areas that the clients would like to have accessorized. Black-eyed Susan returns with a van full of pieces custom selected for the home. Then, as Taylor says, "The party begins!"
Accessory calls are a personal favorite of hers, and she is well known for the immediate transformation. This and color consultations are two of the most popular packages, but Black-eyed Susan will be happy to provide a quote for any decorating dilemma, whether the client requires a personal shopper, a home stylist or the design of a custom piece.
Black-eyed Susan was recently named a Retailer of the Year by Home Accents Today. The firm's success has allowed Taylor to take over 8,000 square feet of the building in which it is located. The expansion has taken place just in time for the holiday season, when a beautiful selection of Christmas merchandise will be presented. Taylor and her staff can assist with holiday decorations from a total set-up, to mantel and banister displays and fresh or artificial centerpieces.
The boutique also publishes an extensive menu of events seasonally. These are interactive and social classes where Taylor and the participants explore trends in fashion, décor and entertaining. During each class she offers up unique ideas to add personality and charm to client events. "You may have the foundation," says Taylor, "but now you need help thinking creatively about the details."
The website, BESusan.com, provides information about the firm's offerings, events and a link to Taylor's blog in which she offers a personal glimpse into the life of a designer, where she shares photos of projects, recipes and insight to life and design.
Black-eyed Susan
5222 York Road,
Buckingham/Holicong, PA 18928
215-794-1800
www.besusan.com