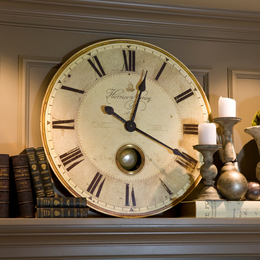 Favorite Things
Through signature style and the use of distinctive items, Black-eyed Susan creates stunningly beautiful homes
Better than "rain drops on roses and warm woolen mittens," interior designer Susan Taylor's favorite things include the color orange, family dinners and apartments in Paris. Taylor, a graduate of Brigham Young University in Utah, is the owner of Black-eyed Susan, a retail boutique and design studio in Buckingham. Black-eyed Susan offers full-service interior design, purchasing, custom furniture design, accessory calls, color consultations, window treatments and home styling. She consults with clients in their homes throughout the region—and around the world—but it is in the 100-year-old stone-and-timber building where her retail business is located, where Taylor demonstrates her style ideas through ever-changing displays that inspire and engage guests.
Suburban Life sat down with Taylor to discuss a few of her favorite things as they pertain to interior design and, well, life.
Suburban Life: What styles are your favorites?
Susan Taylor: I'm not a rule follower ... I guess I would say I like equal doses of high style and comfort, sophisticated but completely relaxed. I take a classic aesthetic and give it a modern punch. This keeps things fresh and current. I've been known to mix British flea-market finds with midcentury furniture or blend modern and eclectic styles with a home's rustic charms. Forget the rules, and arouse the senses—that pretty much describes my approach.
SL: Do you have a favorite among current design trends?
ST: Retro chic is really at the top of the list for style direction. Done tastefully, it can be totally fun and interesting with a fairly long lifespan as well. On the other hand, going for a red-and-black kitchen or bold turquoise cabinets won't stand the test of time, but if money were no object it would be fun to do.
SL: What is your favorite color and why?
ST: I've been a fan of orange for the past few years. I opened my new location with Sherwin-Williams Yam as a major impact color for my front window. This year, Pantone [the company that created the color-matching system used by most designers] has established the color of the year as orange. I was just about to change my front window but will most likely hold off for a while now.
Gray is classic. If you look at a French chateau or historic Swedish house, you always see gray. It's wonderful with white, and almost any bold color looks good against it as well.
SL: How do you like to use these in a home?
ST: Neutrals are always practical, and they don't have to be boring. Amping it up with strong contrast such as black or bold colors keeps these palettes engaging.
Contrast is an important part of the design trends right now. Because warm taupes—I like to call it "greige"—are the new gold; contrast is important. Where rich colors used to dominate, it's now more about neutral with a punch of one color, like teal or orange.
SL: What are some of your other favorite ways to use color?
ST: I'll never give up my penchant for painted ceilings. It seems to be catching on after my 20 years or more in recommending colors. I'm famous for this and I think finally clients are not shocked when I press for it. Painting a ceiling in the same color as the walls removes the ceiling line; a small room appears larger using this principle, and a large room feels cozy. Strange but true—I promise.
SL: What fabrics do you think work well on furniture?
ST: Bold patterns are dominating fabric accents. Pillows, draperies and accent chairs are perfect places to use these. I have some favorites, for sure. They marry bold graphic pattern with strong contrast. Fabulous! Mix bold colors and graphic patterns for vibrant results.
SL: How do you include a sense of "personality" in a room?
ST: I get calls almost daily for accessory details. Essential to any room are the accessories. Layers of color and texture are equally important. Nothing looks too contrived, yet always a little unexpected. Treasured books are always part of my designs.
SL: Are families living differently these days? How does this affect design?
ST: Family ties are in vogue right now and I love it. I grew up having family dinner with my four siblings every night, which included a three-course meal, a tablecloth and cloth napkins. My mother was a style maven in every way. She always said, "It's not much fun to have a beautiful room if you can't enjoy it without worry. People are more important than things."
I believe in displaying what you love—in my case, books, buttons, china and vintage silver—all mixed up with an urban twist of pattern and fabrics. Relaxed colors, aged furnishings and bold patterns create family-friendly spaces and keep style redefined. I don't have a lot of patience with a velvet-rope decorating policy; life is high-maintenance enough.
SL: What have some of your favorite projects been?
ST: Some of the most fun design projects I've had have been long-distance projects: Nantucket; Charleston, S.C.; Naples, Fla.; and an apartment in Paris. These mostly involve a soup-to-nuts assignment. Often the basic colors and design direction are presented and then creative license takes over. We do the work as a team for several months. Furniture, draperies, art and accessories are selected and ordered. The homeowner will give my crew and me the key and comes home after a few days of intense installation to a personal and chic mix of visual interest and drama. I've had a really great career doing what I love, transforming life's givens—rooms with four walls—into homes that are unique, personal and incredibly rewarding. I want my client and me to agree on everything that goes into a room. We both have to love it before we say it is finished.
SL: What do you have planned for the next few months?
ST: The Bucks County Designer House dining room is certainly going to take some precedence in our lineup of projects for the next few months. Talk about color; high-gloss azalea pink walls and ceiling with a charcoal zebra rug! It's a bold mix and won't be forgettable.
I just completed compiling my spring event menu. I hold classes in my retail store, which remains my laboratory; every corner is a careful composition. Upcoming topics include beautifying your bookcase, making the most of your mantel, top-shelf decorating and more. These are interactive and social classes where we explore trends in fashion, décor and entertaining. To get notice of the class schedule and everyday inspiration, customers can sign up for our e-mail notices or follow me on my blog or on Pinterest.
Black-eyed Susan
5222 York Road
Buckingham/Holicong, PA 18928
215-794-1800
www.besusan.com