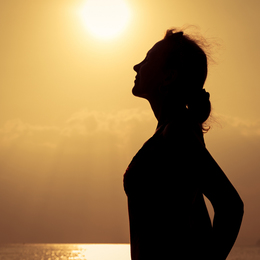 Superwomen
Females we respect and adore for their efforts to reshape the Philadelphia area
Business owner. Philanthropist. Doctor. Lawyer. Educator. Crime fighter. Women today are wearing many hats, so to speak, in their efforts to make the world—or even a small part of it, such as a sliver of the Philadelphia suburbs—a better place.
Each of the women featured in the following pages is a superstar in her own right. Whether it's pursuing justice for the abused, helping other women find new life after a debilitating disease or singlehandedly improving our region's global reputation, each of these women has built a certain level of success by following her passion and looking what appears to be an impossible task in the eye and saying, "Let's do this."
We happily present the Superwomen of 2012.


Margaret Balitsaris
Haiti, a country that has long struggled with poverty and corruption, was dealt a one-two punch by nature in 2010. While many see the country's situation as heartbreaking and hopeless, Margaret Balitsaris finds inspiration there.
"In Port au Prince, amid the rubble of the earthquake [and hurricane], the people are so positive and persevering; I never saw abject despair," she says. "You do not come away with a sense of despair; you see the people of Haiti and realize humans can do anything. They are amazing."
In April 2012 Balitsaris and her husband, Matt, took a small delegation from Bucks County to visit Haiti and see the work of Funkoze, a micro-lending organization they support. They met with some of the organization's poorest clients and followed the progress of its successful ones as they climbed the ladder out of poverty.
"From a woman who has five children, married, who has been living in a structure about 8' by 8' with a banana-leaf roof … to a very proud store owner who is sending money to her son in the United States so that he can go to school, we saw people in various stages," she says.
This was Balitsaris' second trip to Haiti, but the real work is done from home, where she is a tireless fundraiser for the organization and spokeswoman for its goals. "Micro-lending is not very sexy but CLM (the organization's program, Chemen Lavi Miyo or, "Road to a Better Life") is so beautiful. It doesn't just loan women money; it provides them support with literacy and support groups.
"The organization will supervise 18 months of lifting this family out of poverty: building a new house, giving them a tin roof, getting the children health care and enrolled in school—all with foundation money."
In addition to organizing fundraising events such as the jazz concert featuring legendary singer Vaneese Thomas she hosted earlier this year, Balitsaris has turned her personal project, Listen Well (listenwell.org) into a fundraising effort for Fonkoze as well. "The website offers one recorded essay a month with a spiritual or ethical theme," she explains. "You listen to the current offering, about 15 minutes apiece. The goal is to lift spirits … [and] it embraces the wisdom of all philosophies and religions." Proceeds from the sale of a CD containing past essays benefit Funkoze. —SAS
Risa Vetri Ferman
Risa Vetri Ferman is something of a renaissance woman: wife, mother of three, child advocate, author and, since January 2008, district attorney of Montgomery County. But Vetri Ferman "wandered" for a time before discovering her calling.
"I graduated from college in '87 and had no idea what I wanted to do," she says. "I was working in a restaurant, as a bartender and a waitress. I also worked in a recording studio, and then I left all that and went into the family jewelry business, working with my father, which was an extraordinary experience. Then I went to law school at night, thinking that getting a law degree would help me in the business community. There was no greater plan than that."
While at Widener University School of Law, she applied for an internship in the U.S. Attorneys' office, thinking she would get a summer's worth of experience and then move on with the rest of her life. But it was there she discovered her passion and set her sights on becoming a prosecutor to make sure "those hurt by crime get their day in court," she says.
Throughout her career Vetri Ferman has taken a keen interest in preventing abuse and punishing the abusers. She formerly served as captain of the Sex Crimes and Child Abuse Unit and a trials assistant DA, specializing in sexual assault, domestic violence and child abuse. She also co-founded the Montgomery County Child Advocacy Project, a Norristown-based nonprofit that since 1999 has been providing pro bono legal services for abused children.
More recently, as Montco's chief crime fighter, she co-founded another nonprofit called Mission Kids, in collaboration with the Police Chiefs of Montgomery County and the Montgomery County Office of Children and Youth. This child-friendly facility opened in 2009 to give children the necessary support services as a way to help them heal in the aftermath of abuse. Mission Kids has helped approximately 900 kids so far, according to Vetri Ferman.
Her 2011 book, "The Mouse Who Went Surfing Alone," was written to teach children about the hidden dangers of surfing the Internet without parental supervision. (The book's proceeds benefit Mission Kids.) Although she had never written anything similar, she decided the book was necessary after discovering her youngest son at the family computer, chatting with someone online.
"He was 8 or 9 at the time," she says. "It turned out he was talking to his cousin, but as a parent I started looking for some sort of resource to teach him about Internet safety, and I couldn't find anything that was good. So I thought I should write one."
Vetri Ferman comes from a somewhat famous and certainly high-achieving family, which she attributes to her parents' teaching their progeny "to be independent and successful in whatever area we wanted to attack," she says. Her one brother, Marc, is an internationally acclaimed chef and owner of some of Philadelphia's best-loved restaurants, while her other brother, Adam, is a television producer based in California.
"My mom was probably my greatest role model," she says. "She went to law school and graduated in 1960, at a time when very few women were in the profession. She was always working when we were kids, but she showed me you can do it well and balance work and career. She also taught me to never apologize for who you are, for what you are, and to command respect based on the way you do things."
Despite Vetri Ferman's success, she remains grounded and focused, crediting her family, friends and co-workers for having climbed so high. "I couldn't have done anything," she says, "without this great village around me." —BD
Lezlie Hiner
For as long as she can remember, Lezlie Hiner has always loved horses, always wanted to ride.
"From the time I was a kid, I found a way to be involved," she says. "I didn't come from a 'horse family' so I made money and rode horses. I made it work because I really wanted to."
This sense of determination enabled her to create Work to Ride, a community-based prevention program at Philadelphia's Chamounix Stables that aids disadvantaged urban youth though constructive activities centered on horsemanship, equine sports and education.
After college, where Hiner pursued a variety of interests ("I could have had six degrees if I had the time and money," she says) and developing a résumé that included working at the race track, opening an art gallery and doing "a stint in sales," Hiner wanted to get back into working with horses. In 1994 she came to Chamounix, and to this day she oversees daily activities at the barn, its participants, training, competition and fundraising. The setting exposes youths to a variety of new experiences: animals, nature and a diverse group of people while receiving the sort of educational, social and cultural experiences that are often otherwise unavailable.
"They like the attachment and the feeling that they are in control," says Hiner. "They have so little control in their lives. And the response and affection—like with all animals—is unconditional. There is no rationalization to it."
The relationships that youths form with other people as part of Work to Ride also helps them develop confidence and self-esteem, as well as other life skills, by caring for the stable of 25 horses—training riding, performing and barn-management chores.
The 20 youths currently involved participate in all aspects, but the more experienced ones earn access to a dedicated animal of their own to train and work with. These activities help the youth acquire problem-solving skills through teamwork and responsibility. Work to Ride encourages a sense of commitment by requiring participants to pledge a minimum of one year to the program. For many, this can be a daunting prospect; even getting to the stables can be an ordeal.
"I have this one little girl, she travels an hour and a half four or five days a week," Hiner says. "She lives in Bartram Village [in Southwest Philadelphia]; it's one of the worst areas. For her at least—it may not be conscious—but she knows, I don't want to be there. There she doesn't go outside."
But Hiner knows that these kids will find a way to make it work, just as she did as a young girl.
Work to Ride participants are allowed to choose to develop their skills in various horse sports—jumping, fox hunting and pony racing, among them—but polo has proven to be the clear favorite. Polo is played on an outdoor field during the warmer seasons or at the Valley Forge Military Academy in fall and winter. This is where the stars are born. The program has produced some of the country's best high school players, despite the fact that they come from some of its worst neighborhoods. Hiner's players have won numerous championships and regularly compete against college teams. When asked about her successes, she says, "The obvious is Kareem [Rosser]. He's in his second year [of college]. But his little brother is right there, too. He's a junior at Valley Forge Military Academy. He's really been keeping his grades up and has earned a scholarship."
Work to Ride is designed as a long-term program for youths ages 7 to 19. The staff and volunteers provide after-school tutoring to help students maintain the passing grades required for program participation. One participant joined the program at 6 and is now a junior in high school. Two others will be graduating high school in 2013. Graduates also receive help with college enrollment, and most return to Chamounix to mentor new participants. The most talented—Kareem Rosser, for one—may be accepted to play on college teams.
"I have another girl who is looking at a college with a polo program," she says. "For a long time we did not have girls in the program. Only 20 percent of polo is female. Of course, if we have a girl that becomes a star, that may change." —SAS
Sharon Pinkenson
One could argue that Sharon Pinkenson has done more to enhance Philadelphia's reputation than any other person, living or dead—not that she's willing to take credit for the turnaround.
For 20 years and counting, this former wardrobe stylist and founding owner of the Plage Tahiti boutique has been working to put the city's name in lights as executive director of the Greater Philadelphia Film Office. In that time, her office has been responsible for bringing approximately $4 billion in economic stimulus to the region by way of the hundreds of films and TV shows that have been filmed—and continued to be filmed—in Philadelphia and/or Bucks, Chester, Delaware and Montgomery counties.
Pinkenson, a lifelong Philadelphian and alumna of Temple University, took the helm of the film office in January 1992, at a time when it was mired in municipal-run limbo. Her appointment was preceded by a confluence of events—a Philadelphia Inquirer article that caught her eye (and motivated her to get involved) about Pittsburgh's ability to garner state money for its film office, and the mayoral election pitting Frank Rizzo against the upstart Ed Rendell, throughout which Rendell underscored the city's need for economic development through, at least in part, tourism and arts and culture.
"Rizzo died suddenly, and it was clear that Rendell was to be the next mayor," she recalls. "I had the opportunity to meet him for lunch, and I proposed what I thought turning [the film office] around could do for the city. I made a proposal for making it a regional nonprofit office, and he wanted a business plan from me immediately. I had just wanted more work for me and my friends in the industry, and here I was with this great opportunity suddenly before me. The job was essentially about selling a place I loved more than anywhere in the world, and it became a huge passion. The only way to go was up, and we had some great successes early on."
Among the first was "The Age of Innocence," a Martin Scorcese film starring Daniel Day-Lewis and Michelle Pfeiffer, which Pinkenson calls "a spectacular success." Pinkenson couldn't have scripted any better what happened next. Oscar-winning director Jonathan Demme was considering Philly as the backdrop for a then-untitled film project about a homosexual lawyer living with HIV/AIDS. The untitled project ultimately became the 1993 film "Philadelphia," starring Tom Hanks.
"That movie was about one of the biggest social issues of our time, and here it was being named after my city," he says. "Then the soundtrack won an Oscar for Best Original Song, which was Bruce Springsteen's 'Streets of Philadelphia.' I was hooked after that, but I also thought, How am I going to beat that?'"
Yet Pinkenson's office has enjoyed many highlights in the time since, including her instrumental role in the 2004 passage of the Pennsylvania Film Production Tax Credit program, which remains one of the industry's best and most sustainable programs for making a particular region alluring to filmmakers.
"The film industry is fueling this economy; it's just as important [an export] as natural gas," she says. "People talk about the direct and indirect benefits of different industries, and there's not a single entity that sends ripples through an economy that's greater than the film industry. There are so many things that spur the economy that are not directly tied to the film—hotels, rental cars, you name it. Then there's the intangible of civic pride. It's so hard to measure, but it's so obvious. Philadelphia used to be known as a dark, dirty place, but now it's a place with movies stars. That makes us all proud to live here." —BD
Anne Mahlum
A chance encounter in 2007, near the corner of 13th and Vine in Philadelphia, ultimately spawned a $5 million-a-year nonprofit—soon to be $6 million—that has helped hundreds of down-on-their-luck people across the nation improve their station in life. The architect of this munificent organization: Anne Mahlum, who founded the Philadelphia-based Back On My Feet (BOMF) at the tender age of 26.
"It was never supposed to be anything more than a running club," says Mahlum, now 31. During her daily runs she would see the same group of homeless men who were living at the Sunday Breakfast Rescue Mission, and they would all share friendly waves. The men reminded her of her father, whom she describes as "fun and charming and benevolent but rough around the edges," and also someone who struggled with addiction. She wanted to help, so she went to the mission staff and asked if she could start the running club she had envisioned.
"Running was a saving grace for me from the time I was 16 on," she adds. "It doesn't matter if you are white or black, rich or poor, homeless or not, running is a powerful tool. It took some convincing, but when we asked if anyone was interested, fortunately there were nine people who raised their hands. … I started realizing that running could truly change the direction of people's lives, change the way people saw themselves, and make real, sustainable change."
The first run—a mile long—took place on July 3, 2007. The rest, as they say, is history. Since then the "running club" has mushroomed into a national movement, with nine chapters, including the one in Philadelphia (a 10th will ramp up in early 2013), a full-time staff of nearly 50 people and a volunteer network numbering 5,000. But BOMF does much more than simply get the homeless out on the road for some cardiovascular exercise. It has grown to offer direction through job training and education, as well as other ways to prepare people to secure employment, housing and other essentials.
More than 500 people have "graduated" from the program, which teaches independence and self-sufficiency by engaging participants in running as a means of building confidence, strength and self-esteem. The program has a 50 percent success rate, and some end up back in the program. That's a good sign, according to Mahlum, because "relapse is sometimes part of recovery."
"When you think of the homeless, a lot of [non-homeless] people feel like it's their fault that they are homeless, but it usually comes from addiction, from mental illness, from not having guidance," says Mahlum, a native of Bismarck, N.D., who moved to the East Coast for a job opportunity and never left. "They don't want to be homeless; they just don't know how not to be. The majority of them are in shelters, trying to hide their homelessness. … We're able to give them that opportunity to get back on their feet, and it never gets old helping people discover what they are capable of accomplishing."
Mahlum recalls two cases in particular in which program participants have turned their lives around. For the first, a gentleman named "Walter," incarceration had derailed his life. Through the BOMF chapter in Washington, D.C., he lost 60 pounds, transformed himself into an ultramarathoner, secured a good job and a place of his own, and is now, in Mahlum's words, "at peace with himself."
The second, "Tanya," became homeless after losing her engineering job with one of the Big Three automobile manufacturers in Detroit. She then moved to Dallas for its better employment prospects and had to live in a shelter, where she ultimately crossed paths with BOMF. Within four months she had found a job with Marriott, bought a car and moved out of the shelter. Most importantly, according to Mahlum, Tanya feels as if she now has "the ability to dream again."
Mahlum intends to keep growing BOMF, which will soon expand to Austin, Texas, and is on track to open along the West Coast sometime next year. She's also flirting with the idea of taking BOMF internationally. —BD
Debra Kimless-Garber, M.D.
After winning her own battle with breast cancer in 2006 following a double mastectomy, anesthesiologist Debra Kimless-Garber, M.D., used her experience as motivation to help women who have had to endure similar struggles. There were two post-mastectomy problems that she needed to solve in her new life, with her new body: the aesthetic and the pain.
As many as 50 percent of women who have any kind of breast surgery have some sort of residual pain, she discovered. But instead of curling up in a ball embarrassed and in pain, she found a way to turn her struggle into a positive life change.
"I had an 8-year-old daughter and I had to show an example that when life gives you lemons you make lemonade," Dr. Kimless-Garber says. With her background in the medical field, she knew that compression—squeezing or applying pressure to the affected area—actually helped with the pain. This realization, coupled with her desire to appear the same as she did prior to the surgery, Dr. Kimless-Garber founded Red Thread, a line of "breast-cancer clothes" designed to make survivors feel comfortable and confident in their post-procedure bodies.
"I wanted something to make me feel better and make me look amazing," says Dr. Kimless-Garber. "I took my favorite T-shirt I had and I constructed it. I actually thought about what the breast shape should look like and designed a piece that was made out of foam."
The Red Thread tops have evolved into garments made with high-tech fabric that include interior "pockets" in the area where a breast would typically be but instead are filled with Red Threat breast shapers that provide an apex and mimic the curve of the breast, while providing compression to relieve the residual pain.
With the launch of her website on Mother's Day of last year, Dr. Kimless-Garber has seen continued growth for the Red Thread line, having expanded to both retail and wholesale clients in the United States and Canada.
"I hope that my clothing revolutionizes women's wear and, even though the niche is breast cancer, I created it to solve a problem," she says. "It bridges the gap between bra and no bra. Most women wear a bra because they don't like how they look without one. It is a whole different opportunity for wearing clothing without bra straps or back bulges.
"Women can look their best whether they've had breast surgery or not. I want to create solutions because that's what this really does." —JM
Katie Samson
Before Katie Samson became an inspiration, she was many other things: Radnor High School graduate, lacrosse goaltender, community volunteer, art enthusiast. While at Middlebury College, her team captured a Division III National Championship, and Samson was the game's MVP.
Then things changed. The following winter she suffered a catastrophic spinal cord injury. Even so, months later she finished her degree and helped coach her college team to two more national titles. She then received her master's in art history, taught at a community college in Tucson, Ariz., and managed the education department of Tucson Museum of Art. Samson, now 33, lives in Ardmore and plays wheelchair rugby and tennis for the Magee Adaptive Sports Program.
Along the way, the Katie Samson Lacrosse Festival was born. Begun the spring after she had her injury as a way for the lacrosse community to support her family and to help with her tremendous medical expenses (which all families incur after a catastrophic injury), the event has become a premier high school sporting event with major sponsors, college lacrosse scouts, competitive games, food trucks and an exhibition of adaptive sports. Funded by the Katie Samson Foundation (katiesamsonlaxfest.com), the festival celebrated its 12th year in April at Radnor High School. More than 50 teams and 10,000 spectators attended, with proceeds used to fund research into treatment for spinal cord injuries.
"The festival has moved beyond simply supporting my needs to looking at quality of life programs for people with disabilities and funding spinal cord injury research," she says. "There are places like the Miami Project and Brown University that continue to make incredible strides in research to help find a cure for paralysis."
The future looks bright for Samson, who plans to continue raising awareness about the quality of life for people with disabilities. Recently, she participated in the First Person Arts organization's monthly Storyslams at the World Cafe Live and she hopes to continue speaking to people about what happened to her.
"I don't think my story is unique," she says. "I know plenty of amazing individuals who have braved large hurdles. The only difference is I don't mind getting up on stage and being a ham."
Another thing on Samson's list is a marathon with a hand cycle. "There, it's in print," she says. "Now I have to do it!" She would also like to establish a career in Philadelphia in the arts-and-culture community. —DSK
LynAnn Mastaj, D.M.D.
Among bird watchers, there's something known as "a big year," an informal competition where birders essentially devote an entire year—often without the distractions of family or career—to seeing as many species of wild birds as possible.
LynAnn Mastaj, D.M.D., founder of Bryn Mawr's Mastaj Orthodontics, has been enjoying her version of a big year: In 2012, she scaled one of the world's tallest, most challenging mountains; she authored her first book; and she received honors from multiple respected publications (including Suburban Life) for being among the region's top orthodontists. And, unlike those birders, she accomplished all these things while keeping her full-time practice running on all cylinders, plus mothering two teenagers.
On August 28, Dr. Mastaj and four of her six traveling companions reached Africa's highest point—Uhuru Peak on Mount Kilimanjaro in Tanzania. The mountain took seven days to ascend, including a near-vertical climb up the precarious Great Barranco Wall, and another two days to descend. Most people wouldn't consider such a trip a vacation, and it wasn't; she did it in pursuit of what she terms "intellectual and physical growth." Her blog, momonthemountain.com, details the joys and struggles of the endeavor.
Before she committed to summiting Kilimanjaro, Dr. Mastaj wasn't exactly what one would consider a seasoned climber, but she prepared extensively by climbing stateside; she hiked Mount Washington in New Hampshire—the highest point in the eastern United States—and Mount Elbert in Colorado.
She had another goal in mind besides reaching Africa's highest point, however. While in Tanzania, she spent time teaching local children how to brush their teeth and floss properly as part of a healthy oral-care regimen. Such education, she discovered, was not only essential but also had the potential to save lives.
"In Tanzania, a lot of people suffer from poor dental health," she says. "They have a diet of porridge and sugar cane, and children can die from something as simple as a cavity or an abscess. Some kids there don't even have meals, so some of them were tasting toothpaste almost like it was candy. … It was a life-changing experience, and it opened my eyes to so much." —BD
Andrea Lawful-Trainer
Although Andrea Lawful-Trainer finds herself an integral part of numerous organizations whose purpose is to improve the quality of life for those living—and learning—in the Philadelphia suburbs, make no mistake about it: Family comes first. In fact, being a mother of two young men—one in high school, another in college—inspired her to be an activist on their behalf.
"I can't go out to people and talk about parenting and advocacy if it doesn't start at home," she says. Realizing that she "had such a voice" for educational advocacy and empowering children and parents alike, she has used this passion for leadership and education to volunteer and head numerous organizations in the area, including the Abington School Board (she is the only African-American board member) and the National School Boards Association. (She was also appointed a Pennsylvania School Board minority delegate to the NSBA.) Lastly, she also started a parenting advocacy organization of her own.
Although her life is busy and complex, her advice to young women is simple and direct: Start with your passion and don't quit until you've found a way to make it a part of your life.
"As long as you're doing the right thing, no matter what is said to you to deter you, keep moving," she says. "At the end of the day the person's life you've changed will continue to shine through. If you dare to dream it, act on it." —JM
Kara Fraiman, D.M.D.
The death of a loved one has the potential to send those who have been left behind into a spiral, especially when it concerns the death of a child.
Twelve years ago Ardmore Endodontics founder Kara Fraiman, D.M.D., and her husband, Howard, suffered the misfortune of having to endure to death of their daughter Ashley Faye. Rather than succumb to anger or depression, the Fraimans created Ashley's Angels, a nonprofit foundation dedicated to making sure sick children have the care and comfort they deserve.
Since its founding, Ashley's Angels has made tremendous strides to ensure that its mission holds true for children who are at their most vulnerable—in the Philadelphia area and, if the Fraimans' vision comes to pass, worldwide. The organization's fundraising efforts helped establish the Palliative Care Unit at the Children's Hospital of Philadelphia, which uses a team approach to provide medical care, pain management and serve the emotional and spiritual needs of terminally ill children and their families.
Ashley's Angels also helped fund an endowed fellowship for physicians who specialize in palliative care. The endowed fellowship got underway at CHOP in 2008, and a second now in development, with the goal that the fellows will go out into the world to foster the next generation of palliative-care specialists.
"CHOP right now is positioned as the No. 1 hospital in palliative care; the program has become a national, if not worldwide, model for palliative care," says Dr. Fraiman. "My vision is that in 10 or 20 years, palliative care will be available to children around the world." —BD
Seriously Super
Suburban Life accepted nominations for the region's top "Superwomen," through our website, suburbanlifemagazine.com. Following are some of the most notable nominees and editor's picks—business owners, medical pioneers, attorneys, etc.—who are doing their part to uplift the Philadelphia area and beyond.
Lynne Abraham
Archer & Greiner P.C., Philadelphia
Patricia Brennan
Key Financial Inc., West Chester
Debbie Burns
Island Sun Tanning, five area locations
Rosemary Caligiuri
Harvest Group Financial Services, Langhorne
Kathy D. Chen, M.D.
St. Christopher's Hospital for Children, Philadelphia
Robbin Cramer, D.M.D.
Robbin L. Cramer, D.M.D., Blue Bell
Jennifer Duncan, D.M.D.
Duncan Dental, North Wales
Jennifer S. Grozalis, D.C.
Synergy Rehab and Chiropractic, Newtown
Rachelle M. Lanciano, M.D.
Delaware County Memorial Hospital, Drexel Hill
Kathy Landau Goodman, Au.D.
Main Line Audiology Consultants, Narberth
Terry A. Levitt, D.M.D.
Levitt Orthodontics, Southampton/Bensalem
Kim Denise Morton
Morton Family Law LLC, West Chester
Kelly Nise-Nugent
After Image Salon, Yardley
Paige Patterson
Sheffield's Furniture & Interiors, Malvern
Liz Robinson
VitFit, Philadelphia
Jamie Sheller
Sheller P.C., Philadelphia
Susan Taylor
Black-eyed Susan, Buckingham
Tiffany Thomas Smith
The Thomas Smith Firm P.C., Yardley
Karen Thompson
Lace Silhouettes, Lahaska
Inna Vinnikov, D.M.D.
Ardent Smile, Doylestown