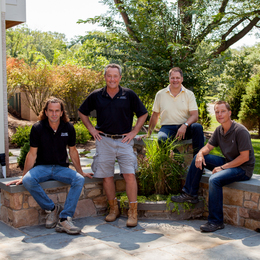 Built to Last
Thomas K. Fischer, a gifted restorer/renovator and steward of historic architecture, builds upon Bucks County's legacy of preservation and conservation
A short drive from Thomas K. Fischer's Wrightstown office lays a sprawling and elegant property known as Lacey Farm—named so for its longest-tenured residents, the Lacey family, which owned it from 1795 to the early 20th century. He speaks of the farm respectfully, even lovingly, as an art lover would describe a treasured sculpture or watercolor.
"The property has some great history," he says. "It's a beautiful estate that includes a spectacular example of a classic Bucks County stone farmhouse."
Lacey Farm has been home to a dozen prominent Bucks County families, including members of the notorious Doan Gang, which wrought havoc throughout the region in the late 1700s. Fischer's fondness for the property is understandable, given not only its rich history but also his role in preserving it.
Lacey Farm's current owners, Mary McKinney and her daughter and son-in-law, Jennifer and Philip Kallatch, bought the estate in 2004 after selling her home in Buckingham. Through her son-in-law, McKinney became aware of Fischer's reputation for being a gifted restorer and renovator of carriage houses, converted barns and other historic Bucks County structures. Fischer's "great appreciation of the antiquity of this property" was apparent, McKinney says, which is part of the reason they hired his firm—Thomas K. Fischer Builders and Developers Inc.—to complete extensive renovations and restorations to the 3,100-square-foot farmhouse.
"It was clear that he had an appreciation of historic properties that a lot of people wouldn't," she says, "and that made me feel like I could trust him to preserve its integrity."
Fischer's work on Lacey Farm began with installing a historically accurate cedar shake roof to replace the improperly installed roof that had been leaking. He also restored multiple chimneys, put up new siding on one section of the house, replaced some of the electrical work that had gone into disrepair and rebuilt the outside supporting structure that had succumbed to rot. The projects list also grew to include expanding the square footage of an adjacent carriage house and contemporizing it with architecture-appropriate materials, such as the application of coal ash trim. He also reused 200-year-old oak beams that he cut into floorboards and repurposed stone from the original farmhouse for the carriage house's fireplace.
"These kinds of properties were designed and built for use in the 1700s and 1800s, and they need to maintain their integrity and expand on the function and use in today's environment," says Fischer. "A lot of what I do is applying new use and new function to what's there—essentially sustaining the beauty and integrity but making it livable for today. … You have architectural license when you become a steward of a historic property. You are allowed to apply today's innovations and today's lifestyle to your historical building."
His work on Lacey Farm, however, went far beyond repairs, renovations and additions, according to McKinney.
"Where Tom really shines is in his association with people," she says. "He walked us right through all kinds of complexities in regard to relationships with real estate lawyers; helped us secure a relationship with a mortgage lender; and represented us at township meetings. He has great associations with all the right people, and that proved invaluable. He's also a creative problem solver in terms of keeping expenses down. He's way beyond just a builder."
In particular, Fischer navigated the family through the uncharted waters of a new township regulation that would have necessitated adding an intricate sprinkler system at the carriage house at a cost of $20,000, which was not in the budget. Fischer met with township officials and brokered a solution: He would add firewalls between the different rooms, which "saved us a fortune," McKinney says.
Professionals such as Fischer are members of a rare breed, according to Jeff Marshall, president of the Heritage Conservancy, which represents all of Bucks and Montgomery counties. Marshall, the nationally recognized author of various books about historic Bucks County who has been involved in the preservation of historic buildings for more than 30 years, has collaborated with Fischer in the past in documenting select Bucks County barns and other historical properties.
"Preserving historic structures takes several things," says Marshall. "One is the desire to do so. Another is the skill and talent to maintain and enhance historic buildings for future generations. It is important to find craftsmen today and in the future to match the skills of the craftsmen we honor."
Ann McCauley can attest to Fischer's unique skill set and above-and-beyond devotion. She has become increasingly familiar with Fischer and his handiwork in recent years, beginning with when she hired him to address various repair-and-maintenance issues with the structures on the historic Bucks County property—a home dating back to 1714 and a barn dating back to 1816—she owns with her husband, Mitch.
"You have situations like this all over Bucks County," says McCauley, who, in addition to being one of Fischer's clients, also collaborates with him through her work as director of development for the Bucks County Audubon Society. "These homes are extremely expensive to maintain, and it's easy to get overwhelmed in trying to figure out where to start and how to afford it. Tom came in and said, 'This is doable. Let's look at the top priority and go from there.' He brought clarity and vision to the plan."
Center Stage
Fischer remains a central figure in Bucks County's longstanding tradition of preservation and conservation. In addition, he is heavily involved in the local community as a board member of Washington Crossing 2026 Historical Park; member and corporate sponsor of the Heritage Conservancy; member of the Upper Makefield Business Association and Newtown Business and Professional Association; and corporate sponsor and member of the New Hope Historical Society and Bucks County Audubon Society. He also earned the Historic Architectural Review Board Preservation Award from the borough of Newtown in 2006, for renovation work on an historic property in downtown Newtown.
In May, he will join several other respected Bucks County professionals who have devoted their lives to preservation and conservation of the local environment for a special symposium being offered by the Bucks County Audubon Society and the Heritage Conservancy, in partnership with the National Park Service. The symposium, called "A History of Protecting Our Future: The Story of Honey Hollow Watershed," will be held on April 27, from 10 a.m. to 4:30 p.m., at the Bucks County Audubon Society Visitors Center in Solebury. (Visit bcas.org or heritageconservancy.org to learn more or reserve a seat.)
The educational symposium aims to explore and highlight how the rich legacy of cooperative stewardship that began at Honey Hollow—based in Solebury Township, and the only National Historic Landmark that is agriculturally based—can be used today to inspire a new generation of individuals, nonprofits and governmental organizations to collaboratively address existing and future threats to the health of our local and regional watersheds.
At the symposium, Fischer will discuss some of his past and current success as it relates to conservation and preservation, including one specific project underway at Lacey Farm: the installation of a rain garden, the first one he has ever created. The rain garden will capture rainwater from the gutters coming off the roof of the newly expanded carriage house, where Jennifer Kallatch, lives with her husband and their 3-year-old son, Dylan. The rain garden system will gather the rainwater from the gutters and then feed it directly into the ground, where it will be absorbed in a bladder-shaped area featuring native soil and plant material.
"The rain garden is something the township wanted us do to avoid the runoff of water that could lead to erosion," says Kallatch, a teacher at Trumbauersville Elementary School. "We were happy to do it, but the price of the original configuration was astronomical. Tom went back to the engineers and had them revisit it. He has been a team player since Day One."
Kallatch and McKinney applaud Fischer for his ability to add contemporary elements such as the rain garden and the reused architecturally appropriate materials, while maintaining a sense of "timelessness and elegance" to keep the property historically authentic.
"I don't think I would have gotten all this from another builder," McKinney says. "Tom does so much, and he's not afraid to get his hands dirty. … He's very involved, not just managing the process.
"There are more things that will be needed to maintain the house, and I'd want Tom to be involved," she continues. "It's an ongoing project, because that's what the property demands given its history."
Thomas K. Fischer
Phone: 215-860-8053
Web: www.tkfischerbuilder.com
E-mail: tkfischer@verizon.net