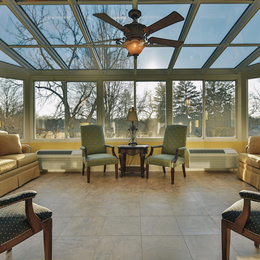 Compassion and Connection
A beautiful community at Haverford Estates offers a groundbreaking program for people suffering from Alzheimer's and dementia
Seniors with Alzheimer's disease and dementia have needs unlike any other. Their challenges extend beyond their world into that of their entire family, potentially creating unimaginable anxiety, worry and stress for their loved ones. With the intent to better respond to those needs, Reflections Serenade at Brandywine Senior Living's Haverford Estates has opened with a one-of-a-kind approach to positively affect the lives of Main Line residents.
Reflections Serenade, which opened February 7, unites a state-of-the-art plan for the memory impaired known as the Reflections program with Serenade, which is a complement of senior-living services and accommodations. Designed to create an enhanced living experience for those in need of memory-care services, the community includes newly appointed furnishings, a private butler, refined décor, private dining room, comfortable lounges for reading and much more.
"The core of our program is 24/7 care provided in warm surroundings, with an emphasis on individualized customer service for both the resident and their family," explains Brenda Bacon, president and CEO of Brandywine Senior Living. "We've created a social and physical environment that brings meaning and purpose to the lives of our residents. There really is nothing else like this in the area."
Piloting the Serenade concept into the Reflections program at Haverford Estates is the first time Brandywine Senior Living has merged these programs, though this will happen again when the Voorhees, N.J., location opens later this spring, along with other Brandywine locations that will follow soon after. The decision to begin the program at Haverford Estates made perfect sense.
"We constantly had people from the Main Line waiting to get into our communities, but we were always full for memory care. We actually had to turn people away," says Bacon. "Then we decided to turn over space for this program because we had common space in a secure environment. The area also has a 'four seasons' room, which brings in lots of natural light. This is very important."
The physical conversion of the wing took about four months. The community has 12 rooms and there is much interest in it, according to Bacon. In addition to the physical construction, planners spent six months developing the program and training.
"It was important to increase our investment in educating our team of caregivers to understand Alzheimer's as a disease process," says Bacon. "The staff had to learn how the disease process works, how everyone presents differently and how there are different kinds of memory loss. What we want to do is to help the resident to experience 'magical moments' when they can recognize warm, wonderful memories. We've found it really engenders positive feedback from our team. We've invested a lot in the environment and the program for our residents."
The center maintains a relationship with Farzin Irani, Ph.D., a renowned neuropsychologist and graduate of the department of psychology at the University of Pennsylvania. Dedicated to providing individual assessments and care planning as well as ongoing education for family, community and team members, Dr. Irani offers interventions with family and residents, increased clinical oversight, family meetings and education of the progression of dementia.
"The most punishing part of Alzheimer's," Bacon says, "is losing that connection."
A very special addition is the facility's butler. The butler is available from 11 a.m. to 7 p.m., seven days a week. "It is like having a personal concierge available at your convenience," she says. "The butler can be called when you would like to arrange for a family dinner in the private dining room, run an errand, schedule a physician visit, or just see how Mom is doing. The plan is to be there for you for anything, anytime. The resident's adult child may be home, worrying about Mom. Now, instead of calling and asking to speak to just anyone, they can talk to our butler, who knows exactly what is going on with her."
The project includes using several signature programs. My Life. My Story is a biographical piece written about every resident, created to help the staff know more about each resident and increase the quality of the connection with them, according to Bacon. For example, one resident grew up in Ohio, where her father worked on the railroad. Now when staff members interact with this resident, they can ask, "What was it like growing up in Ohio?" or "It must have been exciting for your father working on the railroad." The best way to communicate with people who have Alzheimer's, whose short-term memories are limited, is through more long-term memories such as those made earlier in their lives.
Another program is Music Is Magic. As research suggests, music connects with individuals suffering from Alzheimer's disease. Music Is Magic uses music as a communication tool; some residents may sing but can't speak, so this program "helps give them a voice," Bacon says.
Yet another program, Connections: A Family Day Experience, is designed to help family members spend quality time with loved ones who have Alzheimer's. "Dr. Irani shows them strategies to help them make time count," says Bacon. "It helps to improve their quality of life. The idea is that, if a resident's children have tools and strategies, they can deal with things better. This is good for everyone. It also helps us to gain a commitment from our families to stay involved with their loved one's care."
Other features include exclusive training for team members (Reflections Certification Program), finely furnished common areas, and distinguished dining experiences. Even turn-down service is available. "Everything we do has a reason behind it," says Bacon. "Although the 'four seasons' room is beautiful, what we do in the room to physically and mentally engage the resident is what's most important."
Every day there are many different things happening as part of the program. From meals in the grand Renaissance dining room to Latin rhythm dance and cooking classes to social hours and storytelling—the many specially designed programs recognize the individuality of each resident, stimulate the mind and spirit, and involve the family. In other words, everything is structured to make moments count every day.
Brandywine Senior Living at Haverford Estates
731 Old Buck Lane
Haverford, PA 19041
Phone: 610-527-1800
Website: www.brandycare.com