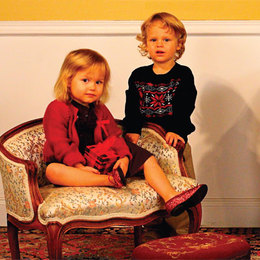 Decorate with Panache
Stenella Antiques has the right piece for every room
You don't have to be a professional interior designer to bring life and personality to a room in your house. With a unique piece of fine furniture, you can instantly add class and style—as well as functionality.
The showroom at Stenella Antiques in Perkasie is filled with gorgeous pieces from the unusual to the inspiring. Purchased from up and down the East Coast, these pieces can stand out on their own as a focal point, or they can seamlessly blend into the spirit of your home, whether your design aesthetic is classic or contemporary.
Executive Style
If you're looking to perk up a small room, such as a den, office or sitting room, consider a great desk that serves as both a practical work space and an elegant focal piece. Stenella has a high desk that looks like it jumped right out of a Charles Dickens novel and landed in the showroom. It features a full writing surface and a nice, deep place to put your stool or chair, as well as beautifully crafted—yet still sturdy—legs.
Fans of the show Dallas will recall those amazing desks that both J.R. and Bobbie had at the Ewing Oil office downtown. What if you could have a desk like that right in your own home office? Stenella has beautiful leather executive desks with incredible inlays, deep drawers and incredible wooden veneers. These desks measure anywhere from 3 feet to 6 feet across, offering plenty of space to stay organized.
Repurpose with Purpose
The best thing about Stenella's show pieces is that you can be daring with your décor while showcasing the classic refinement of the furniture. Thoughtfully mixing furniture styles is a great way to express your design identity as lively and original, and adding just one special antique can do just that.
For instance, take a traditional china closet and put it in your bedroom as a place for photos, linens or even your favorite sweaters. It would be a show-stopping way to bring character to your bedroom, and it would ensure that your home was definitely not the same as the neighbor's.
Stenella Antiques offers china closets in all shapes, sizes and colors. Many are traditional, while others have large paneled doors with glass or inlays, and some are closer to what you might consider a pie cabinet. Any of these would make a fabulous addition to your home. If not the bedroom, then perhaps the foyer or even the game room as stylish storage for the DVD collection.
For the perfect accent piece in your living room or den, one of the many gorgeous dining room chairs in the showroom's loft could do just the trick. Many are upholstered with fine fabrics fit for a king, so you can purchase a luxurious matching set for your dining room, or just one chair to act as a noteworthy design element.
Fun and Fancy Free
One of the greatest sections in Stenella's showroom houses the beautiful upholstered window seats. They are charming, but not overly feminine, and you can picture yourself leaning on one to read your favorite book in the afternoons or hosting guests for after-dinner conversation.
The window seats can be any shape and size. Some have an armrest, some are circular with a cone in the middle so that many visitors can sit around this ottoman of sorts. And the fabrics are fantastic—from black to green to rose.
Go ahead and step outside your comfort zone and give yourself permission to get creative by mixing colors, and period pieces with modern furniture, says Jim Stenella, owner of Stenella Antiques. "People often don't realize that decorating can be fun," he says. "Our furniture will add to your ideas and style."
Tim Schieber and his wife have purchased more than 60 items from Stenella over the past three to four years, after they moved from a farmhouse in Doylestown to a smaller home nearby. Whether he's found traditional Kittenger pieces or a rare Sligh clock, Schieber says he has always been thrilled with Stenella's unique collection.
Schieber recently purchased a set of bronze statues for his Williamsburg, Va., home that will sit outdoors in a very colonial setting. The statues stand at least 4 feet tall, some with children holding colonial baskets and one with a girl holding a fishing pole. "Stenella just simply has such high-quality choices" that he no longer considers shopping in a traditional furniture store, Schieber says. "Why pay retail when you can get such wonderful quality for half the price?"
Stenella Antiques consistently has hundreds of new arrivals weekly with items by top manufacturers, such as Henkel Harris, Kittinger, Kindel, Baker, Stickley, and others. It's a showroom you'll want to visit again and again. Find Stenella Antiques at 104 S. Second St., Perkasie, Pa., or online at StenellaAntiques.com.
Jeannine Fielding is a freelance writer in Bucks County.
Andrew Wilkinson is a photographer based in Titusville, NJ.
www.wilkinsonmedia.net