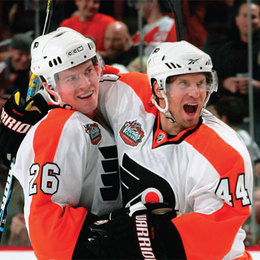 Give and Skate
Flyers make area charities a priority on and off the ice.
Gary Seeburger often described himself as a diehard Philadelphia Flyers fan.
A native of Philadelphia and a 1971 graduate of Upper Dublin High School in Fort Washington, one of his favorite moments was being in the Spectrum on the afternoon of May 19, 1974 when the Flyers won their first of two Stanley Cups.
As Seeburger lay sick in Abington Hospital one year ago, nearing the end of a 10-year battle with T-cell lymphoma, one of his friends, Gordon Bisland, worked furiously to grant his 56-year-old buddy one final wish.
A few e-mails later, former Broad Street Bullies Bob Kelly, Bill Clement and Joe Watson walked into Seeburger's hospital room, sat down beside him and began weaving stories from their Stanley Cup days. Bellowing laughs echoed down the hallway as they shared memories of stick fights, late nights and locker room pranks.
"The thing that amazed me is that they were so sincere," Gary's wife, Eileen Seeburger, recalls. "When they were talking about things that were said on the ice they made Gary feel like he was a member of their team, things he could only know if he was wearing their skates. They told him, 'You were with us on that ice, and you are one of us now.' They acted like they knew him for years."
Three days later, Gary Seeburger passed away, but not before his favorite team gave him one more reason to smile.
For years, the Flyers have immersed themselves in charitable causes throughout the Delaware Valley. From school assemblies and hospital visits to summer clinics and fundraising appearances, the Flyers have formed a special connection with the region that has outlasted any euphoria from their victory parades.
"We do whatever we can whenever we can," says Bill Clement. The former Flyer is now a resident of New Hope and works as a television analyst for the Flyers, NBC and Versus. "We can act as a magnet for other people. We all have the ability to make people smile with the stroke of a pen. And when we can do things like we did for Gary, there is an incredible feeling of helping someone."
In November 2008, Clement secured the Stanley Cup for a one-day fundraising event for two of his favorite Bucks County charities: the JAG Fund, which raises money for brain cancer research in memory of Joel A. Gingras Jr., and Network of Victims Assistance of Bucks County (NOVA). Clement invited former Flyers John LeClair, Brian Propp, Dave Schultz, Gary Dornhoefer and Watson to pose for photographs with fans and the cup at the Middle Bucks Institute of Technology.
Just last month, the Flyers invited the Bucks County Admirals special needs ice hockey team to the Wachovia Center, to play between periods during the Flyers game in front of more than 18,000 fans.
Brian Damiani, a 1977 graduate of William Tennent High School in Warminster and a Bucks County hockey coach and referee for the past 20 years, first organized the Admirals three years ago to give his 21- year-old son, Cole, an opportunity to play hockey. Cole has Jacobsen Syndrome, a rare developmental disability.
The Flyers provided the Admirals with some gear, and in three years the program has grown to 28 players, ages 6 to 23.
"It brings things to light when that many people see these special needs kids playing hockey just like everybody else," Damiani says. "These kids can amaze you."
Last year, as part of the "Hockey Week In Philadelphia" campaign, Flyers Ambassador of Hockey, Bob Kelly, held a special clinic for the Admirals. Damiani says he hopes the Flyers will expand their involvement, possibly even hosting a national tournament in the future.
In the meantime, Kelly spends much of his time speaking at elementary school assemblies and conducting clinics at area YMCAs. He recently visited Simmons Elementary School and Keith Valley Middle School in Horsham and Pennypack Elementary School in Hatboro.
"The kids really love it," says Ivonne Pierce, the youth program director at the YMCA in Hatboro. "Last year we had 150 kids, and the Flyers brought hockey sticks, posters and pictures for all of them. They can't wait for them to come again."
Chuck Gormley has covered the Philadelphia Flyers for the South Jersey Courier-Post for the past 22 years.