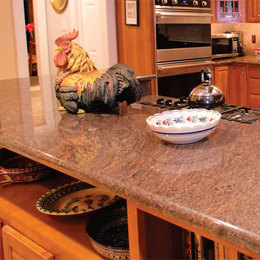 Let's Get Cooking
Let's Get Stone'd transforms couple's kitchen into showplace
"I love to cook," she says. "I spend a lot of time in my kitchen." "So does everyone else who comes to our house," adds her husband, Dale. With lots of family and friends nearby, "people are always here, and they are always in the kitchen."

And that suits the couple just fine.

New Englanders at heart, the Brodericks moved to Bucks County when Dale retired nine years ago to be nearer to his parents in Valley Forge and their daughter in Berwyn. Ruth had gone to school at Swarthmore, so they knew the Philadelphia area well. They fell in love with Bucks County and built their stone-and-stucco home in Solebury.

For some reason long lost now, Ruth chose white Corian counters. Last fall, she decided it was time for an upgrade. They would keep their hickory cabinets.

"The kitchen is open to the family room, and it seemed too 'kitcheny.' We wanted it to look more elegant," Ruth says. The family room has a big stone fireplace and an oversized Oriental rug on the floor.

First time's the charm
The Brodericks started looking through Bucks County magazines and spotted articles about Let's Get Stone'd (LGS). Although they intended to visit several granite vendors, they quickly settled on LGS and never looked elsewhere.

"They were so nice and competent and confident that they could do a good job," Dale explains. "And they could do it promptly."

The Brodericks found LGS at the Home Show in Valley Forge last fall, and the company will attend the spring show this March. LGS is also a member of the Marble Institute of America and the National Kitchen and Bath Association, and was voted "Best of Bucks County" in 2008 and 2009 by The Intelligencer.

The Brodericks wanted granite counters and full backsplash. They found their granite—Paradisio Bash—at LGS's showroom in Warrington.

They returned later with one of their cabinet doors to make sure it worked well with the granite's colors, then went outside in the back of the showroom to choose their slab. LGS technicians came out later that week to make the template, Dale says.

Back at the showroom, the Brodericks used the template to decide exactly which portion of the slab would become their counters.

"The time between making our decision and getting them installed was two weeks," Dale says. The Brodericks were thrilled to have their new countertops in time for holiday entertaining.

Hands-on guidance
"At Let's Get Stone'd, we pride ourselves on not doing anything without the customer's approval," says Anya Raysky, whose husband, Kirk, owns the company. "We want the customer to be happy.

"We're also in-house fabricators—the same person who comes into your house to make the template is usually the same one who cuts your piece of granite and installs your counters."

The Brodericks appreciated that. "The crew that came was very pleasant to have in the house," Ruth says.

In fact, the only person who wasn't a LGS employee was the person who had to take old tiles off the backsplash (they had been installed improperly when the house was built), but Let's Get Stone'd made all the arrangements for a specialist to do the job.

What's next in granite
"In this economy, people are not moving, so they are investing in granite," Raysky says. "You get 90 percent of the value of granite back when you sell your home."

And no other natural stone is as durable.

"A trend lately has been to get two different colors of granite in one room. For example, on the island and the counters, to vary it up and make the kitchen more fun. It's more entertaining to use two kinds of natural stone," Raysky explains. People choose granite for "the details, the iridescence, the specks."

"You develop a love for your granite," she says. "That's the fun in choosing a natural stone instead of a synthetic stone that is always the same."

While she says no certain color is more popular than another, "more people tend to be drawn to stones with a lot of movement in them." Paradisio Bash is one such granite.

As a rule, the more movement, the more costly the granite. It's also more complicated
to cut a stone with movement to retain its look, Raysky says.

Another factor in cost is where the stone comes from, whether it's nearby or from India or South America. Good granite can be found anywhere, Raysky says. When magma deep in the ground cools it becomes granite, and the ingredients in the magma determine the granite's color. Every day, the Brodericks revel in the color of their new kitchen counters and the warmth and elegance it provides. Energized by the new look, the strength and movement of the granite, Ruth loves being in her kitchen more than ever—which is good because she's starting to cook for a big party next week.

Let's Get Stone'd sells granite, marble, travertine and limestone for countertops, backsplashes and flooring. Let's Get Stone'd, 414 Easton Road (Route 611), Warrington, PA 18976, 215-491-7814, LGSGranite.com.

Maria Martino Evans is a writer and PR professional living in Pipersville.
(MartinoEvans.com)
Rob Hall is a freelance photographer from Plumstead.