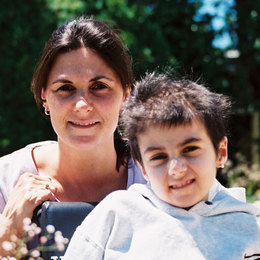 When Life Hands You Lemons
Liz Scott of Alex's Lemonade Stand Foundation
Like millions of children did on a summer day in 2000, Alexandra "Alex" Scott sold cups of lemonade to her neighbors. However, instead of putting her profits into her piggy bank, the 4-year-old, who had been battling childhood cancer for three years, donated her lemonade stand earnings (an impressive $2,000) to cancer research.

Her yearly tradition continued until the summer of 2004, when Alex—along with thousands of volunteers around the country—reached her goal of raising $1 million. After Alex succumbed to cancer that same summer, lemonade stands were held in her honor year after year to raise more than $30 million for childhood cancer research.

Alex's parents, Liz and Jay Scott, still reside in Wynnewood and hold the annual Lemon Ball in Philadelphia each year. As the foundation celebrates its 10th year, Liz Scott talks about how her daughter inspired the world.

What has been the most rewarding aspect of continuing your daughter's legacy?
There have been so many rewards, but I think that the most rewarding part of continuing what Alex started is seeing the progress that is being made in the battle against childhood cancer. We are seeing some significant breakthroughs from the research that we have funded. It is an amazing feeling to know that we are making a tangible difference in the lives of children and their families as they battle this disease.

How did you find motivation to keep the foundation going?
Initially after Alex passed away, we thought the lemonade stands would just go away. Instead, they took off. Volunteers continued to hold lemonade stands, and their determination spurred us to press on. Alex always said that she wanted to find a cure for all kids with cancer—it was not about just finding a cure for herself. So we continue in her honor, and for those children who are still battling cancer or will in the future.

What is the Lemon Ball?
The Lemon Ball is our annual gala celebration. It's a night that honors the life and inspiration of Alex, as well as the supporters who have allowed her dream to continue. The gala is held every year in early January right around Alex's birthday. One of Alex's many passions was American Idol, and this year we were so proud to have a former winner and Grammy-nominated recording artist, Jordin Sparks, perform at the event. Alex would have loved it.

Do your sons participate in the efforts of the foundation?
Absolutely. Jay and I have three boys, and they are all involved with the foundation in their own unique ways. Patrick, our oldest son, attends most foundation events, and as he has gotten older, he has become more comfortable speaking about his sister and the importance of the battle against childhood cancer. Eddie, our middle son is a walking advertisement of sorts for the foundation often wearing Alex's Lemonade Stand gear. Joey, who is our youngest, is only beginning to understand the impact his sister had in the world, but he also attends many events. Our sons are definitely their own people with their own interests, but they are also extremely proud to call Alex their sister, and I am sure will be influential in continuing her legacy.

Why have you stayed in Wynnewood (where the family moved to be closer to Children's Hospital of Philadelphia)?
After Alex passed away, people thought we might move back to Connecticut. However, we felt that we had put down roots in Philadelphia, developed a network of friends and supporters, and just felt at home here. So we decided to stay. Even though Philadelphia is not Alex's birthplace, she considered it her home.

What advice do you have for those with sick children?
Having a sick child is one of the hardest things a parent can go through. I think I would tell them to take everything one day at a time and try not to get overwhelmed.

What do you have planned for the year ahead?
This year marks 10 years since Alex held her very first lemonade stand in our front yard. In celebration of this milestone, we are planning to make this year the best yet. We hope to have a presence at some national events and have some nationally recognizable people hold lemonade stands. As always, our purpose is to really bring awareness to childhood cancer, just how important the battle is, and raise funds to help find the cures that Alex dreamed of.

Alina Makhnovetsky is a freelance writer living in Philadelphia.