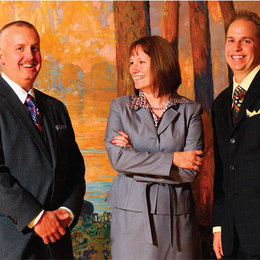 Investing in Community
The Barlow Group's financial advisers build personal relationships
The Barlow Group at Morgan Stanley Smith Barney, has a system—learn all you can about your clients, your community and your avocation and then be thorough in serving clients and building relationships. It's the way they manage their business and their clients' wealth.
As senior vice president and senior portfolio manager, Drew Barlow leads his seven-person team in providing customized investment strategies for clients looking to manage, grow, preserve and transition their wealth.
Discovery, discipline, delivery
The Barlow Group team aims to structure each client's portfolio for the maximum return in line with the clients' investment goals and risk tolerance. They pride themselves on the fact that the group "provides a personal relationship in an increasingly impersonal world."
It's their system that allows them to serve their clients so well.
"We have a systematic approach to understanding clients, creating investment plans, managing portfolio risk and providing high- quality service," Barlow explains.
First comes the "power of discovery," tools the team uses to fully understand clients' needs in ways they may not usually consider when choosing a financial professional. The Barlow Group uses 10 tools to "systematically discover" issues important to clients at each stage of their lives.
After a period of discovery comes the "importance of discipline." The Barlow Group creates plans, documents and proposals to help guide clients through the investment process. Because each client has unique goals and circumstances, the Barlow Group designs and implements a targeted investment plan for each client.
Respecting clients' time and treasure
"Our clients are people who value their time," Barlow says. "We understand the amount of time and energy they spent in accumulating wealth." Unlike many financial service firms, the Barlow Group's primary focus is on actively managing clients' portfolios. "We see the business holistically," he adds.
"We have found that as our clients age, their financial needs become more, not less, complex," Barlow explains. "The level of complexity gets to a point where it requires more than any single individual is capable of handling in terms of knowledge, expertise and capacity."
So the Barlow Group formed a team knowledgeable and diverse enough to address clients' changing needs and "to ensure that what needs to happen in the lives of our clients, does happen," Barlow says. The group has grown steadily over the past few years with the additions of key team members.
Tracey Herring, Richard "Chip" Schilling Jr. and Bob Zaborowski are investment associates responsible for many of the tasks associated with effectively communicating with the group's clients.
Brian McKeon, senior vice president and co-portfolio manager, joined the group in 2003, and is instrumental in executing the group's portfolio management strategies.
How they manage wealth

According to McKeon, what sets the Barlow Group apart is its process. "For example, we agree with our clients as to how often they want to be contacted, and we have invested in tools that allow us to honor that commitment," he says.
That regular contact "allowed us to navigate the market volatility over the past few years and allowed us to keep small problems from becoming big problems."
As for delivery, the Barlow Group's portfolio managers are empowered to manage customers' portfolios. According to McKeon: "We employ a disciplined investment approach with a focus on risk management. Our clients find comfort in knowing that we are diligently watching their investments and are positioned to take advantage of market changing events."
Family Business

The Barlow Group's history spans more than 50 years from when Drew's father, Donald E. Barlow, founded the team.
The team is enthusiastic about investing in Bucks County and the institutions that make the area unique. The group is a sponsor of the Bucks County Designer House, a business partner with the Michener Art Museum and a corporate sponsor of Central Bucks Athletic Association.
"It's all about the building of community," Barlow says. In the local community as well as the investment community, Barlow knows that discipline leads to positive results.
Meet with a member of the Barlow Group team today at 4259 West Swamp Road, Suite 400, Doylestown, or call 215-230-2910.
Maria Martino Evans is a writer, editor and PR professional in Pipersville.
Andrew Wilkinson is a photographer based in Titusville, NJ. www.wilkinsonmedia.net.
Barlow 's team combines more than a century of experience:
Brian McKeon, senior vice president and co-portfolio manager, is a certified retirement counselor with a focus on investment research.
Tracey Herring, an investment associate, helps clients' process wealth management issues, including insurance and investment planning reviews.
Investment associate Bob Zaborowski acts as director of business development and oversees the group's educational seminars.
Investment associate Richard "Chip" Schilling is responsible for investor relations activities.
Senior client service associates Kathleen Lansing and Karen McLaughlin run Barlow's trading services and manage its business operations, respectively.